Big 12 coaches give take on expansion
October, 21, 2011
10/21/11
8:22
AM ET
KANSAS CITY, Mo. -- In 2011-12, the Big 12 will be the only power-six conference playing a true round-robin schedule to determine a regular-season champ.
And if the decision were up to the men's basketball coaches (although it never is), they would rather see the balanced schedule continue, regardless of what Missouri decides to do with its conference affiliation.
The Big 12 has 10 remaining schools this season after losing Nebraska (Big Ten) and Colorado (Pac-12). So the conference finally was able to scrap the unbalanced schedule that was based on a north-south football split that saw Texas and Kansas playing only once every season. The need to have those two teams play twice was so real that Texas coach Rick Barnes said he looked into playing a nonconference game against the Jayhawks at one point.
Texas A&M is off to the SEC in 2012, but the Big 12 has already replaced the Aggies with TCU for next season. If Missouri were to leave at some point for the SEC, it would leave the Big 12 with nine schools. That's where Kansas coach Bill Self would stop, if it were up to him.
[+] Enlarge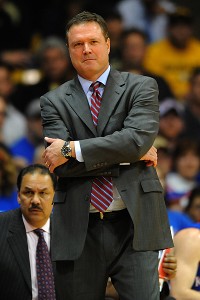 Ron Chenoy/US PresswireBill Self has certainly had plenty of opinions on the realignment occurring in college sports.
"I want nine, that's what I want, to choose to stay at nine," Self said. "That way we would have 16 league games and a round-robin instead of 18. If we don't do nine, then I'd rather do 12 for 16 games."
Multiple Big 12 sources said Mizzou is leaning toward a departure to the SEC, but there is still a chance that the Missouri board of curators could decide to stay in the Big 12 with the new revenue sharing and grant of rights for Tier I and Tier II television games.
If the Tigers leave, then the Big 12 has to decide if it wants to go to 10 (Self's wish of nine is highly unlikely) or bump up to 12. The choices for either are centered on West Virginia, Louisville and Cincinnati from the Big East and BYU, which is an independent in football and in the WCC for everything else.
"I'd like to stay at 10 for a bit and see what happens with it," Barnes said. "I'd love to see us at 10. I love the round robin. When I was in the ACC and Big East, we were at nine teams. As long as we keep Kansas, we're going to have a good league."
Barnes said that as Self walked by to give him a ribbing. But Barnes did say playing 16 games allows the Big 12 schools to play a "great non-league schedule."
Oklahoma State coach Travis Ford wants to see the Big 12 pull an ACC and be proactive, going after elite basketball schools the way the ACC did with Pitt and Syracuse.
"I have so many mixed emotions here, but I'd love for Louisville, West Virginia and Cincinnati to come in for basketball and make us a 12-team league," Ford said. "But if we went 12 and went divisions, I wouldn't be a fan of that. I do like 10. I like that the schedule is fair. And I think it will be exciting for fans to see all the teams come through the gym. We'll have a true champion. A guy like me from Kentucky, I'd love to see Louisville. Boy, what a great basketball league you'd have. But we're in a good position now."
Oklahoma coach Lon Kruger is coming off a true round-robin schedule in the Mountain West while at UNLV. He doesn't want to see a change.
"It's a true champion," Kruger said. "It's good for the fans too. It's the best way to determine a championship."
Iowa State coach Fred Hoiberg agreed with that assessment. So, too, did Baylor's Scott Drew, Kansas State's Frank Martin and Texas Tech's Billy Gillispie.
The Pac-10 used to have a true champion, the ultimate grind of home-and-home with every school. But then the additions of Utah and Colorado meant there would be unbalanced scheduling. A true champ isn't a foreign concept and happens in various conferences in Division I. The Missouri Valley comes to mind.
Less is more for the men's basketball coaches. They'd like to see the league preserve something that they've coveted for some time -- a true home-and-home with every school.
This season -- Texas A&M's last -- will give the Big 12 the feeling of truly being a conference. If Missouri is in the league next season, then the Big 12 can experience two seasons of this so-called scheduling bliss.
Beyond that is still a great unknown. The basketball coaches don't have a vote. They have a voice and they have expressed it. But clearly, like almost everything else, this will be a football-driven decision.
That seems to be a common theme of late.