Duke, Memphis give Belmont early tests
October, 25, 2011
10/25/11
12:04
PM ET
Duke coach Mike Krzyzewski and Memphis coach Josh Pastner said the exact same thing when asked about opening the season in a loaded Maui Invitational field. The two programs could potentially meet in the semifinals, but each would have to play Belmont first in mainland Maui games at home.
And it's not just their coach-speak about playing the next game, the first game or whatever is on the schedule and deeming it just as important as a top-10 matchup.
The Bruins are a legitimate top-40 program that could win at least a game in the NCAA tournament in March. They have earned this respect, so much so that Dave Odom, the former South Carolina and Wake Forest coach who schedules the Maui Invitational now, didn't have any hesitation from Duke or Memphis about playing a team that won 30 games last season.
"Mike is Mike and Duke is Duke, and they always understand playing a good team at home,'' Odom said. "He understands the significance of playing this game. Josh is wise enough to know that it will be a strong test to prepare him well for the tournament and the regular season.''
[+] Enlarge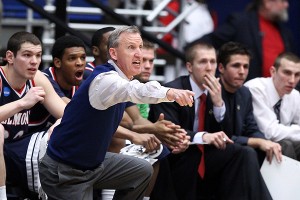 Christian Petersen/Getty ImagesRick Byrd's Bruins have an opportunity to showcase their talents when they open the season at Duke and at Memphis.
The Maui Invitational moved to a mainland format to keep up with the rest of the exempted tournaments. The former Maui tournament provided only three neutral-site games in Maui. But now each of the seven teams (but not host Chaminade) plays a game on the mainland. Four teams -- Belmont, Towson, UNC Greensboro and Middle Tennessee State -- will then play two games in Murfreesboro, Tenn., on Nov. 19-20.
Belmont opens the season at Duke on Nov. 11 and visits Memphis on Nov. 15.
"Here's the flip side of it, that when I told [Bruins coach] Rick Byrd about it, he wasn't worried at all,'' Odom said. "He's an older coach, not an old coach, and he's confident about his job and who he is and confident in his team. I offered him Duke, and he said his team would enjoy going to Duke and playing in Cameron. It was the easiest pairing I've had to make.''
Conversely, Odom has Oakland University in a future mainland Maui and can't get teams to play the Grizzlies. That's not as much a reflection on Oakland as it is that Duke and Memphis were willing to play Belmont.
The Bruins have been on quite a roll lately. Belmont made the NCAA tournament in 2006 and lost to UCLA. The 2007 team went to the NCAAs and fell to Georgetown. The 2008 team lost to Duke in the final possession in the first round. The 2009 team underachieved, according to Byrd, landing in the CIT tournament. The 2010 season ended without a postseason appearance, and in 2011, the Bruins won 30 games but lost to Wisconsin in their first game of the NCAA tournament.
"I don't want to sound cocky, but if you look where we were 12 or 13 years ago to where we are now, I never would have dreamed of this,'' Byrd said. "We went from NAIA to Division I. We were taking it on the chin, losing by 50 to Florida and now we're at the point where we get top 25 points and for the first time [last March were] being picked to win an NCAA tournament game.''
Byrd said he is trying to follow the Gonzaga and Butler models, which a number of coaches at this level have attempted to mimic. Of course, those two schools have had NCAA tournament success, are in higher-profile leagues and get national television opportunities. The Bruins are overlooked in the state of Tennessee and are in the seldom-shown Atlantic Sun Conference. The move up to the Ohio Valley Conference next season will help logistically but won't change the national perception as far as conferences go.
To change that view, Belmont has to do more than be a cute regular-season team and a potential trendy pick to win an NCAA tournament game. It has to actually win a game or two in the tournament. Davidson did this. Teams from the Missouri Valley and Colonial Athletic Association have done this. Now it's the Bruins' turn.
"We have to have a chip on our shoulder, an edge,'' Byrd said. "We've got 10 of 12 back, and I would expect we'd be better. I feel good about us at every spot the way we play.''
The Bruins will press and run with multiple players at each position. Seniors Scott Saunders and Mick Hedgepeth will rotate at center. Drew Hanlen and Kerron Johnson will take turns being the lead guard. Ian Clark, who Byrd said might be the most talented player on the team and its leading scorer with 12.2 points a game, takes his turn within the rotation, too, and has played a team high of only 24.6 minutes a game.
"They are a team that plays within their system that is fundamentally sound,'' Odom said. "They won't come unglued by Cameron. If it happens, it will be because Duke will test them. Mike's not afraid of the competition. He's comfortable who he is. Josh Pastner has something to lose but he is willing to put it out there.''
Byrd said he looks at his team as having 10 starters, not five. And it worked well in winning 30 games last season.
"We press until we have people beat,'' Byrd said. "We pressed every possession. We're not playing through fatigue except in those rare occasions because we've got five new guys coming in. We've always run, to some extent, and shot 3s, but we haven't pressed. The defensive numbers show that we were second [in the nation] in forced turnovers per game. And we were first in victory margin and that's playing 12 home games out of 35 [last season]. I don't think you'll see that with a mid-major playing a third of its games away from home.''
The Bruins defeated their opponents by an average of 17.5 points per game, but it helped that they played in the weak A-Sun. They forced 665 turnovers and turned it over only 481 times. After the games against Duke and Memphis, the schedule lightens up a bit. The next two toughest games are an in-season home-and-home with Marshall Dec. 19 (away) and Dec. 29 (home). That's a credit to Marshall coach Tom Herrion for being willing to schedule a team like Belmont once, let alone twice in the same season, when he didn't have to since they're not in the same league.
Byrd has been at Belmont for 25 years. He's won over 500 games (518) and is also a voter in the ESPN/USA Today coaches' poll. He is well-versed in what is going on with the top teams. And if the Bruins can steal a win over Duke or Memphis to begin their season, they will be one of them.