Rebuilt Rams look to make CAA noise
October, 26, 2011
10/26/11
6:05
PM ET
The tangible benefits of VCU's run to the Final Four are seen on campus with the addition of luxury suites at Alltel Pavilion. The coaches' offices -- for men and women -- have been updated. There is a display case for trophies going up in the luxury suite.
Enrollment isn't up due to the Final Four run coming in late March/early April, but applications increased by 40 percent. Season tickets are up 30 percent, with nearly 700 new season tickets for an arena that holds 7,600.
"Things have changed in every way,'' said VCU athletic director Norwood Teague. "The bar has been raised in so many different ways. More people want to be a part of this, not only with [VCU coach] Shaka [Smart's] time, but want involvement in the department from alumni to donors. Our student ticket numbers are up. More people want players or coaches or administrators to speak to groups. It has hit us in every way.''
Teague said he's still trying to put his arms around what occurred five months ago. "I have to see if I can really understand it and see if it really happened,'' Teague said. "There is no way to measure the amount of marketing and branding and exposure that we will have had from this. I'm not sure there is anything else in American sports that can do this like the NCAA tournament -- the unbelievable charm and affection that the tournament has. I don't think football does that. We saw it first hand in so many ways.''
Teague signed Smart to a new deal after the tourney run, a five-year contract at $1.2 million per season with rollovers. It's the best deal in the CAA. It should be. And Teague said credit goes to VCU president Michael Rao, who wanted to get a deal done and keep Smart.
"He made it possible,'' Teague said.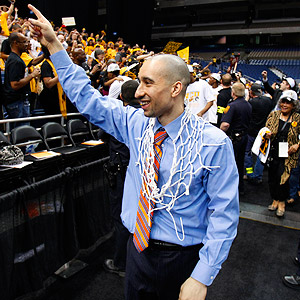 Bob Donnan/US PresswireShaka Smart's Rams have nine freshmen and sophomores on their roster this season.
Smart said while VCU's name resonates more freely with recruits, the Rams aren't chasing the same players as the power-six schools.
"We're looking at the same profile of kids, the overlooked kids,'' Smart said. "Going to the Final Four helps because people want to be a part of a winning program. But the league is always a strong indicator, and we're in CAA. We are who we are.''
The CAA can lay claim to multiple Final Four appearances within the last seven seasons, as George Mason made a historic run during the 2005-06 season. And the league has a recent history of multiple NCAA bids, something that a number of conferences outside the power six can't always claim. Once again, the conference could boast the opportunity for Drexel and George Mason to be in play for at-large berths, but don't rule out VCU and Old Dominion coming together by March, too.
And that's why we have to pause and put into perspective what occurred last season. VCU made an incredible run in the NCAA tournament. The Rams didn't have a magical regular season. This wasn't Saint Joseph's of 2003-04, when the Hawks bulldozed their way through the A-10, losing only in the conference tournament to Xavier, before falling in the Elite Eight.
The Rams finished fourth in the CAA last season and were 21-10 heading into the conference tournament, including 12-6 in the league. They lost four of their last five regular-season games, including a 20-point setback to George Mason.
"We maybe don't get in if Joey Rodriguez doesn't hit two free throws to win at Wichita State with 0.7 seconds remaining in the Bracket Buster,'' said Smart. "If he doesn't hit both free throws, then we wouldn't be talking now.''
VCU got in as an at-large team after losing to Old Dominion in the CAA tournament title game.
Its road to Houston was not paved smoothly. VCU had to beat USC in the inaugural First Four in Dayton, and then it faced Georgetown and Purdue in Chicago before beating Florida State in overtime in the Sweet 16 and shocking Kansas in the Elite Eight in San Antonio.
VCU then lost to Butler by eight in a national semifinal in Houston.
What was harder to accomplish for the Rams: getting into the field or actually winning the five games to get to the Final Four?
"Finishing fourth in the CAA was the crazier of the two because I didn't expect to make the tournament,'' said VCU senior forward Bradford Burgess.
"I can tell you that winning those five games was a lot more fun,'' Smart said. "It was a unique stretch.''
Smart had to go through a tough personal time prior to the run. His father-in-law passed away in February. His grandfather, whom he was close to, was dying and Smart went up to Chicago to see him on the Friday before Selection Sunday. He passed away in March. And Smart's team wasn't playing its best basketball until the mini-run to the CAA title game.
"And then the stars were aligned,'' Burgess said. "We were focused and regrouped.''
The Rams have nine freshmen/sophomores on the roster. Burgess is their most experienced player. Gone are Rodriguez and Jamie Skeen. Rodriguez could get into the lane and make plays. Skeen was a tough face-up scorer and, at times, a load inside.
Burgess said Rodriguez's leadership and Skeen's ability to create space were the backbones of last season's team. Junior Darius Theus at the point, freshman Briante Weber, junior guard Troy Daniels and sophomore center D.J. Haley have all impressed Burgess so far in practice, enough so that he's confident this team can make another run toward the top of the CAA.
"It will be tough to replace their swagger,'' said Smart of Skeen and Rodriguez. "We've got a lot of nice kids. We need them to have confidence and play with that swagger.''
The Rams are in the Charleston Classic (S.C.), which includes opening against Seton Hall, a road game at Alabama, hosting South Florida and playing George Washington in D.C., and have home games versus Richmond and UAB. The schedule is built for a rebuilding team, not one intent on making the NCAAs as an at-large.
Smart said Akron coach Keith Dambrot used a baseball analogy in describing his own team. It applies to the Rams as well. Dambrot said he has a bunch of middle relievers who ate up innings, but they now need to be starters and closers. Outside of Burgess, the Rams don't have someone who was a closer or starter last season.
And as the season begins, the Rams aren't on the national radar. The high-level teams are expected to dominate the landscape. North Carolina, Kentucky, Ohio State, Connecticut, Duke and Syracuse are among those penciled in to compete for a spot in New Orleans.
A year ago, those types of elite programs would have been in the Final Four conversation. Instead, VCU and Butler made their runs. But the Rams, like the Bulldogs, made a run in the postseason, not necessarily in the regular season.
"For me as a college basketball fan, it's shaping up to be one of those years where the big boys are really strong,'' Smart said. "It looks like there's no way a non-BCS team could sneak in this year. But Butler did it and VCU did it last year. So there's always a chance.''