Stew Morrill, Aggies set the bar in WAC
October, 27, 2011
10/27/11
5:38
PM ET
Stew Morrill was a bit reluctant to talk to the fans at the Dee Glen Smith Spectrum Wednesday night.
Utah State athletic director Scott Barnes said he prodded Morrill to do so. And why not? Morrill is beloved in Logan, Utah, for good reason.
He wins. He wins. He wins.
And despite the most overhauled roster since his inaugural season 13 years ago, the Aggies are still the media's pick to win the WAC.
"It won't be official until they're dethroned,'' New Mexico State coach Marvin Menzies said. "They're the champs until someone takes it from them. They've proven historically that they are the dominant team in the conference. Stew has built up a system and a program that has proven to be successful.''
Nevada has five starters returning. New Mexico State is a contender, too. The coaches selected Nevada first, NMSU second and USU third.
"I tease Stew; he doesn't think he'll win a game this year,'' Barnes said. "But the expectations are his fault since he's set such a high level. We're not the frontrunners by any stretch, but there is great respect. And I've seen an additional spark in his eye. He's really excited about the players here. It's a different kind of excitement. He's not sure what will happen this year.''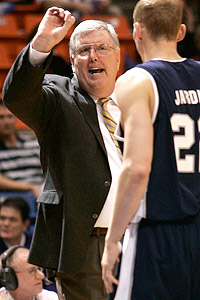 Brian Losness/US PresswireStew Morrill has won 324 games in 13 seasons as Utah State's coach.
Morrill's run at Utah State is one of the best-kept secrets in college basketball. The Aggies, tucked away in Logan, have always been the third-class citizen in the state to Utah and BYU. But they've been a model of consistency lately.
The NCAA tournament success hasn't occurred like Utah's run to the title game in 1998 and multiple Sweet 16s with different coaches. BYU's Sweet 16 run last season can't be matched, either. Utah State has one NCAA tournament win under Morrill, and that came in 2001, when the Aggies beat Ohio State.
But Morrill has coached the Aggies to 324 wins in 13 seasons, and his teams have gone to 12 straight postseasons, eight NCAAs -- including the past three -- and four NITs. The last time Utah State had made three straight NCAA appearances was from 1962-64.
"The 12 straight postseasons are in jeopardy,'' Morrill said. "To go to 12 straight at the mid-major level is hard to do. I would say it's in jeopardy, and I hope that motivates the team when they read that.''
Morrill did well in his Colorado State tenure, but couldn't make the NCAA tournament out of the WAC. When he moved over to Utah State, he said it was deemed as a lateral or even backward move since USU was in the Big West at the time. The Aggies moved to the WAC shortly after he arrived. A Nevada run -- led by Trent Johnson and Mark Fox -- ensued before Morrill took over the lead in the conference.
"Nevada won five straight titles but then lost so many to the NBA,'' said Fox, now the head coach at Georgia. "Utah State's system of play has no leaks at either end. And there isn't a better disciplined team in America.''
The changing landscape in the WAC, which will see Nevada and Fresno State depart for the Mountain West Conference and Hawaii to the Big West next season, puts the onus on the Aggies to stay for the future of the conference. But they're always a potential target of the MWC if that league wants to get back into the state after losing BYU to independence in football and the WCC in all other sports and Utah to the Pac-12.
"Just like the WAC looked to Nevada several years back for national credibility, Utah State has become the flag bearer for the league,'' WAC commissioner Karl Benson said. "The continuity of the coach is the key. Stew Morrill has built a system and brings in players who may not be blue-chip players but creates a blue-chip team. I compare the job that he has done with what the Boise State football coaches have done from Dan Hawkins to Chris Petersen.''
One of the hidden secrets to Utah State's success is the Dee Glen Smith Spectrum. The Aggies are a remarkable 193-13 at home and 100-8 in league play under Morrill. Of course, outside of Utah and BYU, Utah State can't get any significant power teams to come to the Spectrum. The Aggies finally broke through and played a road game at a power-six last season, when they went to Georgetown. But the Hoyas wouldn't return the game.
Here's why: "It's the toughest place to play,'' said Saint Louis coach Rick Majerus, who coached Utah against Utah State every season of his tenure there and played at the Spectrum every other year. "I've been to Duke. I've been to the Pit. I've been to Indiana, Minnesota, Purdue, Arizona and around the country. I know the dynamic may change since it's Utah-Utah State.
"It's not mean-spirited, it's not like you're going to get hit with a hot dog or anything. I went to Oakland Raider games. Utah State has an Oakland Raider mentality without the knives and guns.''
Majerus didn't stop there.
"It's the only show in town,'' he said. "The fans sit right behind you. The arena is really tough. It's difficult to get to. You have to fly into Salt Lake City and drive in the winter on this treacherous drive that's like a driveway to death. You're going up to altitude, and I don't care what Tark says about playing indoors, the altitude still bothers you.''
That's a reference to former Fresno State coach Jerry Tarkanian, who told his players that playing at Colorado State and Wyoming won't be a problem because the altitude is outside, not in.
"It's a great home environment, the best in the conference,'' Menzies said. "They've got a great thing going there.''
Morrill said he knew when he took the job that the home court was the selling point, an advantage that Colorado State didn't have in Fort Collins.
"Our seniors went 68-1 here in five years,'' Morrill said.
The Aggies leaned on two seniors during a scrimmage Wednesday night. Forward Brady Jardine and point guard Brockeith Pane combined for 12 points, while redshirt freshman Ben Clifford was the top scorer (eight points) and rebounder (six).
Utah State doesn't appear to have talent that compares to Nevada's Deonte Burton and Dario Hunt or NMSU's Wendell McKines.
But while Burton was picked as the league's preseason player of the year by the coaches, Pane was the choice of the media.
There is still talent left here. But is this is the year when Utah State finally gets beat and knocked off its perch atop the conference?
"We've got our hands full,'' Barnes said. "We're not the frontrunners. But as long as he's here, there's a race.''