Buffs, Utes seek home advantage in Pac-12
October, 31, 2011
10/31/11
4:07
PM ET
Utah and Colorado have a chance to create a first impression in the Pac-12 that could resonate for years.
Both schools can ensure that making the road swing through the only two conference schools at high altitude is trouble for opponents.
It is imperative that each school, regardless of the rebuilding that it is heavily involved in at this juncture, creates an atmosphere that would concern any conference foe.
It's one way to guarantee that the Utes and Buffaloes can make themselves stand out in the first year of the conference.
"We've got to win games; that's how you become relevant in a conference," said second-year Colorado coach Tad Boyle. "I'm going into a new league for the second year in a row. I didn't know what the Big 12 held for us, and I don't know what the Pac-12 holds for us. We lost 75 percent of our scoring. But no one knows Colorado. No one knows what we're about. We could sneak up on people."
[+] Enlarge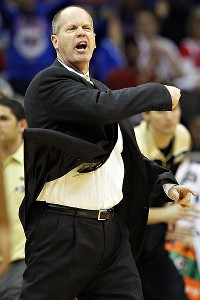 Jamie Squire/Getty ImagesTad Boyle hopes the Colorado altitude will be an advantage to the Buffs in their first season in the Pac-12.
Colorado was 18-2 at home last season. But the Buffs lost their best players in Cory Higgins and Alec Burks, as well as Levi Knutson, so they're going through a complete overhaul. But Boyle created a buzz last season when the team was on the doorstep of an NCAA berth, only to lose out in the final selection process.
In an unbalanced schedule, the Buffs and the Utes get Washington, Washington State, Arizona State, Arizona, Oregon State, Oregon, Stanford and Cal at home. That means Colorado can be a potential spoiler for the Huskies, Wildcats, Bears and Ducks in their quests to win the conference. UCLA could potentially have an advantage since the Bruins don't go to Boulder.
Colorado and Utah also have a home-and-home series against each other since they are travel partners.
"Every other team except Utah is coming from sea level," Boyle said. "Establishing a home court is critical and what we have is unique. But the only way it becomes that is if our fans show up and buy into that. I do think we'll put a team on the floor that's capable of winning. I have no feel for this league, though. I don't know what we're getting into."
Utah coach Larry Krystkowiak has less to work with than Boyle. His roster has had a complete makeover since he arrived last spring.
Utah's Huntsman Center was once one of the toughest places to play in the country. But that was when Rick Majerus had a top-10 team on the court.
The Utes went 12-11 at home last season. "I think people will be excited about the effort level," Krystkowiak said. "Utah and Colorado are the only two schools in the league that play at elevation. So that means we have to be good in shape. We can't take a chance and not be in shape."
Krystkowiak is thinking small. He wants his team to be the best screening team in the country. He also said he expects to run more of a system than NBA clear-out sets.
Whatever niche Krystkowiak comes up with, the Utes will need to win and be a tough out at home to recapture the powerful Utah atmosphere that pervaded in the late 1990s.
Utah and Colorado come into the Pac-12 and are not feared. Nebraska, another former Big 12 member, does have the rep of a difficult home court, something that Big Ten schools will have to deal with at the outset this season. Whenever Pitt and Syracuse join the ACC, both schools will be in line with Duke and North Carolina as the toughest places to earn a win in the conference. West Virginia is sure to have a similar stature when it joins the Big 12.
Utah and Colorado must have that same perception after their first season in the Pac-12. That could help both programs gain a first step toward respectability in the conference.