Mike Rosario, Patric Young key to Gators
November, 2, 2011
11/02/11
4:27
PM ET
If Florida is going to challenge Kentucky and Vanderbilt in the SEC, then
Mike Rosario
and
Patric Young
must accept their definitive roles.
If they do, the Gators could be in the thick of the conference race.
So far, both players are saying the right things and are doing what they've been told to ensure that Florida doesn't have any issues.
But there's a reason the optimism is guarded in Gainesville. Neither had previously been asked to do exactly what they must do this season.
Rosario was the focal point at Rutgers two seasons ago and was a high-volume shooter. But at Florida he must focus on defense and limit his shots, which means he could be a second-unit player.
Young played behind forwards Vernon Macklin, Chandler Parsons and Alex Tyus as a freshman last season. He didn't need to do more than provide strength, rebounding and defense. He might not need to do more than that again as long as he doesn't try to be something he is not: a reliable double-figure scorer.
[+] Enlarge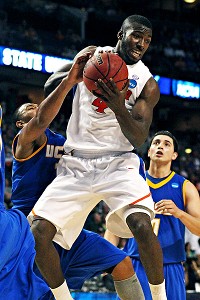 Cliff Welch/Icon SMIFlorida will need Patric Young to provide defense and rebounding when he's on the court.
The givens on Florida are on the perimeter with Erving Walker, Kenny Boynton and newcomer Bradley Beal. But Rosario and Young could be keys to the Gators reaching their potential.
"Rosario is playing every second of practice but what happens when something doesn't go well? That will be the true test,'' said Florida coach Billy Donovan. "Patric can't lose his identity. He has to play hard defensively, take good shots. He realizes he has an opportunity to play.''
In addition to Young, Erik Murphy, Cody Larson, Casey Prather and Will Yeguete are all viable options inside. Scottie Wilbekin will be in the mix for the perimeter rotation as well.
Donovan said he hasn't made up his mind on the starters.
It won't matter. Rosario and Young have to produce in their own ways.
Rosario won't be a 16.7-ppg scorer at Florida this season like he was as a sophomore at Rutgers two seasons ago.
"It's a major adjustment for me, something new for me,'' Rosario said. "I knew when I came here that there were three really good guards. I knew that I would have to have a different role. I know it's not all about me. I just love being a part of this team, and I will do whatever it takes to make everyone better.''
Rosario could be a second-unit player who helps keep the Gators' offense moving. But Donovan said he has made it clear that this team will have to win defensively because it won't be able to outscore everyone.
"I'm really buying into the defensive end of the floor,'' Rosario said. "Everyone knows I can score the ball. It's the other things I have to do to help my team win games. Coming off the bench is something new for me and something to adjust to, but I'm around more good players. I'll do any role Coach Billy has for me. I want to embrace winning here for the two years. I feel like for us to accomplish our goals, it has to be on defense. We have to be a real scrappy, tough, hard-nosed team.''
Young exhibits those traits the moment he gets on the floor.
"We'll see if this is my time, but I don't feel I need to be a 30-point scorer,'' Young said. "That's not my role.''
Young admittedly wasn't ready to assume anything more than a complementary role last season.
"I had a lack of confidence I guess, a little bit of nervousness and a lack of skill,'' Young said in an honest assessment of his overall game last season.
The confidence rose when he was an instrumental member of the USA FIBA under-19 team this summer. He added to his newfound confidence at the adidas Nations tournament.
"I gained a lot [and saw] that I had the potential to be a good player,'' Young said. "But I still get nervous. Someone told me Bill Russell said he used to get nervous before every game. He said he would vomit, and he's Bill Russell. So maybe being nervous is a good thing -- as long as I'm not nervous as the game is going on. Before the game is OK.''
Young has worked tirelessly on the skill aspect, trying to shed the reputation that he was all brawn but no finesse. "I've always been the raw talent, trying to out-muscle everybody,'' Young said. "I had a hook shot and when I got to college I had to be more disciplined. I've worked on my skill level. It's taking time, and I'm being patient in the post. I'm finishing a lot more moves, and the people see potential in me.''
But Young concedes he can't try to do more than he should offensively. Donovan doesn't want him to push his ceiling just yet.
The Gators will be tested often before the SEC schedule gets underway. They have road games at Ohio State, Syracuse and Rutgers. Donovan said he hasn't decided if he'll go with four guards. The Gators scrimmaged Central Florida over the weekend, but the Knights played zone. That made it hard for Donovan to evaluate the lineup with four guards because he needs to see it against a man-to-man defense.
"We can get better,'' Donovan said. "We're just going to have defend and rebound at a high level.''