Bolstered WCC in for special season
November, 4, 2011
11/04/11
2:06
PM ET
During the conference alignment feeding frenzy, one of the best moves was made by a league that doesn't play in the Football Bowl Subdivision.
And one team may benefit more than most.
The West Coast Conference's quick decision to offer a soft landing spot for Brigham Young as it sought football independence may ultimately help Saint Mary's more than any other school in the league. The Gaels, who have fancied themselves as Gonzaga's chief rival, needed another team to chase, to compete with to enhance their constant quest for an improved conference power rating.
[+] Enlarge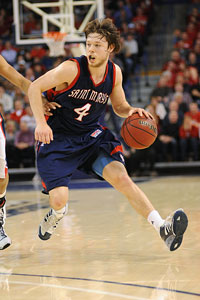 Robert Johnson/Icon SMIMatthew Dellavedova and the Gaels will be right there in the mix.
The Zags will always be the team to chase in the WCC. Gonzaga plays a national schedule, recruits two-thirds of the country and internationally, and isn't going to take a dip anytime soon. But Saint Mary's needed someone else to give the Gaels a chance to pick up power-rating points within the conference and earn important status points among the selection committee by winning conference games. Sure, Santa Clara and San Francisco seem to be on the rise, but the Gaels needed another national program. BYU can deliver just that. The Cougars will slip without Jimmer Fredette and Jackson Emery and won't be a top-25 team, let alone a lock for the NCAA tournament this season, but they will be in the mix for a bid and won't fall too far under Dave Rose.
"I think this is great for our league,'' Saint Mary's coach Randy Bennett said. "It means this league is better. I don't think Gonzaga is getting any worse. We're not getting any worse.''
WCC commissioner Jamie Zaninovich is grinning over getting all six combinations of the Gonzaga-Saint Mary's-BYU games on ESPN's networks in its conference package. The league needed to diversify its profile programs to ensure there was more depth.
"I think Saint Mary's and BYU will give Gonzaga fits,'' Zaninovich said. "Saint Mary's and Gonzaga know each other so well, and BYU will have the strength in there too. There will be big-time frontlines in all cases.''
Zaninovich is touting the Gaels as perhaps Bennett's best team, comparing this squad to his Sweet 16 team from two years ago. Bennett isn't going to go there yet. Gonzaga is still the team to beat with Elias Harris, Robert Sacre, Sam Dower, Kelly Olynyk and Ryan Spangler making up possibly Mark Few's most talented and certainly deepest frontcourt during his tenure.
The backcourt of Marquise Carter, Kevin Pangos, Gary Bell Jr. and David Stockton is still relatively inexperienced, but the potential is there for this team to once again make a run.
Saint Mary's has experience returning in Matthew Dellavedova and Clint Steindl, but it's the Gaels' frontcourt that could be the difference for them. Getting Jordan Page back after a season-ending knee injury last season is critical if SMC wants to hang with the Zags and Cougars. And Rob Jones now has help inside with Mitchell Young, Kyle Rowley and Brad Waldow.
"We're bigger inside. We didn't have that last year,'' Bennett said. "We will have a physical presence at the 5. We got worn down last season. We're going to have more of a low-post guy. People forget that Page is coming back. He was pretty good as a freshman. We have experience. If we do what we're supposed to do and stay healthy, then we can be in those big games.''
Bennett said if going from the Sweet 16 to not making the NCAAs but still playing for the league title is a dip, then so be it. Competing for the league title is where the Gaels want to be every season. Now they've got even more competition, which is even better for this team and the league.
"BYU is coming here while we're on the upswing,'' Bennett said of the WCC. "Bringing BYU over changes the landscape.''
The Cougars can offer up Brandon Davies, Stephen Rogers, Noah Hartsock, Ian Harward and Nate Austin, while UCLA transfer Matt Carlino will help on the perimeter once he's eligible in December with Charles Abouo and Brock Zylstra.
"The toughest challenge yet for us," Rose said. "They are both really good and we won't have a player or a coach that has competed in their buildings. We have no experience at all to take on the road."
That won't always be fun for the Cougars, but it should be big things for the West Coast Conference.
"Everybody's got people back," Few said. "Its literally the best the league has ever been -- and I've been in it 23 years -- with the depth of teams."