Friday's slate offers four big matchups
November, 9, 2011
11/09/11
9:08
AM ET
Oregon coach Dana Altman was scrambling for a game in late August.
He said Auburn had canceled on him, despite it being a home game for the Tigers.
So the Ducks were desperate. Altman talked to his good friend, Vanderbilt coach Kevin Stallings, about starting a series. Vandy needed a game, but it had to be the opener since that was the only date that worked.
Neither coach wanted to open the season against each other, knowing full well that Vandy was a lock for the top 15 and an SEC title contender and Oregon was a legit Pac-12 sleeper.
"I think both of us would rather have an easier game," Stallings said. "The difference with our game and most of the others [Friday] is you're not sure who is going to win. We're excited about it. They're a good team. We should be a good team."
The headline matchup in the official tipoff date of college basketball (the season did get underway Monday night with three games in the 2K Sports Classic) is top-ranked North Carolina playing Michigan State on the USS Carl Vinson off the coast of San Diego.
[+] Enlarge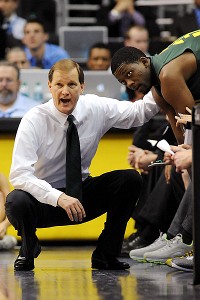 Jayne Kamin-Oncea/US Presswire Dana Altman's Ducks start their season with a tough game at Vanderbilt.
But scan down the list of 126 games on opening night, and you'll find four matchups where coaches were willing to play a legit opponent that has NCAA tournament potential:
North Carolina-Michigan State Oregon at Vanderbilt Belmont at Duke BYU at Utah State
"I wanted to open up at home with eight new guys on scholarship," Altman said. "I wanted to see if I could get two or three home games before we went on the road but that didn't work out that way. I wanted to challenge our team with good games and the way it works out it starts in the opener."
Oregon has the potential top freshman in the Pac-12 in Jabari Brown. Two transfers -- Tony Woods from Wake Forest and Olu Ashaolu from Louisiana Tech -- will play a significant role in the Ducks' success this season. Vandy is as experienced as any team with John Jenkins, Jeffery Taylor and Festus Ezeli. But Ezeli is suspended for the first six games for receiving an extra benefit and also sprained his MCL. Stallings said he'll be sidelined until mid-December.
"Any game feels different if Festus isn't involved," Stallings said. "Dana has good players on the inside and good players on the perimeter. They'll be big, long and athletic and a challenge."
An Oregon win on 11-11-11 would have serious shelf life.
"We're not making the progress in practice," said Altman, who added that he wants Ashaolu to continue to work on his strength inside. Altman will play four out on offense with one player inside, which could be Ashaolu or Woods. Altman said Brown has been inconsistent, and Woods is still getting the rust off him.
Oregon will have more chances to improve its nonconference résumé with games at Nebraska and at BYU as well as hosting Virginia. Vandy doesn't have to sweat with a difficult SEC slate and monster games against Xavier, at Louisville and at Marquette.
The Oregon-Vandy game wasn't even on the schedule in July, let alone as an opener.
BYU had to find a date to play its annual game at Utah State. But the original plan was that the Cougars were going to have to work the rivalry game into the off week on the WCC schedule, according to BYU coach Dave Rose. The only date that worked was the opener.
"It's so hard to schedule anybody," Rose said.
If there was ever a good time to go to Logan -- where the Aggies are 193-13 in Stew Morrill's tenure at Utah State -- it's now, as the Aggies are going through a major overhaul. But the problem for the Cougars is that they are as well after losing Jimmer Fredette and Jackson Emery. One-time suspended forward Brandon Davies is back to lead the Cougs. "He'll have different players but the same system," Rose said of Morrill.
A BYU road win on opening night will be a strong indicator of two things: The Cougars will be in the chase in the WCC, and Utah State is further down than projected. A loss to Utah State won't dampen the ultimate development of this team, in large part because it's not expected to win in Logan -- even if the Aggies are rebuilding.
Belmont had a choice for its opener. Maui Invitational organizer Dave Odom asked Bruins coach Rick Byrd if he wouldn't mind opening up at Duke. Byrd didn't hesitate, and his team will also play at Memphis next week. Belmont is expected to win the Atlantic Sun and a game in the NCAA tournament.
Byrd didn't mind the parallel to the Cornell at Kansas game two seasons ago. Cornell didn't win the game, but the near-miss did wonders for the Big Red PR machine as well as its confidence on the court. The same could occur for Belmont. A win, of course, gives the Bruins coverage through the season. "This is a chance to make a statement," Byrd said. "This is one of those games where we have everything to gain and very little to lose. It's an opportunity for these guys to have a night that will last forever. It's not impossible. We have a chance. I think we can be very competitive. We've got competitive kids, and they won't care if it said Duke on the front or Kentucky or North Carolina or UCLA."
Byrd said he remembered the positive fallout from Cornell going to Kansas two seasons ago and nearly taking down the Jayhawks. "But we still haven't won an NCAA game," Byrd said. "We're knocking on that door. I think playing these two games [Duke and then Memphis] gives us a chance. We won't change how we play. We're used to so many guys playing uptempo. We won't fail to press. We won't fail to run. Hopefully we can wear them down. I don't think Coach K wants to play as many players as we do."