Renardo Sidney is key to Bulldogs' success
November, 16, 2011
11/16/11
6:37
PM ET
NEW YORK -- Rick Stansbury is facing the toughest coaching challenge of his career.
What should he do with Renardo Sidney?
And this time, Sidney's problems apparently aren't related to his behavior.
At issue is how to deal with a player who has so much talent and so much potential, yet continues to be an enigma.
This time, the issue is whether or not Mississippi State can afford to wait for Sidney to be in the shape the Bulldogs needs him to be, allowing him to play quicker at both ends of the court.
"He still has a ways to go,'' Stansbury said. "He's taking baby steps. So far, as in his life itself, has been better. He hasn't disrupted in practice. He's been a good teammate. That part of his life is a lot better. He continues to push himself. But he's got to push himself to get in shape and play more productive minutes. That's his challenge.''
[+] Enlarge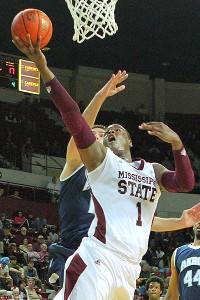 Spruce Derden/US PresswireMississippi State's season will come down to how Renardo Sidney performs on -- and off -- the court.
Sidney missed Saturday's win over South Alabama with a groin injury.
"That's true,'' Stansbury said. "He really did.''
Stansbury said that Sidney will play Thursday night against Texas A&M in the semifinals of the 2K Sports Classic benefiting Coaches vs. Cancer. The winner of this game will meet the winner of Arizona-St. John's on Friday, with the losers matching up earlier in a consolation game.
Stansbury's grand plan was for the Bulldogs to have as formidable a front line as any in the SEC, maybe even any in the country. He envisioned a group that could challenge Kentucky's Anthony Davis, Terrence Jones and Michael Kidd-Gilchrist once Sidney joined UTEP transfer Arnett Moultrie. But that hasn't worked out according to plan.
Sidney didn't make the Bulldogs' trip to Europe in August, choosing instead to spend the summer working out with former NBA coach and player John Lucas. Lucas specializes in taking on dysfunctional cases and rehabbing them, whether it's from substance abuse, behavioral problems or simply getting into optimum conditioning.
Sidney's problems have been many. He didn't play as a freshman as the NCAA investigated his housing situation in Los Angeles when he moved from Mississippi to Southern California. He once committed to USC. He was essentially spurned by UCLA because he was deemed too high a risk. Stansbury jumped at the chance to get Sidney on the rebound when the USC situation imploded on him. And because of his size and strength -- he's listed at 6-foot-10 and 270 pounds -- Sidney is deemed too much of a potential talent to dismiss.
Sidney's family hired a lawyer, noted NCAA thorn Don Jackson from Alabama, and the case lasted for months. Sidney ultimately was suspended for the year and into the next season's first nine games. When Sidney was finally eligible, he got into a tussle in a practice that warranted a one-game suspension, then was involved in a nationally televised fight in the stands at Hawaii that cost him again.
He remained on the team. The other participant in the sparring session -- Elgin Bailey -- "asked" to transfer after the incident. Stansbury said at the time that the fight was over Bailey's not moving his feet as Sidney tried to exit the aisle at the Stan Sheriff Center while the pair were watching another game at the Diamond Head Classic. Regardless, the scene was ugly and cast a pall over Sidney and the program.
During that time period, Mississippi State dealt with absurd scheduling that took it from the Bahamas to Las Vegas to Hawaii to Las Vegas (losing to Virginia Tech and Saint Mary's in bookending a Hawaii trip that saw only one win in three games). The Bulldogs also crammed in four games in four nights, all to get games in before Sidney and junior guard Dee Bost (suspended for 14 games for a combination of not withdrawing from the NBA draft and being academically ineligible) could get ready for the SEC.
"We still found a way to get to 9-7 in the SEC,'' Stansbury said. "It would be nice to have everybody healthy and get some rhythm and be consistent.''
The Bulldogs had been together in the first few weeks of practice. The season opener against Eastern Kentucky went well. But then Akron arrived in Starkville last Wednesday and Zeke Marshall's 10 points, 6 boards and 5 blocks before fouling out were enough to disrupt Sidney (12 points) and Moultrie (2-of-13 shooting, 8 points) in Akron's surprising 10-point win.
Akron is a MAC title contender. South Alabama doesn't share the same status in the Sun Belt. Still, the Bulldogs were able to have much more offensive fluidity without Sidney. They were 2-of-13 on 3s against Akron -- a credit to the defense -- and were 8-of-27 from long range against South Alabama. Moultrie scored 28 points, and the guards had plenty of looks. Sidney's replacement, Wendell Lewis, doesn't match his potential. But who on this team does? No one, and that is the Stansbury dilemma.
The ball flows better on offense. The team can get up and down the court easier on defense.
The Bulldogs have a veteran lead guard in Dee Bost and more than serviceable wings in Rodney Hood and Brian Bryant. And Stansbury said the Bulldogs are starting to be whole again after freshman Deville Smith returned to the team and played three minutes against Akron and 19 minutes against South Alabama (4 assists, zero turnovers and 1 steal).
"It will make a difference,'' Stansbury said. "We can get Dee off the point some.''
The Bulldogs aren't going to make or break their season here in New York. But there is a real chance to make a difference and gain momentum -- for Sidney and for this team -- by getting wins without the drama.
"Texas A&M is really good, maybe not as good as the team last night [Kentucky],'' Stansbury said.
But to beat the Aggies, and to become an elite team that really does challenge Kentucky, Florida and possibly Vanderbilt and Alabama, not to mention Ole Miss, Mississippi State needs to figure out what to do with Sidney.
"This has been different, more so than anybody I've coached, for sure,'' Stansbury said. "We're trying to get him to play to his potential. No how matter how much we want it, or everybody else wants it, the challenge is for him to want to get there.''
Stansbury doesn't know how good Sidney and Moultrie will be together. It sounds good in theory. But it hasn't happened yet to feel as though it will work.
"I haven't seen it yet,'' Stansbury said. "There's no question they can play together. Arnett can play inside and out. There is plenty of room on and off the court. Arnett is a terrific rebounder. And the two of them would be tough to handle in there. But our challenge is not about minutes together but to have [Sidney] have productive minutes. We hope it gets better.''
Having Sidney on the court can be disruptive -- and even detrimental -- if he can't move well. The Bulldogs don't want to be susceptible to transition defense.
"That's our challenge,'' Stansbury said.
There are many challenges with Sidney, and Stansbury has been incredibly patient.
He took the risk, a gamble that some, but not all coaches, would take. Sidney was a hometown player who had plenty of NBA interest. Now that interest has waned considerably. If it were overwhelming, Sidney would have gone to the league last season. It wasn't. He stayed, and now he's still trying to find his footing. The Bulldogs are trying to figure this all out, as well. But they can't afford to drop games in the process. This week will be quite telling as to how this experiment ultimately will play out.