Bruins need to find quick fix for struggles
November, 17, 2011
11/17/11
11:51
AM ET
UCLA coach Ben Howland said he is considering playing more zone so he can use a bigger lineup in the Maui Invitational. He said he will change some of the Bruins' man-to-man defense, too.
"We've also got to do some things offensively,'' said Howland. "We've got to focus on ourselves.''
He has no choice. UCLA is already in crisis mode, and the season isn't even officially two weeks old.
[+] Enlarge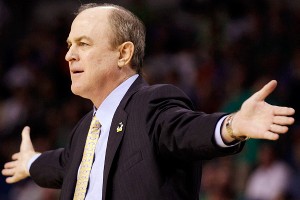 AP Photo/Chris O'MearaOne can make the case that no coach in America has produced more impact NBA players in the past decade than UCLA's Ben Howland.
Based on these early games, the Bruins look like the disaster that was the 2009-10 season -- when they started out 2-6 and lost all three games in the 76 Classic in Anaheim, including matchups to local teams Cal State-Fullerton and Long Beach State. The Bruins ultimately finished a pedestrian 8-10 in the Pac-10 and out of the postseason with a 14-18 overall record. "We're not going to be that group,'' said Howland. "We're much more talented than that group, especially up front.''
But are they? Is it simply about the talent?
It may not be, as Reeves Nelson, the Bruins' most talented player, has already been suspended and is clearly their most volatile player. Nelson played in the Bruins' 11-point loss to Loyola Marymount. The game was a home game for UCLA, even though it is playing some games at the antiquated L.A. Sports Arena while Pauley Pavilion is getting a much-needed makeover.
Nelson wasn't on hand for the disastrous 20-point loss to Middle Tennessee State, which is hardly a dominant power in the Sun Belt. LMU followed up its UCLA win with a seven-point loss to those same Middle Tennessee Raiders, who had quite a week in Southern California and are off to a 3-0 start with a home win over Austin Peay in their season opener.
"We struggled coming out of the gate,'' UCLA athletic director Dan Guerrero said. "Ben is still trying to figure out how to use the personnel. Jerime [Anderson] didn't play in the first game. Reeves didn't play in the second game. He doesn't have the full complement of his players. We look to play inside out. We look to feed the post. Guys have to convert or dish and hit open shots. But that has manifested itself in the way Ben thought. We're getting the looks. But people aren't knocking down the shots. It's not that the perimeter players are taking bad shots. They are taking good shots but not making them. "
Nelson was reinstated by Howland on Wednesday, despite getting suspended for conduct detrimental to the team. The Bruins are fortunate that they play Chaminade in the first round of the Maui Invitational and are in the more dysfunctional side of the bracket with Kansas and Georgetown rather than clearly established teams such as Duke, Memphis and Michigan (the Blue Devils play Tennessee, but this bracket is clearly lopsided by the way the teams are performing now).
"The issue with Reeves he had to deal with it,'' Guerrero said. "He had to put his arms around it. It's a distraction. It's not a positive in any way, shape or form. He had a good opportunity to talk to his folks. We still have good talent on this team and it should be sufficient to win some games."
But why should anyone expect the Bruins to regroup in Maui, or beat Pepperdine (which knocked off Arizona State), Texas, Penn (which gave Temple fits) or even Eastern Washington (which pushed Gonzaga) at home after Maui?
The way in which they're lost to middling teams in the first two games has been frustrating.
Howland said Middle Tennessee State is really talented. He said the Bruins aren't shooting well, and are missing wide-open shots. He also noted that the guard play has to be better, the defensive board work must improve and that they have had issues internally. That's a shot toward Nelson.
But he may not be alone in his disappointment. The body language, according to someone close to the program, has been poor. There was the impression of indifference on this team. There was no one rallying the group and displaying passion about the current state of affairs. It doesn't help matters if the Bruins' best player was suspended. And that's why their season may rest on how the team responds to Nelson's reinstatement this week and in the first five minutes of the Chaminade game.
"There was issues [with body language] with a couple of guys, and that will be addressed,'' Guerrero said. "Ben saw it, and he addressed it.''
The Bruins can't have leadership if the supposed leader isn't acting appropriately. It didn't help matters that Anderson, another veteran player, was suspended for the season opener, either.
Point guard Lazeric Jones has struggled with eight turnovers and seven assists in two games. Tyler Lamb hasn't produced yet, either, shooting 27.8 percent from the field (5-of-18 from the floor and 2-of-11 on 3s). De'End Parker and Brendan Lane haven't been able to help much off the bench. And the front line of Josh Smith and the Wear twins, Travis and David, consists of largely role players at this juncture, or at least that's how they seem to be playing. If the Wear twins stayed at North Carolina, then they wouldn't have been able to crack the top six with the Tar Heels' addition of James Michael McAdoo.
The talent level clearly isn't the same as it was during UCLA's three straight Final Four appearances with Kevin Love, Darren Collison, Luc Richard Mbah a Moute and Russell Westbrook, who developed faster and at a higher level than anyone could have imagined.
The Bruins are nomadic this season without Pauley Pavilion. There is still time to figure things out. But the losses and the margin of defeat are befuddling. And it speaks to a larger issue than early-season suspensions and not being ready to perform. Of course, Jones is more talented than what he has shown. So, too, is Lamb. But are the rest just role players who have been thrust into starring roles?
Howland wasn't panicking. Nor should he. The season is two games old. He has handled crisis management well. Two seasons ago, the Bruins lacked leadership and a point guard. Last season, they had more talent with Tyler Honeycutt and a mature Malcolm Lee. Both left for the NBA and are locked out like every other rookie and veteran.
The long-term health of the program is on the rise with a stellar recruiting class for 2012 that includes Kyle Anderson out of St. Anthony High (N.J.) and Jordan Adams out of Oak Hill Academy (Va.). The opportunity to land small forward Shabazz Muhammad out of Bishop Gorman High in Las Vegas also makes this class potentially one of the best in the country.
But the Bruins are heading toward a second disastrous season in the past three years if they don't get their act together soon -- as in next week. If they don't get on a roll, improve their body language and show progress in their overall performance -- regardless of some tweaks on the defensive end -- they could be facing a chaotic season. The Pac-12 competition is improving with the play of Cal, Arizona and Washington. Even Oregon State, Stanford and Oregon are on the rise. "Our effort has been good,'' Howland said. "I don't have an issue there.''
If that's the case, and that's fine, then the Bruins simply may not be talented enough to fix all of the problems. They may have to overachieve to reach the postseason. They made the NCAAs last season, but were grossly overhyped in the preseason -- even in this space.
The reality is that they have to find some sort of cohesiveness before it's too late. "It's very early,'' Guerrero said. "I trust Ben will pull this thing together.''