Rick Majerus is optimistic about Billikens
November, 22, 2011
11/22/11
11:53
AM ET
Rick Majerus sounds the way he did in the 1990s when he coached Utah to the national title game.
He has confidence in his players and the team's potential. He enjoys this team. And he feels healthy again.
The road back to respectability for Saint Louis has come with plenty of distractions for Majerus in health issues, injuries and personal loss. The team had to deal with a crushing blow last season when its two best players, Kwamain Mitchell and Willie Reed, were suspended from school. Reed never returned. Mitchell came back for the spring semester.
And SLU struggled to a 12-19 overall record, including a 6-10 mark in the Atlantic 10. Majerus then lost Porter Moser, his top assistant to Loyola (Chicago), and days before this season started, his trusted former player and new top assistant, Alex Jensen, left to coach the Cleveland Cavaliers' D-League team.
"To lose Porter Moser and Alex Jensen and then to add two guys who had never been with me before that don't know the terminology … it's been challenging," Majerus said.
But it has worked out better than expected.
[+] Enlarge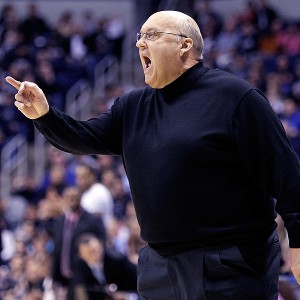 AP Photo/Al BehrmanRick Majerus' Billikens are 3-0 and will open the 76 Classic against Boston College on Thursday.
Majerus called on an old friend, former Evansville and Army coach Jim Crews, to fill Jensen's spot. Former Loyola coach Jim Whitesell -- yes, the one Moser replaced -- joined the staff earlier. "It may be my best staff ever," Majerus said. "And I've had good staffs."
Now the Billikens are playing better than they did in 2009-10 (23-13, 11-5 in the A-10) when they reached the College Basketball Invitational championship series against VCU.
Saint Louis, fresh off a 13-point win over Pac-12 tri-favorite Washington, heads off to Anaheim to play Boston College in the 76 Classic on Thursday (ESPNU, 2 p.m. ET). The game against the Huskies wasn't as close as the final score would indicate, as Saint Louis was up 25 points at the half on Sunday.
"People forget that we won 23 games two years ago and we should have gotten an NIT bid but didn't," Majerus said. "I was out 24 or 27 days last year [with a leg infection after being crushed into a sideline scorer's table]. We lost our top two players. We had injuries. We had only eight scholarship players to finish. This year we're at a full 13. It's early, but it's been gratifying so far."
Mitchell is playing well and scored 18 points against the Huskies. Majerus said that people have forgotten that Mitchell wasn't even in school last fall, returning in the spring but not being able to practice. So he missed a year and didn't play with the team. Yet there are no signs of rust with his per-game averages of 12 points, 4 rebounds and 5 assists. Mitchell's overall numbers are also impressive with 15 total assists, 3 turnovers and 6 steals.
"He may still take some time after taking a year off," Majerus said. "But he has shown more leadership. He was up in Milwaukee doing community service and an internship. He wasn't around at all. So it is a challenge for him."
Kyle Cassity has been a dream at guard, dishing out seven assists and finishing with zero turnovers against the Huskies. He has nine assists and zero turnovers on the season. Majerus is a stickler for unforced errors, and Cassity isn't making them.
Forward Brian Conklin is scoring, as evidenced by his 25 points versus Washington, including a 7-of-8 performance from the free throw line. And the bench is contributing -- especially Cody Ellis, fresh off an injury last season, who produced a half-dozen points against the Huskies.
Most importantly for Majerus, the Billikens are defending. Washington couldn't run as effectively against SLU and made only four 3s. The Huskies had 16 turnovers. But Washington did outrebound SLU, which will be a constant issue for the Billikens this season.
Saint Louis was picked to finish third in the A-10 behind Xavier and Temple, and through three games there is no reason to think the Billikens can't contend. This week's tournament should be a strong indicator. The Billikens are in the upper half of the bracket, where they likely will play Villanova in a semifinal. If the bottom half goes according to plan, they'll meet New Mexico in the final.
SLU still has to go to New Mexico in a potential scheduling quirk (if the Lobos and Billikens meet in Anaheim) on New Year's Eve before opening the A-10 schedule at Dayton on Jan. 4. The Billikens play a home-and-home with Xavier but face Temple and projected fourth-place finisher St. Bonaventure only once at home in the unbalanced schedule.
If Saint Louis wins the 76 Classic in a field that may have only two other possible NCAA tournament teams in Nova and UNM, it would be another résumé-builder in November for a team that could be a tough out in March.
Regardless, Majerus has weathered quite a storm in Saint Louis and is doing exactly what he was hired to do -- give this program national respect and a platform to excel. Majerus has been a stickler for preparation -- as Utah's coach, he put up full-length sheets in a hotel ballroom on each opposing player's strengths and weaknesses. He has mellowed quite a bit since then, but his attention to detail hasn't waned. And he still loves quality defense over anything flashy offensively. The Billikens held Tennessee State to 37 points (the same Tennessee State team that beat South Carolina 64-63 on Sunday) and limited Southern Illinois to 42 points -- on the road.
"We were up 32 [Sunday over Washington] and then had a little bit of a letdown," Majerus said. "They played their asses off. We knew they'd make a run. I like our team. We're playing good defense. That's the best part of this."