Kurt Budke is in Travis Ford's thoughts
November, 23, 2011
11/23/11
9:17
AM ET
NEW YORK -- Travis Ford handed out his cellphone number to each women's basketball player and staffer.
The coach was clear about his intentions. If any of them needed anything -- to talk, to ask a question, anything -- while his Oklahoma State men's team is in New York for the NIT Season Tip-Off, they can call.
"I don't care if it's five minutes before tipoff," Ford said Tuesday. "I told them all, 'You call me if you need something.'"
Ford was distraught that the men's team had to leave Stillwater this week, especially after Monday's memorial, a celebration of the life of women's coach Kurt Budke and assistant Miranda Serna, who along with the pilot (Otis Branstetter) and his wife (Paula) were killed last Thursday in a plane crash while on a recruiting trip to Arkansas.
"I hate that we're leaving," Ford said in advance of Oklahoma State's Wednesday night's game against Stanford at Madison Square Garden. "I wish we could be there for all of them. We're very close to them. There are things I could be doing. We'll be back for their game Saturday [against Coppin State]. We'll be the first people in the stands. It's tough; they're struggling right now."
[+] Enlarge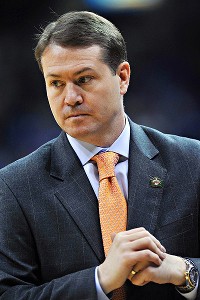 Mark D Smith/US PresswireTravis Ford said he learned a lot about basketball and life from his friend Kurt Budke.
So, too, is Ford. He put on a brave face during an interview session Tuesday. But he can't hide that he lost a friend, a mentor of sorts, and the tragedy shook him to the core.
He travels the exact same way all the time to go recruiting. "It's what many of us do," Ford said. "You don't think about it. You think about getting that recruit and going to see the next great Cowgirl or Cowboy and let them see you in the stands. That's what Kurt was thinking. He was a great recruiter. He spent an enormous amount of time and had pride in it and that's what he was thinking."
Ford said he now has pause about what to do. "It makes you think, no question, goodness, the tragedy happened the same way I go recruiting all the time," Ford said. "We take private planes. We do that. It's not unusual. Is it going to stop me from recruiting? No. But will it put it in perspective for me? Absolutely yes."
Ford and Budke had become close friends. They shared ideas. They discussed recruiting, game situations. They had no issue sharing court time. There are plenty of adversarial relationships between men's and women's programs. This was not one of them. "Kurt was a really good friend and mentor," Ford said. "I've been lucky to be surrounded by some of the greatest coaches in America my whole career as a player and as a coach. He's one of the greatest I've been around.
"His relationship with his players was something I marveled at," Ford said. "It's something that I learned from."
Ford said he and Budke would sit in each other's offices and share plays, "almost on a daily basis."
"He was a great family man," Ford said. "He loved talking about his wife and children. He was what coaching is all about. He loved the game. He wasn't just about winning and losing. He loved being at practice. I learned a lot from him, to be a better father, husband and coach."
Ford is still dealing with denial. He said he would pass Budke nearly every day as one team went onto the practice floor to pass the other. "We met each other's recruits," Ford said. "We live in the same world. It's almost surreal. I don't know what their families are going through."
Ford said his players are grappling with the tragedy as well. He said they are all dealing with it in their own way.
Oklahoma State is trying to sift through two horrific tragedies within a 10-year period. January was the 10-year anniversary of the plane crash that killed 10 members of the men's basketball family on a return trip from a game at Colorado. The team was split up on three planes. Two made it back to Stillwater, a third did not. Former OSU coach Eddie Sutton said last week that a day doesn't go by that he doesn't think about those 10.
Ford said you can't rationalize the fact that this has occurred on the same campus, within the same sport, in the same athletic department. "I marvel at the job Eddie Sutton and the administration did to keep everyone together," Ford said. "It was amazing how they got through it. I've met many of the families from that time and heard so many of their stories. It has taken longer for some of them to come back."
Monday's memorial was a celebration, not a moment of silence, Ford said. There was an ovation to celebrate Budke and Serna. "They were two ultra competitors," Ford said. "Hopefully it celebrated the lives of these two people that meant so much to Oklahoma State."
Ford was wearing an orange ribbon sticker on his jersey. A similar ribbon, to honor the four people who lost their lives, will be on the men's team's uniforms. A number of teams and coaches in the Big 12 are wearing some sort of orange ribbon to honor Oklahoma State.
"Part of my job is to recruit and a big part is to win games," Ford said. "And I'm not going to stop recruiting or stop coaching. But hopefully I'll do it the right way, the way Kurt Budke did, and have more fun and enjoy it more rather than think it's all about winning."