Dave Rice, Rebels hope to build on UNC win
November, 28, 2011
11/28/11
9:08
AM ET
Reggie Theus was a popular choice to replace Lon Kruger as UNLV's head coach before this season. Theus had the national name, the swagger, the style and the deep connection to the Rebels' initial burst onto the college basketball scene under Jerry Tarkanian.
But he wasn't the consensus choice within the school's athletic department. Athletic director Jim Livengood went with Dave Rice, a more introverted, less outspoken and more reserved coach.
Rice was a role player on UNLV's 1990 national championship team. After his playing career, he put in his time as a journeyman assistant, getting tutelage from the likes of Charlie Spoonhour at UNLV, Stew Morrill at Utah State and ultimately Dave Rose at BYU. Rose entrusted him to be his offensive coordinator of sorts.
"I was so fortunate to play for Coach [Tarkanian] and be around great coaches and people who empowered me," Rice said. "I've been really fortunate to be around good people in basketball."
[+] Enlarge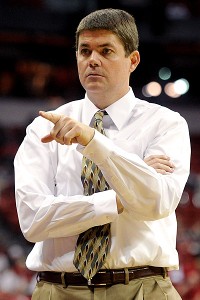 Ethan Miller/Getty ImagesDave Rice's Rebels are off to a 7-0 start, which includes an upset over North Carolina on Saturday.
But Las Vegas is a front-running town, and Rice, whether he admitted it or not, needed to have a good impression early.
He sure got it this weekend. UNLV's 90-80 victory over top-ranked North Carolina late Saturday night at the Orleans Arena in the Las Vegas Invitational will go a long way toward building a bandwagon to support his program in Vegas.
Rice, who is similar to Kruger in his personality but can't match his coaching résumé, likely has won over some doubters.
"Dave is doing a great job," said Tarkanian, who was in attendance Saturday night. According to Rice, Tarkanian also comes to a number of practices. "I supported Reggie, but that's because I didn't think Dave could get the job. But then Dave called me. Dave's getting great support. This will really help him a lot."
Tarkanian said that the atmosphere at the Orleans on Saturday night was big-time, even if there were "1,000 Carolina fans" in the stands.
"Las Vegas is a big-event town, and [Saturday night] was a big event," Rice said. "It actually felt like a tournament environment, even though it was in Las Vegas. There were a ton of Carolina fans. It had the atmosphere that it was in March. They made runs. They have a great team, and it was a terrific college basketball environment."
Rice said Kruger set up quite a situation for him to take over. He gives the former UNLV coach credit for the commitment from 11 returning players to stay with the program through a coaching change. Rice continued to bridge the gap from the past when he hired Stacey Augmon, a former teammate, from the NBA.
"It just shows that with everyone staying that they all believed in our staff," Rice said. "Stacey is so excited to be at his alma mater. He had a good situation in the NBA. He's enjoying the college game, and he has such credibility."
Rice said he is getting pleasure out of winning at his beloved school.
"I'm just so proud to represent my alma mater," Rice said. "One of my jobs is to win games, but it's also to reach out to former players and coaches. Nights like Saturday are special. I can be a guy who can help facilitate coaches and former players to share in those experiences. Coach Tark gave me an unbelievable opportunity as a role player, and I understand that. It's just so special to be at your alma mater in college."
The Rebels have quite a bit of work to do, as their schedule is daunting. UNLV has to go to UC Santa Barbara on Wednesday and Wichita State on Sunday. Then the Rebels will visit Wisconsin on Dec. 10 and play Illinois in the United Center in Chicago on Dec. 17. There's also a date with Pac-12 favorite Cal on Dec. 23.
UNLV easily has the toughest nonconference schedule of any Mountain West Conference team. It will enter the MWC schedule as a favorite, likely over San Diego State and New Mexico.
Expecting UNLV to coast or win even the majority of these games is not fair, but it now has a shelf-life win over North Carolina on its résumé, and Rice has the support of a coach who can create a frenzy with a program that knows how to play on the big stage.
"We've got so many tough games and a group of seniors that are really experienced and up for the challenge," Rice said.
UNLV is benefiting from UCLA transfers Mike Moser and Chace Stanback. The returns of Oscar Bellfield and Justin Hawkins and the emergence of Anthony Marshall make this team tough to beat. UNLV will grind, board and overachieve this season. The Rebels also will be a fun team to watch, which is critical for fan support in Las Vegas.
"We've got a long way to go," Rice said. "But Coach Tark left us a great blueprint."
No one is comparing the 2011-12 Rebels to the teams from the early '90s. But if the energy can be comparable, Rice is well on his way to becoming more than a one-hit wonder.