Hoosiers, Wolfpack hope to gain momentum
November, 30, 2011
11/30/11
9:22
AM ET
Virginia got its must win Tuesday night against Michigan in the Big Ten/ACC Challenge. It may be the Cavaliers' only quality nonconference win this season.
No team that's playing Wednesday in the Big Ten/ACC Challenge is on equal footing with the must-win needs of Virginia.
But the winner of the Indiana-North Carolina State game certainly could gain momentum and be taken a bit more seriously. Yes, that statement was written about two programs that have been stuck in neutral for years.
[+] Enlarge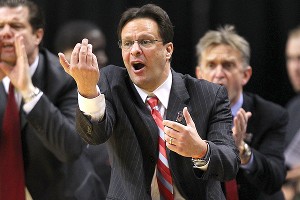 Michael Hickey/US PresswireTom Crean's Hoosiers are aiming for a 7-0 start to the season with a win in Raleigh against NC State on Wednesday.
But Indiana is starting to look as if it has turned the corner under coach Tom Crean, at least it looks as though that's the case early this season. The Hoosiers are winning games they should, including a victory over once-mighty Butler, which is going through a rebuilding process. They aren't having problems scoring and are defending well, limiting Gardner-Webb to 49 points and Butler to 59.
Indiana won at Evansville, so the Hoosiers have played on the road. They still get Kentucky at home and play a rivalry game against depleted Notre Dame in Conseco Fieldhouse. If Indiana beats NC State, there is a strong possibility the Hoosiers could go into the Big Ten season with just one loss, setting themselves up for a decent Big Ten record and joining the bubble teams for the NCAA tournament.
Too far ahead? Yes. But not unlikely in a conference that has plenty of beatable teams at the bottom (Iowa and Penn State) and a few middling teams (Minnesota and Nebraska). More importantly, the depth of the league will provide a chance for quality wins if Illinois, Northwestern and Purdue continue to play well and the top four -- Ohio State, Wisconsin, Michigan and Michigan State-- perform as expected. "For the first time, we have depth,'' said Indiana assistant Steve McClain from Raleigh, N.C., in advance of Wednesday's game against NC State. "Our veteran guys have improved. Victor [Oladipo] and Will [Sheehey] have made improvements from freshman to sophomore year and Cody [Zeller] gives us something in the middle for us that we haven't had. It's been a natural process.''
The Hoosiers have created a defensive identity, and they have had a variety of scorers. But this stretch will prove whether Indiana is to be taken seriously as a possible NCAA team.
"We'll see how they grow through this time,'' McClain said. "There's no question that these are going to be hard games. We've still got a long way to go. But this is a good stretch for us to show how we can continue to grow.''
NC State coach Mark Gottfried took over a program from Sidney Lowe that had talent. Lowe's recruiting was never an issue. C.J. Leslie was one of the top recruits in the country. And, after a three-game NCAA suspension, he has settled into being a leader on this team, averaging 16.7 points a game. Richard Howell, Lorenzo Brown, Scott Wood, DeShawn Painter, C.J. Williams and Alex Johnson are more than capable scorers.
This team is a bit wild and undisciplined at times, but it found a way to beat Texas after falling behind by 18 points in the second half in New Jersey, and it nearly upset Vanderbilt. The Wolfpack still have a daunting slate of games, including a road matchup at suddenly surging Stanford on Sunday. They also host No. 3 Syracuse on Dec. 17, visit a top-five A-10 team in St. Bonaventure in Rochester on Dec. 20 and host Northeastern -- which crushed St. John's -- on Dec. 22.
That's why winning this game against Indiana will be crucial to the overall growth, power rating and perception of the Wolfpack. "I like how we're scrapping,'' Gottfried said. "This is [Crean's] best team at Indiana. He's in his fourth year, but I'm in my fourth week of rebuilding.''
Gottfried hasn't started Leslie since his return, hoping to continue a message that he needs him off the bench and in line. And it's working for him.
"His attitude has been really good,'' Gottfried said. "He comes into the game and gives us a big lift. He told me that whatever we want, he's good.''
Wisconsin-North Carolina will get Wednesday's headline.
But Indiana-NC State is the most intriguing matchup of the day.
"This is a good opportunity for our team,'' Gottfried said. "We've got Stanford, Syracuse, St. Bonaventure and Northeastern coming up. We need to win some of them.''