Crimson face tough test at Vermont
December, 1, 2011
12/01/11
12:02
PM ET
Post-tournament games haven't been good to some teams.
• Duke had the toughest post-tourney matchup at Ohio State. And the Blue Devils lost -- big.
• Dayton followed its Old Spice Classic win by getting smoked by Buffalo -- at home.
• Saint Louis added a game at Loyola Marymount in nearby Anaheim on the back end of its 76 Classic title game. SLU, fresh off a No. 25 ranking, lost to LMU.
Will Harvard be next in line to fall on Thursday night?
Yes, it's a new world when there is legitimate reason to pay attention to a Harvard at Vermont game in Burlington.
The Crimson won the Battle 4 Atlantis and are thisclose to joining the top 25. They have a big-time game next Thursday at Connecticut, which would be an acceptable loss in the maturation of a possible NCAA-bound team.
[+] Enlarge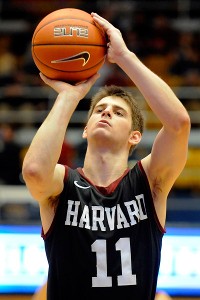 Mitchell Layton/Getty ImagesDon't expect Oliver McNally and Harvard to overlook Vermont.
But what will the perception be if the Crimson lose at Vermont?
Well, it shouldn't be diminished all that much. The Catamounts are off to a 4-2 start under new head coach John Becker. Vermont won in overtime at Old Dominion and squeaked out a win over Siena. The losses -- at downtrodden South Florida and to NEC favorite Long Island University -- aren't horrible.
Vermont is more than capable of fending off Boston University and others to ultimately win the America East. For Harvard, beating the Catamounts would be akin to what Creighton has consistently done when challenged -- win games it should, even on the road, if it is to be taken seriously at a high level. The Bluejays won at UAB, a team that is playing subpar at this juncture in Conference USA. But that's still a road win. They also beat a struggling Iowa squad on a neutral court. But their first real quality win came late Wednesday night in an 85-83 comeback win at San Diego State. That's the same Aztecs team that won at Arizona. Harvard winning at Vermont won't be on equal footing with Creighton's victory over San Diego State. But it would fall in line with what the Crimson have done previously in winning at Loyola Marymount, which beat a mediocre UCLA team and knocked off an elite A-10 squad in the Billikens.
Harvard senior Oliver McNally made it clear en route from the Bahamas last Sunday that the Crimson wouldn't overlook Vermont. He said that the game should have an Ivy League feel to it, and he fully expected the Catamounts to treat the Crimson with respect. The target is clearly on Harvard's back because beating the Crimson is now a quality win for the opponent. "We're really excited about this," Becker said. "Harvard is very good and playing real well. They understand that this will be a challenge. They realize that they're coming into Patrick Gym and it's not going to be easy for them. I don't think Coach [Tommy] Amaker will let them come out flat."
In the strange twist of scheduling, Becker saw the Harvard win at Loyola Marymount -- a key sign that the Crimson are no fluke -- and then watched LMU-Saint Louis since Vermont visits SLU on Dec. 7. He noticed the poise the Crimson play with on the road. "I told our kids that this is a great opportunity for us," Becker said. "We feel that we have a really good mid-major program, one of the best in the last 10 years. Outside of UConn, no other program in New England has won more games. We have a lot of pride. Harvard has been coming on strong under Coach Amaker. But we've got a really good program. We've got a lot of good players."
Vermont hosting Harvard is a quality game, one that will have significance for the Crimson.
Yes, that statement is being written on Dec. 1. And it's true, Vermont would still have to win the America East tournament to earn an NCAA berth. There is always an outside shot if Harvard has a gaudy record that it could be in the mix for an at-large berth. Winning games like Thursday, though, are a must.
"Harvard at Vermont, it's great. It will be a great environment," Becker said. "It's early in the year but we can show that we can compete. This is really exciting for us, a great opportunity. I think you'll see where some of the mid-major programs are. The town is exciting. Burlington is buzzing over this game."