Pick your poison with UK's Davis, Jones
December, 2, 2011
12/02/11
4:07
PM ET
Editor's Note: To watch Katz's interview with Anthony Davis and Terrence Jones, visit the Nation blog.
John Calipari has had brute strength in the post at Kentucky with DeMarcus Cousins and Patrick Patterson.
[+] Enlarge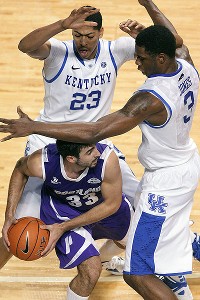 Jeff Moreland/Icon SMIUK's Anthony Davis and Terrence Jones form a uniquely talented frontcourt. The pair combined for 41 points, 24 rebounds and 12 blocks in a win over St. John's.
He's also had a rugged overachiever in Josh Harrellson, playing alongside an enigmatic Terrence Jones at forward.
But he's never had a tandem quite like he does this season with Anthony Davis and Jones, certainly not at Memphis and maybe not since he took UMass to the 1996 Final Four with Marcus Camby and Donta Bright. This pairing should dwarf that tandem in terms of overall talent. Davis has that much potential, maybe more so than Camby.
Davis offers a multitude of skills for the Wildcats with his ability to block shots, run the floor, score in the low post and face up to the basket.
Jones is the perfect complement as a college power forward that can score in a variety of ways and be the body man inside if Davis has difficulty handling the physical play.
Davis was a late-bloomer coming out of high school in the Chicago area. He's now being discussed as a potential No. 1 pick in the 2012 NBA draft. Jones thought he was a one-and-done player last season. He declared for the draft and was likely to remain in it before being humbled at a Kentucky pro day in Lexington. Calipari had NBA personnel get in Jones' ear and let him know that he wasn't going to be a top-five pick. He returned to the Wildcats, joining Davis to form one of the best frontcourts in the country.
"We just have a chemistry and we trust one another," Jones said of his partnership with Davis.
"Even in practice, we have good communication," Davis said.
No. 5 North Carolina, top-ranked Kentucky's opponent Saturday, will pose the toughest test for Davis and Jones. For the first time, Davis will have to go against a player similar to him in size, length and body type in John Henson, and to a lesser extent Tyler Zeller.
Jones will have his hands full trying to guard Harrison Barnes. That means someone else in the Wildcats' frontcourt, such as Darius Miller or Eloy Vargas, will need to provide meaningful minutes or even a few more fouls to deal with the Tar Heels' length.
"They've got a wealth of ability," said Old Dominion coach Blaine Taylor, whose Monarchs lost to Kentucky 62-52 on Nov. 20. "They make a living on their talent of overwhelming people. But my guys played toe-to-toe with them because we were physical. They'll react better to Carolina than to us because Carolina can match their length. Davis is dang long. He can pick your pocket from across the street. He's not as long as Henson but he's that kind of guy around the basket."
Taylor said that Kentucky isn't a great defensive team. But Davis certainly is a game-changer. Davis scored 15 points, corralled 15 boards and had eight of a school-record 18 blocks in a convincing 81-59 SEC-Big East Challenge win Thursday night over St. John's at Rupp Arena, while Jones added 26 points and nine boards. Davis is averaging 13 points, 9.1 rebounds and 4.9 blocks in 26.6 minutes through the season's first seven games; Jones is averaging 15.1 points and 7.6 rebounds in 30 minutes.
[+] Enlarge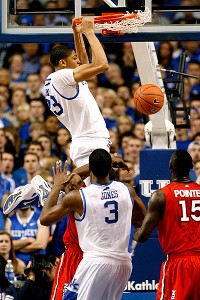 Mark Zerof/US PresswireDavis will face an opponent with similar size and a similar skill set in UNC's John Henson on Saturday.
Taylor said Davis' ability to block and alter shots may be neutralized against North Carolina due to the Tar Heels' length.
"The pair of them will have to be more creative," Taylor said. "Davis didn't play well against us and didn't cast the long shadow over the game. He's vulnerable to physical play. Jones is a bit of a prima donna. One of them is salt and pepper and the other is meat and potatoes. They're not a carbon copy of each other at all. Both can step away from the basket, though. [Davis] was the more efficient player. Jones does a lot of flashy stuff, spinning and chest bumping."
For his part, Calipari doesn't find it necessary to massage the egos of Davis and Jones. They play different positions and aren't going to replace each other on the court. And they both will play as much as possible.
"They both accept each other," Calipari said. "One kid is a little more physical. The other one is longer. They zig and they zag."
And that's why the Wildcats have been so successful early in the season. This team has the star talent of previous Calipari teams at Kentucky, but the contrasts between Davis and Jones allow roles on the team to be more easily defined.
Davis and Jones are the perfect pair for this Kentucky team. Jones provides strength, Davis length. Both can be productive in their own way and offer difficult matchups for opposing teams.
"They're really good together," Miller, a senior, said two weeks ago. "They are still learning how to work together. But so far, early in the season, they're doing a great job playing with each other. They're doing what's best for our team. Anthony isn't the power player. He's blocking shots above the rim. He can go get it. T-Jones is posting well. He's a matchup problem. And he's aggressive to get around bigger players."