Consistent Murray State rolls right along
December, 5, 2011
12/05/11
3:08
PM ET
Memphis had best watch out Sunday night at the FedExForum.
Coming to town will be 9-0 Murray State, easily one of the most consistent programs in college basketball and now one of the few remaining undefeated teams in the country.
The Racers are one of just 15 left out of 344 Division I teams (joining Xavier, Syracuse, Louisville, Marquette, Baylor, Missouri, Kansas State, Illinois, Indiana, Ohio State, Harvard, Creighton, Kentucky and Tulane).
Murray State went through a coaching change from Billy Kennedy to top assistant Steve Prohm, but standing atop the Ohio Valley Conference is the norm for the Racers, no matter how many coaches come and go. Murray has strung together a remarkable 24 straight winning seasons, a tally that ranks behind only Syracuse (41), Kansas (28) and Arizona (27) nationally.
As for this Racers team, it's starting to look a lot like the 2009-10 version that won 31 games, knocked off Vanderbilt in the NCAA tournament on a Danero Thomas 15-foot jump shot and gave eventual national runner-up Butler its toughest test, according to Bulldogs coach Brad Stevens, en route to the title game.
"We've got the same mental makeup as two years ago," Prohm said. "We're focused here early in the season. You don't know what you're going to get until you start playing games. But these guys are ready to compete at a high level."
[+] Enlarge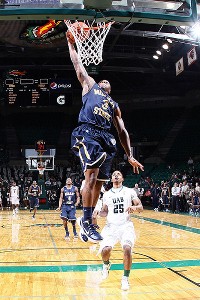 Marvin Gentry/US PresswireIsaiah Canaan is averaging more than 20 points a game for MSU.
Prohm has enlisted Thomas to help with the team now that he is done playing, and that might be rubbing off on this squad. It has helped that point guard Isaiah Canaan is even more comfortable in his role, leading this squad with 20.3 points a game. The Racers are shooting 46.6 percent overall, 43.1 percent on 3s.
"This team is so much fun to coach," Prohm said.
It should be. Murray State's 9-0 record didn't come without some close calls. The Racers won the much-maligned Great Alaska Shootout by beating Southern Miss in double overtime. Granted the field in Anchorage wasn't great, but a tournament title is a tournament title, and the Racers also have road wins at underachieving UAB and Western Kentucky.
Then, on Sunday afternoon at home, Murray dominated Dayton by 17 -- the same Dayton that had won the Old Spice Classic a week earlier.
What MSU has done is exactly what Dayton, Saint Louis and Duke could not -- keep the momentum going after winning a tourney title. Of course, Duke had to go to Ohio State after winning the Maui Invitational. That's not comparable. But the Blue Devils' effort dipped considerably in that game, regardless of the competition. Dayton got annhiliated by Buffalo -- at home. SLU stayed on the road and lost to Loyola Marymount, a team that has been about as erratic as any this season.
But Murray State just keeps plodding along -- winning every step of the way.
"Our guys did such a great job of adjusting from coming back from Alaska," Prohm said. "We've been playing games almost every third day. This team is so locked into the task at hand and doing a great job of staying in the present."
Now comes this weekend's road game at Memphis. Somehow pull that one out and the Racers would have just three relatively easy opponents lined up at home before starting conference play at Eastern Illinois on Dec. 30. An undefeated nonconference season is within reach.
Throughout the recent run, Prohm has been able to seek counsel from Kennedy, who was sidelined and out of pocket for most of the preseason as he dealt with his exhaustion, a Parkinson's diagnosis and bone spurs in his shoulder. But Kennedy has slowly come back to working full time and once again is someone Prohm can lean on for advice. He said Kennedy watched Sunday's win over Dayton and was there for Prohm when he wanted to analyze the game shortly thereafter on the phone.
"It's good to have him back," Prohm said.
The Racers are now the clear favorite to win the Ohio Valley, especially with rival Morehead State rebuilding. Prohm isn't ready to dismiss Austin Peay as a contender, even though the Governors have the complete opposite record at 0-9 after getting drilled by 31 at Memphis. The Governors have been without starting center John Fraley for all but one game.
"They're going to be in the top three by the end of the year in our league," Prohm said.
The question: By then, will Murray be so far out in front that it won't matter?
A Wave of momentum: Of those 15 unbeatens teams listed above, easily the biggest surprise is Tulane. But Tulane it is -- a perfect 9-0 after Saturday's home win over Georgia Tech.
"We're still a work in progress," said Green Wave coach Ed Conroy. "We've got a long way to go. Look at our schedule. We haven't left home much at all. We're very competitive and find a way to win. We still have a long way to go."
Tulane have a tough challenge at Wofford on Tuesday and still have to go to Syracuse on Dec. 22.
"I scheduled a lot of games in November," Conroy said. "We've got 11 new faces. We've learned something every one of these games. We've had to really work. The Wofford game is going to be a tough game for us. We've got a long way to go. But from where we were a year ago [13-17 overall, 3-13 in C-USA], we're doing well."