Robbie Hummel OK after bout with cramps
December, 6, 2011
12/06/11
10:54
AM ET
Imagine watching the Purdue-Xavier game with no sound on Saturday.
All you see is Robbie Hummel, knee braces on both legs, grabbing his left hamstring and hobbling.
Then, a few minutes later, you glance up and see that Hummel is back on the floor, the far corner of the court, writhing in pain. Trainers have emerged, rubbing his legs with ice packs in hopes of getting him some relief.
The sound didn't need to be on -- and it wasn't in the ESPN studios on Saturday afternoon -- to understand that Hummel was in serious duress. But the pain was coming from cramps rather than his knees again.
[+] Enlarge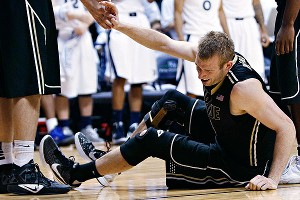 Frank Victores/US PresswirePurdue held its collective breath when Robbie Hummel initially went down against Xavier.
Hummel had full body cramps. He was done for the final minute, when Xavier's Tu Holloway hit a 3-pointer to give the Musketeers an improbable 19-point comeback win.
There is a natural trepidation when you see Hummel on the court and in pain after all he's dealt with the previous two seasons. He tore his right ACL at Minnesota in February 2010, derailing a potential Final Four run by the Boilermakers. He then tore the same ACL again on the first day of practice in the fall of 2010 -- just as he was preparing to make a comeback in his senior season. With Hummel rejoining classmates JaJuan Johnson and E'Twaun Moore, Purdue had high hopes for the season.
Since Hummel has tendinitis in his left knee, he wears knee braces on both legs.
Hummel worked hard to return for his fifth season in college and lead a younger Purdue team as the senior statesman in a deep Big Ten. There is no reason the Boilermakers can't make a run to the NCAA tournament again. But the appearance of another injury to Hummel just shows how fragile his career has been and how much Purdue needs him to stay healthy for the Big Ten race. Hummel said the braces aren't cumbersome. And he isn't thinking about his knee injuries -- not one bit.
"I had been sick the whole week,'' said Hummel. "It was one of those things where my arms and hamstrings and my quads and my back, almost every muscle in my body [was cramping up]. I had never had that happen before. It was a first. I had cramps before but nothing to that extent.''
Hummel scored 17 points in 35 minutes in the 66-63 loss. He hit a 3-pointer to give the Boilermakers a 16-point lead in the second half and said he started cramping at the 17- or 18-minute mark. The cramp started in his left arm and then hit his calves. He went to the bench to get Gatorade and salt, but it got progressively worse.
"I knew it was cramps,'' said Purdue coach Matt Painter. "The only decision I had to make was should I keep him in the game. I shouldn't. He could barely move. He was on fumes. I asked him if he could go and obviously he said yes. But it didn't help us to have him in there. The last thing I wanted to have him have were full-body cramps. I had never been in that situation, never seen someone with full body cramps. That can be pretty dangerous, and he could have another injury while that's going on.''
Hummel said he wished he could have finished the game. And if he didn't have the cramps, he is convinced there would have been a different outcome.
"I wasn't very effective in those last 10 minutes because I was cramping,'' Hummel said. "I had a lot of confidence, and it's unfortunate that it happened."
Painter said Hummel hadn't practiced much the previous week due to being sick.
"He's a competitor and he lost so much [in games played due to injuries] that everything means so much to him, and at times he has to relax and play and let the game come to him,'' Painter said. "Right now, I've seen subtle improvements. He's still struggling to rebound there and has a tough time piecing everything together. But he's shooting the ball real well. I still want him to be aggressive.''
Hummel said he understands he has to rebound better in traffic and elevate better to get the boards. But he is confident that his shooting stroke is fine. He is averaging 18.8 points and 5.1 rebounds and shooting 44.4 percent overall (42.1 percent on 3s).
"All of that is behind me,'' Hummel said of the knee injuries. "I feel great.''
Purdue is off to a 7-2 start, with its only losses coming against Alabama in the Puerto Rico Tip-Off final and at Xavier. The Boilermakers host Western Carolina at Mackey Arena on Wednesday night.
"The last two years there was a lot of hype around our team and deservedly so,'' Hummel said. "We have a talented group this year and we're under the radar, and for the first 35 minutes you could see how we can play. Unfortunately, we didn't finish and we missed an opportunity. But it's encouraging that we were leading like that for that much time.''
Painter said the Boilermakers could be even better, especially defensively.
"We were up 19 points with 10 minutes to go, but we weren't very good at the end and got caught, missing layups and some basic things like taking care of the basketball,'' Painter said. "We've got a lot of room for improvement. We've got to be tougher and more grimy on the defensive end and get the 50-50 balls. We have to be patient but patiently aggressive. I think we can be a lot better.''