Crimson face toughest test yet at UConn
December, 8, 2011
12/08/11
9:11
AM ET
STORRS, Conn. -- No other game in New England this season will match Harvard-Connecticut.
Sure, the Huskies will play some marquee Big East home games after Jan. 1. But no other contest between two New England schools will come close to Thursday night's game (ESPN2/ESPN3, 7 ET).
Harvard has its best team ever. The Crimson are ranked for the first time in school history at No. 24. Connecticut is at No. 9 and has the talent to reach another Final Four. It's the first game between ranked New England schools since UConn-BC in 2005 and just the second since a 1997 game between UConn and Providence.
The two teams could have played in the Battle 4 Atlantis title at Paradise Island in the Bahamas two weeks ago, but Central Florida upset UConn in the semifinals.
"We thought we'd be playing Florida State in the championship game, but then Harvard shocked everybody and ended up winning the whole thing,'' said UConn freshman center Andre Drummond. "Now we can see what they're all about Thursday.''
[+] Enlarge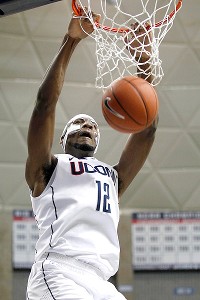 David Butler II/US PresswireAndre Drummond and UConn look to extend their 38-game nonconference home-court win streak against Harvard.
Drummond admitted that he wasn't well-versed in Harvard hoops. He wasn't sure about his opponent in the middle, either. The Crimson's Keith Wright, a preseason Wooden All-American candidate, certainly knows about Drummond and said he exchanged greetings and salutations at Atlantis. But Drummond shouldn't be faulted for not having heard of Wright or anyone else on Harvard. This team lacks a known commodity nationally -- unlike when it had guard Jeremy Lin two seasons ago.
"Our plan was to play UConn down there, but no one expected them to lose to Central Florida,'' Wright said. "Our focus was to go down there and win it. It will be nice to go up against those guys. It should have been the championship game.''
The odds are stacked against the Crimson, as UConn has a 38-game home-court nonconference streak. The Huskies have won 101 straight regular-season games in November and December at Gampel Pavilion in Storrs, although that is largely because of a soft slate of home games.
Harvard's last win over UConn was in 1972, but forget about that stat. This Crimson team can't be compared to their teams from the past. The Crimson are essentially intact after winning a share of the Ivy League title last season with Princeton. Harvard coach Tommy Amaker decided to raise a banner, even though the Crimson didn't win the title outright or get the league's tourney bid.
They are the overwhelming favorite to clinch the championship and the school's first NCAA tournament berth since 1946 this season.
"No one likes to share a championship,'' Wright said. "No one likes ties. But we made history, and we're aware of our accomplishments. Tying for the Ivy League title gives us even more motivation.''
The Crimson won't have another game the rest of this season, let alone in the nonconference schedule, that they won't be expected to win. That is also new territory for them. This program wasn't a given to do much of anything before Amaker arrived in Cambridge, Mass.
"It's just been so awesome for the seniors on this team,'' Wright said. "[To be ranked] is a testament to all the hard work, and it started from losing to Princeton at the buzzer [in last season's playoff game] and then getting beat at Oklahoma State [in the NIT] like we did. We've had a dedication to defense. We have guys that have really bought in and are very unselfish.''
Harvard has been stingy defensively, as the 14-14 halftime score against Florida State in the Bahamas indicated. The Crimson are allowing 54.4 points a game, 10th-best in the nation. And they shoot 72 percent at the line, which will come in handy in a tight game.
If Wright has to defend a player like Drummond or Alex Oriakhi, that will be his toughest test of the season.
"It's a team effort, and we all have to sacrifice on the defensive end to block out and keep those guys off the glass,'' Wright said. "It was similar to the Florida State game. Those guys had inches on us at every position. But it was a team effort to keep them off the glass. We have to give the same effort to keep those guys from playing volleyball on the backboard.''
Harvard returns all five starters. UConn has sprinkled in two key freshmen in Drummond and guard Ryan Boatright to complement returnees Jeremy Lamb, Oriakhi and Shabazz Napier. Boatright, who was suspended for the first six games of the season, has given the Huskies a major pop off the bench. He scored 23 points in a win over Arkansas on Dec. 3. Drummond is averaging a modest 7.3 points and 6.3 rebounds, which is fine with him as long as he's contributing.
"I'm not concerned about scoring points,'' Drummond said. "My main goal is to stop the other team from scoring. We can't win a game if the other team is scoring well.''
Drummond was recruited by fellow elite programs Kentucky and Pitt, but his hometown UConn won out. The Huskies are filled with top-level talent. Harvard is recruiting at a much higher level, but Wright was a typical Ivy League recruit. His suitors came from the Ivy as well as other lower-level regional schools and a brief flirtation from Virginia.
That doesn't matter. This Harvard team is experienced, has grown together and is prepared for a challenge of this nature. A win against UConn would ensure the Crimson will stay in the top 25 for the foreseeable future. But if they push the Huskies and lose, they shouldn't be judged too harshly. This is a team that isn't going away any time soon.
"They are ranked; they have good players,'' Drummond said. "I don't know anything about this Harvard team or its history. So, let's see what happens with the outcome [Thursday night].
The outcome is unknown. But the lead-up is indisputable -- New England has a marquee game for the only time this season.