Brawl strikes a nerve with Frank Martin
December, 13, 2011
12/13/11
1:47
PM ET
Editor's Note: To see Andy's interview with Frank Martin on ESPN's campus,
click here
.
Frank Martin is intense.
And by the definition of that word, you could easily describe him as tough.
But the Kansas State head coach knows the difference between being responsible and irresponsible. That's why the actions during the Cincinnati-Xavier brawl Saturday afternoon struck a nerve with him, like most associated with the sport.
[+] Enlarge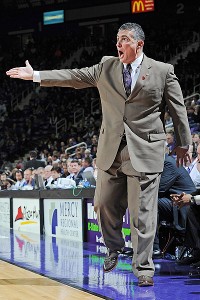 Peter G. Aiken/Getty ImagesFrank Martin says that as a coach, he can never let his players lose sight of whom they represent.
"If you're on the street and not representing a university, a team or other people, then toughness is a little different than when you are representing a university,'' Martin said as he visited ESPN's campus Tuesday afternoon in Bristol. "The word 'tough' is not whether or not you're willing to fight. It means being able to do your job to the best of your abilities.
"It's your job to never lose sight of who you are and what you represent,'' Martin said. "You do your job, and you don't accept fear of anybody. But you don't cross the line, either.''
Martin said the fight between the Bearcats and Musketeers reminded him of a similar melee that he witnessed in 1990 as an assistant coach at Miami Senior High when his team was in a tournament in Ocala, Fla., against D.C. Dunbar.
"It was an ugly scene,'' Martin said. "It was a tremendous teaching point for me as a 23-year-old high school coach to never lose sight of what can happen. You can't let your players lose sight of who they represent.
"Everyone wants to talk about my intensity and my desire to get our teams to play hard. That's the way it should be. But I never get technical fouls -- only three in my career. My players don't get technical fouls. We're intense with each other. But we don't cross the line. We represent our university, the game of basketball and our sport. We represent something that is supposed to be an avenue to prevent people [from] acting like that and to teach people how to handle moments better than that. It's an unfortunate situation.''
Martin was an assistant under Bob Huggins when he was the head coach at Cincinnati. So he understands the intensity of the UC-XU rivalry.
"The two schools are so close [in proximity] and compete for the same social scene, but they have completely different student bodies,'' Martin said. "It's a rivalry that's deeper than the game. But there's no place for that. We have to preach to our guys to never cross the line and that toughness on the street is a different world than toughness in education.''
Martin said he wasn't surprised by the nastiness leading up to the game, but he also said that hiding behind a computer created some of the bitterness between the two schools that led up to the game.
"It's different than looking in someone's face and articulating that,'' Martin said of the Twitter banter. "Our youth today puts stuff out there that they wouldn't say in front of people. It creates unfortunate moments.''
Martin said that the officials failed to get control of the game Saturday by not issuing technical fouls for the trash-talking that was going on between players on the court and on the bench. Both coaches at Xavier and Cincinnati agree on this point, but Atlantic 10 coordinator of officials Reggie Greenwood said Monday that the officials were right in not calling any technical fouls for talking before the fight.
"If my players talk to the other bench, then I take them out of the game and they don't play again,'' Martin said. "I don't budge. Jamar Samuels got a T at Oklahoma State and didn't play, and [former player] Bill Walker got T at Nebraska, and he didn't play again. I have no room for that. I'm not trying to throw Chris Mack or Mick Cronin under. We all have to be on our own [players].''
Martin said that he feels for both coaches because what occurred last Saturday could happen to any coach -- even one who is as intense with his team and preaches controlled toughness the way Martin does.
"I fear being in that moment,'' Martin said. "I've been there [at Miami Senior HS], and it's not comfortable. It's an embarrassing situation. I feel for Mick. It's a difficult place to be in.
"But I don't blame the kids. The kids are only a product of what adults allow them to do,'' Martin said. "Those kids were in a difficult moment and didn't act the way we'd like. We have to, as adults, put our arms around them and teach them so that the next group does the right things and show why it happened and how it should not happen again.''