Injuries haven't stopped Cards
December, 19, 2011
12/19/11
10:56
AM ET
The preseason top-10 ranking had Louisville coach Rick Pitino a bit perplexed.
He wasn't going to complain. But he knew the truth. There wasn't any reason to fully justify the praise at that point.
Now that the fourth-ranked Cards are a legitimate 10-0, despite all but one of the wins coming at home, the top-10 ranking can be justified.
[+] Enlarge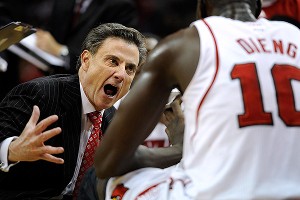 Jamie Rhodes/US PresswireLouisville's Rick Pitino will tell you that his players have consistently excelled in the classroom, not just on the basketball court.
"Three weeks ago we were just surviving and didn't deserve the ranking,'' Pitino said Sunday night. "We barely could practice three weeks ago. I didn't know who we'd have back.''
Louisville has a solid shot to reach 11-0 when it hosts the College of Charleston on Tuesday night (ESPNU, 9 ET). It then has a chance to go 12-0 against Western Kentucky on Friday (ESPN2, 7 p.m. ET) before opening the Big East schedule at home against Georgetown on Dec. 28 (ESPN2, 7 p.m. ET).
Louisville won its one road game handily at Butler at a time when the Bulldogs were struggling to find their identity. A close game against Ohio (a potential MAC champ), a double-digit win against Long Beach State (the predicted Big West champ), a comeback overtime victory over Vanderbilt and a home win on Saturday against a Memphis team that pushed the Cardinals hard in the final 10 minutes are all indications of Louisville's perseverance.
"I didn't expect to go undefeated,'' Pitino said. "We were hoping for more like 8-2 or 7-3 with all the injuries. But we're playing terrific.''
The reason for Pitino's guarded optimism about the Cardinals' record is well documented.
Eight players on the roster have been affected by injuries or eligibility (in alphabetical order):
• Wayne Blackshear, a 6-foot-5 freshman, suffered a torn labrum in his right shoulder and also had an initial eligibility delay.
Blackshear was cleared on Oct. 24. He tore his labrum on Oct. 28. Pitino said Sunday that he's in a sling, but is running and doing cardio and should be able to practice in two weeks. Blackshear, who was expected to have a major impact if healthy, could start playing for the Cardinals by mid-January, according to Pitino.
• Rakeem Buckles, a 6-foot-7 junior, tore his right ACL on Feb. 27 against Pitt. He couldn't practice until Nov. 24. He played his first game in 283 days against Fairleigh Dickinson on Dec. 10 and has played two total this season.
• Elisha Justice, a 5-foot-10 sophomore, broke his nose in practice on Nov. 27. He missed four games before returning to practice with the Cards on Dec. 14.
• Mike Marra, a 6-foot-4 junior, was originally out with back spasms from Oct. 25 to Nov. 9. Then on Nov. 13 against Lamar, Marra tore his left ACL. He is done for the season.
• Peyton Siva, a 6-foot junior, sprained his left ankle on Nov. 14 and missed two games.
• Stephan Van Treese, a 6-foot-8 junior, has a left patellar tendon strain and has been sidelined since Nov. 16. He is out indefinitely.
• Kevin Ware, a 6-foot-4 freshman, had his eligibility delayed initially. He joined the team on Dec. 14 after the fall semester concluded.
Throughout the injuries and eligibility issues, the Cardinals have had different players step up and lead the team. Kyle Kuric, the team's leading scorer, has been one of Louisville's most consistent players. Siva, Chris Smith, Gorgui Dieng, Chane Behanan and Russ Smith all have had a turn in leading Louisville.
The development of players such as Dieng, who Pitino said was someone who could run well with long arms but had no game initially, has been a pleasant surprise. Ware, Pitino said, will be much more effective against man-to-man defense than zone, which is what he saw mostly against Memphis.
Are the Cardinals and their winning record a product of a tremendous home-court advantage at the KFC Yum! Center?
"It's the finest arena in college basketball,'' Pitino said. "It's a pro arena with college fans and all the bells and whistles. It has blown me away. I never thought it was possible. I was a doubting Thomas from the first day. It was built in the toughest of economic times and nothing was spared.
"The games have been very exciting. It's an outstanding basketball environment. I love this place. It's almost like a football environment where people for a 4 p.m. game come in at 1:30. It's like tailgating for basketball."
The Cardinals will play their share of road games, including a visit to Kentucky on New Year's Eve. The Big East schedule will also put the Cards on the road at Marquette, Pitt, West Virginia, Syracuse and Cincinnati. But the Cards did catch a break with only one game against Connecticut, which will be at the Yum! Center.
"There was a time we had just eight guys in practice," Pitino said. "Now we're getting healthy for the first time."
If that's the case, the Cardinals have a shot to legitimately live up to their lofty ranking.