Friars off to hot start under Ed Cooley
December, 27, 2011
12/27/11
10:32
AM ET
Ed Cooley hasn't let the positive vibe that came with his hire disappear this season.
Providence College's decision to hire the hometown man as Keno Davis' replacement was met with widespread support. There was simply no other candidate.
Yet the Friars could have easily fallen flat, even against a soft-serve nonconference schedule set up by Davis.
[+] Enlarge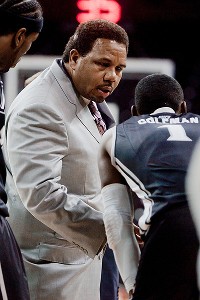 Jeff Blake/US PresswireProvidence is off to a strong start, but can Ed Cooley's team keep it up in the Big East?
Instead, they open the Big East schedule on Tuesday night at struggling St. John's with 11 wins and a seven-game win streak. Providence is led by arguably one of the top seven lead guards in the league in junior Vincent Council. "We are way ahead of schedule,'' Cooley said Monday night from New York, where he was preparing for the meeting with the Red Storm. "I never would have thought we'd be in this position after our first practice in April. We couldn't do a three-man drill, a close out, a layup. We had to stop, stop and stop.''
The Friars have had just nine players who contribute on a regular basis through the first 13 games. The top newcomer -- guard Kiwi Gardner -- never made it through academically. He's at the school but has not been able to compete on the court. The hope is that he'll be eligible in the fall of 2012, when he could join a heralded recruiting class of Ricky Ledo and Kris Dunn on the perimeter. Ledo will need a waiver to play next season since he's earning his core classes in his ninth semester of high school (the rule states that a player must complete the core course work in eight semesters or else he could lose a year of eligibility).
Council, who is just one of three true guards according to Cooley, has allowed the Friars to be competitive every game.
"He's the reason that we're able to open games up,'' said Cooley. "He'll go for two or three minutes and teams can't keep him from the rim. He's as fast end-to-end as any guard I've seen this season. He's playing at a really high level and running this team. He's not what I was told. He's been extremely coachable.''
Council's averages are up three points from 13.7 to 16.9 a game and his assists are up one from 5.9 to 6.9 per game. But he's been more of a leader for Cooley than he was asked to be by Davis. "I just didn't know how good he was until I started coaching him,'' Cooley said. "He gives us a chance every night. He puts so much pressure on the transition defense.''
Cooley isn't naive. The schedule has helped the Friars build confidence, and the Providence community has kept the faith in his gregarious nature, which isn't just for show. There were real results behind his persona.
The Friars won in a difficult spot at Fairfield early in the season. That's where Cooley used to coach, and it's a two-for-one situation for Cooley after he left the program last April. The next two games in the series are at the Dunk in Providence. The Friars also have to pay a hefty financial guarantee for Cooley to leave the Stags and come to PC.
The two losses to Iowa State and Northern Iowa were at the South Padre Island (Texas) Invitational. The Cyclones have struggled throughout the nonconference, while the Panthers were on a roll until Ohio squashed them at home. Still, Cooley said he'd like another crack at both teams now.
Beating downtrodden Boston College and A-10 cellar dweller Rhode Island are wins that the Friars should have gotten since they have more talent. And it only helps Cooley's image in New England if he can take out two of the regional schools. "We had the best player on the floor,'' Cooley said of Council.
Reality will likely hit hard when the Big East schedule begins. The Friars follow the St. John's game with a matchup at Georgetown on Saturday, and then host top-ranked Syracuse on Jan. 4. They play the Orange twice in a span of four games and also host No. 4 Louisville during that stretch. The grind continues into late January with a home game versus Marquette and a trip to Pitt.
The Friars could easily be stuck at 11 wins for quite some time. But there is also the chance that PC could be more than halfway toward a possible postseason berth -- which wouldn't have been talked about last spring. "The schedule has helped us,'' Cooley said. "You couldn't have written a better script.''