Rick Pitino to leave quite a legacy
December, 28, 2011
12/28/11
7:24
PM ET
Maybe I was naive at times, but I never believed Rick Pitino was leaving Louisville.
Not once.
Not when stories surfaced that he was looking at the NBA or even another college job, especially after news of his sordid affair and subsequent extortion attempt by his mistress was made public two years ago.
[+] Enlarge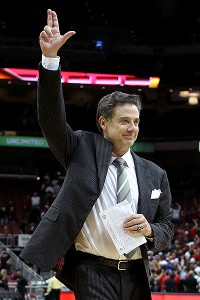 Andy Lyons/Getty ImagesIf you judge his results solely on the court, it's clear Louisville's Rick Pitino is a Hall of Famer.
The reports and rumors of a potential job search were all worth checking out. But Pitino never left. The university could have simply divorced itself from him because of the embarrassment of the situation. But they backed Pitino, and now the issue is no longer divisive to the school's supporters. However, there will always be detractors.
Now, according to Pitino, there is an official end to his tenure at Louisville. He said Tuesday he's done with coaching once his contract runs out after the 2016-17 season.
Pitino's world changed forever on 9/11 when his brother-in-law, Billy Minardi, was killed in the World Trade Center. He helped move Minardi's family to Louisville. A campus building was named for Minardi. Roots were planted in Louisville. Priorities changed. You can take sides on whether you believe Pitino. He is flawed and will be severely damaged by his own misdeeds.
But it didn't make sense for him to bolt at the time.
Leaving Louisville would have meant fleeing. And for what? No other college job could provide what Louisville had delivered for Pitino. He had already coached at Kentucky. North Carolina, Duke and Kansas were never options, either.
No other college job would pay him a top salary or would be able to deliver the pro-like atmosphere he got at Louisville. Pitino makes $3 million a year, and his salary will go up to $3.9 in 2013. The KFC Yum! Center is up and running, and he said it is the finest facility he has ever seen, and not just in the college arena. Pitino said earlier this month that the Yum! Center provides a tailgating-like environment for basketball because people enjoy being there hours prior to tipoff.
Pitino brought his son, Richard, back to the bench after he "left'' for Florida, which coincidentally happened after the revelation of the affair. Richard is back on the bench and all appears to be good again.
The NBA could have been an option for the Louisville coach. But the memories of Pitino's time with the Celtics weren't exactly positive, and no NBA team was running to hire him -- even with his extensive résumé. The likelihood that he would have been given the opportunity to coach a franchise that was on the upside or already in the playoffs was slim.
So he'll finish his coaching career at Louisville. And if we judge the results solely on the court, then there is no question that Pitino is a Hall of Famer. Pitino led Providence, Kentucky and Louisville to the Final Four. His run at PC in 1987 will go down as one of the best in Big East history. Every Friar team and coach since is held up to that standard.
Pitino came to Kentucky at the perfect time, and he got the Wildcats back to their rightful place among the great programs in the country. The NBA-type talent in Lexington continues today with his new rival, John Calipari. Calipari is bound to win a national title at Kentucky at some point, and it may be in April. Pitino's run to multiple Final Fours in the mid- '90s included a national championship under his coaching. The Wildcats then won another title with his players, who were skillfully coached by his former assistant, Tubby Smith. All of that created a legacy for Pitino.
On to Louisville … the Cardinals went to a Final Four and are now competing for the top spot in the Big East on a regular basis.
If Louisville remains in the Big East for Pitino's final four seasons (the league changes substantially in 2013), the Cards should be one of the regular favorites (along with Connecticut, if the Huskies are still in the league as well).
Pitino was the most outspoken of any Big East coach when he said that any potential expansion plans should include basketball schools Memphis and Temple. It still might, but the initial wave of expansion for all sports brought in Houston, Central Florida and SMU -- a poor trade-off for the exits of Pitt, Syracuse and West Virginia in two seasons. Pitino was correct in what the Big East needed, regardless of his position in the long term at Louisville.
Now the recruits that Pitino signs next season will be his final four-year class, if they were to stay through his final season.
And if it's any indication of what has occurred recently, then a number of them will be hard-working players who overachieve. Pitino's teams are consistently well-conditioned. They may not be the most skilled, but they don't quit.
This Louisville team isn't the fourth-best team in the country, despite what the rankings claim. The Cardinals have left home once -- winning at Butler -- and could have lost a couple of times at home already (Vandy and Western Kentucky). But to their credit, they did not.
Louisville could still finish fourth or fifth in the Big East behind Syracuse, Connecticut, Georgetown and/or Marquette. But that won't diminish what Pitino has done with this team and program.
If he walks away from coaching in 2017, then it will close out quite a career -- one that he certainly maximized every season.