Hard work pays off for Seahawks
January, 3, 2012
01/03/12
11:59
AM ET
Dan Hurley's first reaction when
Kenneth Ortiz
's buzzer-beating shot at Santa Clara went from the end line to over the basket and through the net was to get off the court.
Hurley doesn't agree with the argument that the ball came over the basket. He said the video doesn't give it the proper perspective.
[+] Enlarge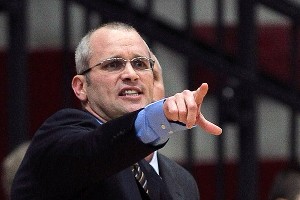 Kelley L Cox/US PresswwireDan Hurley and Wagner are off to a 10-3 start, including road wins at Pitt and Santa Clara.
"It's debatable," Hurley said. "It was a little bit deceiving."
But here is something about Wagner that is not up for discussion: The Seahawks are one of the surprise teams of the season.
They return to NEC play this week with a 10-3 record, including true road wins at Pitt, Santa Clara, Princeton and Penn and a neutral-site win over Air Force. All of those teams are perceived to be in stronger conferences. Wagner's only losses were by 12 at Connecticut, by five at preseason NEC favorite Long Island and at the buzzer to Patriot League favorite Lehigh.
Wagner was 5-26 overall and 3-15 in the NEC in 2009-10, the season prior to Hurley's hire. It improved to 13-17 overall and 9-9 in the NEC in Hurley's first season in 2010-11.
The Seahawks are on their way to surpassing last season's win total well before January concludes. A postseason berth of some sort won't be a reach for this team.
The NEC has its flaws. The bottom of the league is dreadful, and the middle is mediocre. But the top of the conference has had its moments relative to other leagues that are projected ahead of it on the seed line. Robert Morris just won by three at MAC contender Ohio; Quinnipiac took out America East favorite Boston University; and Central Connecticut is surely to be in play for the league title.
But no team has two quality road wins like the Seahawks do with victories at Pitt and Santa Clara.
"I think it's how we work," said Hurley, who is assisted by his brother Bobby. "The kids play with a chip on their shoulder. They know that Wagner and our conference [don't] get a great deal of respect.
"In the 20 months we've been there, we really watch in recruiting. We want to recruit the guys who want to be coached, who want to win. It's so refreshing."
Hurley coached at St. Benedict's in New Jersey, which was not far from his famous father, Bob Hurley Sr. and St. Anthony's. Top talent passed through his door often.
"I coached so many guys in high school that were high-major or McDonald's All-Americans or future NBA guys," he said. "But here at Wagner, the kids don't care who gets the credit. They just want to win and be coached."
Hurley, who played in the Big East, said he's not a climber in the coaching profession. He doesn't want this job to simply be a springboard. But no one would blame him if he listened or bolted for another program. Wagner cannot compete in salary, facilities or exposure to some other schools.
He isn't biting on any of that now and says he won't in the future. He said he promised St. Benedict's he would coach for three seasons and stayed for nine. He doesn't look at himself as a coaching lifer, he said, but he wants to have a "great life in coaching" where he's comfortable, the way his dad was in his high school job.
"This is a great level to be at," Hurley said. "It's real fulfilling. I'm not that guy. I'm my dad's son, who stayed in one place a long time."
Hurley said the Seahawks have overachieved so far this season. He had no idea they would be 10-3 heading into the heart of the NEC season.
"But by the way our kids have played we have created expectations," Hurley said. "That's something that is exciting for us. It's a good feeling to start to expect things."
The Seahawks aren't the most talented team by any stretch, but they are relentless. And the results show because they don't quit.
"They believe in the brotherhood of teammates," Hurley said. "They're young and hungry. They are mostly sophomores and freshmen. We're in the infant stages of what we're capable of doing."