Hoyas get closer after brawl in China
January, 4, 2012
01/04/12
10:29
AM ET
Georgetown's impromptu fight with a Chinese team, the Bayi Military Rockets, in Beijing in mid-August was not condoned. But it is being privately celebrated for its positive consequence.
The Hoyas (along with Indiana) are one of the most surprising stories of the college basketball season.
[+] Enlarge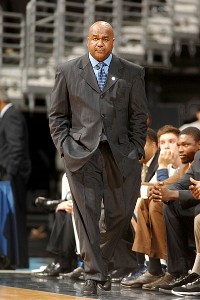 Mitchell Layton/Getty ImagesJohn Thompson III's Hoyas look like they'll be in the Big East title race for the long haul.
And the roots of this success are now being traced back to that bench-clearing brawl on what was supposed to be a rather uneventful summer excursion to China.
"You wish as a coach that the fight didn't happen,'' said Georgetown coach John Thompson III, who along with Indiana's Tom Crean enters the new year as one of the favorites for national coach of the year. "But there's no doubt that it brought this group close together.
"Quite literally, they realized that they are depending on each other and have each other's back,'' Thompson said.
The fight forced Thompson to pull his team off the Olympic Sports Center Stadium court with 9 minutes, 32 seconds left in the game.
Thompson has mentioned the fight throughout the Hoyas' impressive 12-1 start, which includes a sweep of Memphis (once in Maui, once in D.C.), a road win at Alabama and a Big East opening road victory at Louisville.
"It's been broached,'' Thompson said. "It was an unfortunate situation. The instincts tell you to protect yourself and protect your teammates. They all remember. We don't need to watch it. It's not like it happened last year. Everybody was there.''
The foreign trip wasn't just about the fight, and once again, a trip overseas ended up being the precursor to seasonlong success. Duke certainly benefited from a similar trip to China and Dubai. The rotations that are apparent now were formed during these trips. Any NCAA legislation that has looked at taking away these trips for cost is simply naive and foolish. Yet, it tends to be brought up yearly (and it happened again this year, but wasn't adopted). Teams can raise money on their own and have every right to go abroad with their student-athletes (to use the NCAA terms). Sometimes the lessons are educational; other times simply being on the court helps teams develop bonds that can't be duplicated during the season.
And of course, there are opportunities to get sneak peeks at players who are going to have an impact beyond expectations.
Otto Porter fit that description.
"It was evident immediately [on the trip] that this freshman class was going to be ready to help,'' Thompson said. "Otto, more than any other freshman I've coached, was ready to compete at this level. He was the most prepared freshman that I've had in understanding work ethic and caring and commitment. He was the most prepared freshman we've had by far.''
Porter had 14 points on an efficient 5-of-6 shooting performance in the win at Louisville on Dec. 28. He is leading the Hoyas in rebounding at seven per game. Fellow freshman Greg Whittington has been more than capable as a forward in the rotation.
This team has a number of interchangeable parts. Hollis Thompson, Henry Sims, Markel Starks, Jason Clark, Nate Lubick and Jabril Trawick have had no problem incorporating Porter and Whittington. The teams led by Austin Freeman and Chris Wright were guard-dominated, and if those two weren't on in a given night, then the Hoyas could struggle.
There are simply more options on this season's team. "We have a group of kids that is just trying to win games,'' JT3 said. "We've got a group of freshmen [who] are tough kids. We've got versatility. We've got a much more versatile team. I hoped when we put this team together that we would be more versatile.
"Could I sit here in August and/or June and say we would come together like this? No but it has,'' JT3 said.
The Hoyas' schedule was already set for the most part. The Maui trip had been booked and so had the series with Memphis. Playing at Alabama was out of Georgetown's control, since it was part of the SEC-Big East Challenge. And the Big East did Georgetown no favors by sending the Hoyas on the road to start league play at Louisville. It was the second time in four seasons that Georgetown had to start on the road at a possible contender (Greg Monroe's freshman year began with a win at Connecticut). The Big East will tell you that television dictates the best matchups, and those aren't requested until later in the season by ESPN and CBS. Yet, Georgetown has now had two high-profile conference road games in a four-year period before New Year's Day.
And the Hoyas won both. But the last time it happened, Georgetown struggled to a 7-11 conference mark in 2008-09. It doesn't seem like that will be the case after the Louisville win. The Hoyas followed up that victory with a nine-point triumph over Providence at home -- despite playing poorly during that game. They host Marquette on Wednesday night.
"This is a different group, a much different makeup," Thompson said.
If that's the case, Georgetown is in the Big East title race for the long haul.