Georgia State taking the right steps
January, 5, 2012
01/05/12
1:05
PM ET
Ron Hunter will always be known as the barefoot coach, the one coach who decided to draw attention to a cause on his own rather than be a contributor or worse simply a bystander.
There shouldn't have been any doubt about his coaching ability, though.
He consistently had IUPUI as a contender in the Summit League or at the very least a pest to put out.
[+] Enlarge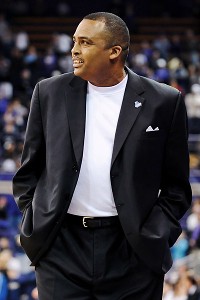 Steven Bisig/US PresswireRon Hunter, who coached barefoot while at IUPUI to raise awareness for group called Samaritan's Feet, will do the same later this month at Georgia State.
But he may be on the verge of doing something more noteworthy on the court.
Hunter has Georgia State atop the Colonial Athletic Association standings in his first season after knocking off two of the top three favorites to start this week -- Drexel and at VCU -- with a third on tap Saturday when the Panthers go to George Mason.
"This is my 25th year in coaching and I've never had this much fun,'' said Hunter. "There were low expectations and this has been an incredible ride. I've been to the NCAA tournament. None of these kids were recruited by me. We walked in and accepted each other. No one expected this.''
Hunter is known nationally for drawing attention to an organization called Samaritan's Feet. He started a trend by coaching barefoot and other coaches have caught on during Martin Luther King Jr. weekend. He has helped raise hundreds of thousands of shoes to be put on the feet of impoverished or disenfranchised children in the United States, Africa and South America.
Hunter will take his team to Africa this summer, just like he took IUPUI so they could experience the unmatched joy of seeing a child receive something that is such a basic necessity. His players at IUPUI bought into Hunter early and saw his genuine passion for his cause. It translated into their efforts on the court.
Hunter hasn't had to take this team abroad yet for them to believe in him.
The Panthers lost the first three games of the season at a tournament at Washington, including opening up with a loss to the Huskies.
Georgia State hasn't lost since falling to UW, Portland and Florida Atlantic Nov. 12-14. That means the Panthers have won 11 in a row and have a 3-0 start (they played William & Mary in early December) in the widely respected CAA.
This same collection of players finished 12-19 under Rod Barnes a year ago.
"We had a bunch of older kids that had never won in their life, the program hadn't won,'' Hunter said. "But I thought we could win right now. But I had to fit what I wanted to do with these kids and once I realized that we haven't lost since.''
Hunter said he came into the season assuming he could play the same pressing, matchup zone system he had in the previous 17 years.
But it didn't work.
"I got back to the hotel at Washington and realized no one was having any fun,'' Hunter said. "So I brought in music to practice to relax the kids. It was like we were coaching in a morgue when we started. Everyone was depressed. I had to lighten up the mood. Since then everything has changed. There is a swagger about this group. They think they're pretty good now.''
Hunter credits Barnes with instilling the desire to defend. Barnes, now the head coach at Cal State Bakersfield, was a defensive-minded coach when he was at Ole Miss, too.
"I didn't take over a bad team,'' Hunter said. "There are older kids like St. John's last season but they didn't know how to win.''
Two of the top three scorers --Jihad Ali and Eric Buckner -- are seniors with the leading scorer being sophomore Devonta White.
"They keep you off with their pressure and zone,'' Drexel coach Bruiser Flint said. "They're an older team with guys who have been around. Ron is doing a good job with those guys.''
Georgia State still has to get through GMU. The schedule actually has one break in that the Panthers get Old Dominion at home instead of going on the road. Still, it's a little early to start printing title T-shirts.
"Most people recognize me for the shoe thing but we won games at IUPUI,'' said Hunter, who will go barefoot Jan. 12 against UNC-Wilmington. "We were picked near the bottom. But we're loving this. I'm coaching with a chip on my shoulder. This team is playing like that.''