What's next for Hilltoppers?
January, 9, 2012
01/09/12
9:08
AM ET
Western Kentucky athletic director Ross Bjork walked out of E.A. Diddle Arena on Thursday night miffed about Louisiana-Lafayette's victory over the Hilltoppers. The game-winning basket came while six Ragin' Cajuns players were on the court.
He was adamant that he had to make a coaching change. He called his superiors and informed them that as bizarre as the timing may appear, the Hilltoppers had to make a change and fire coach Ken McDonald.
[+] Enlarge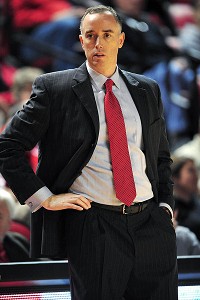 Don McPeak/US PresswireWestern Kentucky made a midseason coaching change after firing Ken McDonald last week.
Bjork informed McDonald Friday morning, let assistant Ray Harper know he would be the interim coach and told the players about the move.
"There was no good time to do it," Bjork said late Saturday night. "We tried to do it as professional as we could. But you could never have scripted a more bizarre process."
Bjork was adamant that the way the game ended wasn't the deciding factor for dismissing McDonald 16 games into the season.
But he wouldn't answer the question on whether he would have fired McDonald if the Hilltoppers had beaten Lafayette.
"It's hard to say to be honest with you," Bjork said. "But the trend lines weren't good. So if you win the game, what do you do? If we lose the game in regulation? It's hard to say. We've got too much at stake here and too much history. Before we lose it on a long-term basis, we had to do something."
Bjork said there was a completely different vibe in the arena from Thursday's game versus Saturday's loss to Troy.
The attendance for Thursday's game was listed at 2,137 compared to 5,172 on Saturday (of course, a weekend date is usually a better sell).
"We lost the game [against Troy], but there was a different feel," Bjork said. "Without disparaging Ken, the people were relieved about this decision. That's unfortunate. I hate that for Ken's sake as a person."
McDonald didn't respond to a message left by ESPN.com.
Bjork said as a rule he's not in favor of midseason coaching changes. That's the party line -- no matter if it's at Minnesota, Vermont, USC or LSU, which have made similar high-profile moves during the season.
"Our program reached a point of no confidence," Bjork said. "It was the body of work."
Bjork responded to the criticism that he could have dismissed McDonald in the spring, rather than prolong the inevitable. He said his assessment at that time was that he was trying to work with McDonald to change a few things.
"He had to become a better organizer, organize his schedule, organize his travel itinerary, organize the program," Bjork said. "There were academic issues in the fall of 2010 and the spring of 2011 that were unacceptable."
Bjork said he had to delicately handle off-court rumors that weren't true about McDonald.
"There were constant rumors, and they weren't even close to being true," Bjork said. "We talked him through a lot of the stuff. He was going through a divorce, and this is a small town and people say things that aren't true.
"Unfortunately, what [the rumors] did was damage the confidence level of him running the program. We tried to address that. He's divorced. He can have a life and if he wants to have a girlfriend, that's his prerogative. He's not married. If you have a girlfriend, then bring her out in public. There's nothing wrong with that."
Bjork said there were positive signs over the summer. The program was involved with community service projects, which was a good thing.
"But with a fragile environment and you lose some tough games, things start adding on," Bjork said. "The plan wasn't working the way we thought. We had put together a plan, and it didn't work."
Bjork had restructured McDonald's contract. He was initially hired in 2008. His base salary was $250,000 in 2009. Bjork said bonuses bumped up the salary by $100,000 last season. So the $100,000 pay cut was, according to Bjork, more of a reset in his terms.
"We viewed it as starting over," Bjork said.
Now Bjork is waiting to hear from McDonald or a representative on how he wants the $300,000 the school still owes him -- a four-year payment plan or one lump sum. McDonald has 30 days to negotiate an offer.
So now what? Bjork is in a unique situation. USC hired unemployed Tim Floyd and sent him on the road, setting up the program. Vermont hired Maryland assistant Mike Lonergan as the coach-in-waiting for retiring Tom Brennan. Minnesota went with an interim in Jim Molinari before it found Tubby Smith suddenly available. LSU went to an interim coach before Trent Johnson came to the Southeast from his native West Coast.
Western Kentucky has been one of the best jobs at its level because of a passionate fan base and quality facilities. The Hilltoppers should be one of the best jobs, if not the best job, in the Sun Belt, much like Murray State is in the OVC, Butler in the Horizon or Gonzaga in the WCC.
Dennis Felton and Darrin Horn won at Western Kentucky. The question is can Bjork find the next coach to do the same.
Bjork said he will try to proceed in the right way. If a head coach wants to talk to him, he will be open to the idea. He said it would be easier to talk to assistants during the season. He said he's not ruling out making an announcement before the season ends but doesn't want to disrupt the current season.
He is hoping to take Minnesota AD Joel Maturi's approach to check to see if a coach who wasn't previously projected to make a change wants to move.
"Let's assess and organize and maybe there will be some interest and you can unofficially engage and then engage with the person once [the season is done]," Bjork said. "There are lots of ways to do it. We have time to find out who is best out there. We have the best job in the league, one of the best jobs in the country.
"Gonzaga and Xavier and Butler have taken off that mid-major label. That's what we want to do. We have the ability to be a big-time program."