Don't count out Ducks' Pac-12 chances
January, 18, 2012
01/18/12
2:15
PM ET
Oregon escaped with a win at Arizona on Saturday, and that victory could be the reason the Ducks stay in the Pac-12 title race.
And if they win the next three games at home -- against USC, UCLA and Oregon State -- then the potential 7-2 Ducks should be in line for a conference championship.
With Oregon maturing and settling on a rotation with four-year transfers, combined with a muddled Pac-12, it could be in a strong position to contend for the title.
[+] Enlarge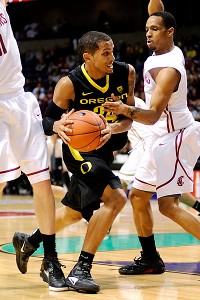 Robert Johnson/Icon SMIMinnesota transfer Devoe Joseph is leading the Ducks in scoring with 14.9 ppg.
The Ducks completed their first sweep at the Arizona schools in five seasons. Cal is the highest ranked Pac-12 team, at No. 40 in the RPI. Oregon is next at No. 51. Three of Oregon's four Pac-12 wins have come on the road, and its second-half schedule is more favorable with a home-road split.
"In two weeks we'll know,'' coach Dana Altman said of the Ducks' title chances. "If we make the turn after these three home games, then we'll have a chance. But we've got to take care of business at home. That's our big challenge. We have to make our place hard to come in and get a win.''
Preseason conference favorite Cal already won at Oregon. The Ducks' other loss was at Washington. On the surface, neither setback should be looked poorly upon. And there is no way any team in this league is going to run away with the title this season.
But for Oregon to be in decent shape for the conference championship is somewhat surprising. The Ducks had Jabari Brown, the top freshman in the Pac-12, on their roster. But he quit two games into the season and is now at Missouri.
The Ducks were also trying to assimilate two key big men who transferred in, Tony Woods (from Wake Forest) and Olu Ashaolu (from Louisiana Tech).
But the biggest surprise may be how easily Minnesota transfer Devoe Joseph has meshed into the lineup. Joseph is leading the Ducks in scoring, at 14.9 points a game. Veterans E.J. Singler and Garrett Sim are next, each in double figures, before Ashaolu and Woods.
Joseph quit on the Gophers a season ago, costing Minnesota dearly at a time it needed him after Al Nolen was injured.
"Devoe needed a change of scenery,'' Altman said. "He's older. He's more mature. And any time a player has to sit and watch for a semester it makes a player see how important basketball is to him.''
Altman apparently isn't getting the same Joseph that Tubby Smith coached.
"I have the advantage of an older and more mature player,'' Altman said. "I saw how much basketball means to him. Now he wants to do what he can to help his team win. He's been easy to work with.''
Altman said the Ducks, who held Arizona to just 57 points, needed to get their rotations down. Having Sim and Singler be the rocks for this team has helped as Joseph, Woods and Ashaolu find their niches. Woods was never a scorer at Wake. He's not much of one at Oregon either, but he's become a serviceable big man, averaging 6.8 points.
The Ducks weren't ready for elite competition early in the season, which was evident in a loss at BYU (completely understandable), at home to Virginia (one of the ACC's top four teams) and certainly to open the season at Vanderbilt.
But no one else in the Pac-12 has done much of anything outside of the league, either.
Stanford, Cal and Washington stand ahead of Oregon -- for now -- with one loss. But there are likely more defeats to come as the competitive balance continues in the Pac-12.
Altman makes a solid point about the early-entry defections to the NBA. The then-Pac-10 was vulnerable to losing starters such as Jeremy Green (Stanford), Tyler Honeycutt and Malcolm Lee (UCLA), Klay Thompson (Washington State), Isaiah Thomas (Washington) and Nikola Vucevic (USC). Injuries (Jio Fontan at USC), ineligibility (Jahii Carson at ASU) and a dismissal (Reeves Nelson at UCLA) have contributed to the down turn as well.
Oregon State has improved greatly from last season and had the league's best nonconference win -- in overtime against middling Texas. But the Beavers have stumbled in the Pac-12 after beating Cal. They lost in four overtimes to Stanford and at Arizona in overtime before dropping a road game at ASU during the same weekend.
All these results mean a team like Oregon is more than capable of competing for the conference title.
"We have good competitive balance,'' Altman said. "We're getting better as the year goes on. I don't think we have an elite team. But I do think we have five or six pretty good teams. A number of them are starting to play well.''