Vandy rounding into form after shaky start
January, 20, 2012
01/20/12
8:06
PM ET
I've bought in on Vanderbilt.
And I don't see anything changing that in the next six weeks.
This team has a chance to do something special under Kevin Stallings. It has endured the necessary adversity to find itself during the course of a season and is still in position to achieve its goals. The heart of the Commodores' SEC schedule remains, including two February games against national title contender Kentucky.
Vandy was missing its toughest, and most irreplaceable, player early in the season, as big man Festus Ezeli had two issues: a six-game suspension for receiving extra benefits and an injury.
[+] Enlarge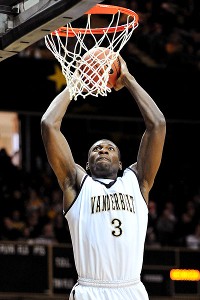 Don McPeak/US PresswireFestus Ezeli is rounding into form after missing 10 games this season due to suspension and injury.
The Dores were humbled in a home loss to Horizon League contender Cleveland State. Respectable overtime losses to Xavier and Louisville followed, as did less respectable losses (Indiana State).
They have been finding their form since, winning eight in a row. The most impressive of those wins was a 74-57 triumph against Marquette in Milwaukee; the Eagles were supposed to be the tougher team, but Vandy got in their grill and delivered a knockout.
The Commodores enter a three-game homestand as the second-hottest team in the SEC outside of Kentucky, with games against Mississippi State on Saturday, Tennessee on Tuesday and then on Jan. 28 against Sun Belt leader Middle Tennessee.
The Dores are tied with Kentucky at 4-0 for first in the SEC. Before the season, the Commodores expected to be the Wildcats' strongest competition in the league race.
"We've finally gotten consistent practice time," Stallings said. "If you can't practice, you can't get better. Since Christmas, we've had the core group of guys practicing."
Ezeli was out. Lance Goulbourne and Steve Tchiengang were limited while recovering from concussions. John Jenkins had a sprained ankle. Those may sound like excuses, but a team that had been fragile in the past couldn't afford that many disruptions.
Ezeli has played in eight of the 18 games. The Commodores lost only one -- Indiana State.
"He's huge for us defensively," said Stallings. "If you look at how we are now versus early in the season, it's drastically different. We've gotten better on the defensive end and a lot better on the boards. We're nowhere near where we can get to offensively. Defensively and rebounding has taken a big turn for us."
Ezeli and Tchiengang have the ability to play physical, which helped the Dores dominate the inside against Alabama in a win on the road Thursday.
Jeffery Taylor can be a lockdown wing defender. He can also make timely shots. Jenkins has always been the team's best shooter. Brad Tinsley has had his moments but is streaky. The overall bench production needs to improve. But there is enough in play, and there's certainly enough experience, for this team to establish itself as the second-best team in the SEC.
Credit Stallings for placing the game against Middle Tennessee in the middle of the SEC season. The Blue Raiders get their own version of a BracketBusters game. A win for Middle Tennessee will help it in a possible at-large situation; a win over Vanderbilt earns it more power-rating points.
"We've been historically terrible after our off-week the last couple of years, so I wanted to make sure we put a game in there during the off-week," Stallings said. "It keeps our rhythm going. I didn't have any idea that they'd be this good. I knew they were good when they beat Belmont, but not this good on a national level."
Having Ezeli healthy has changed this team. He's not a shot-blocker, but he's a presence in the paint, one Vandy could not do without. When he's in the lineup, the Commodores' toughness quotient increases.
"People are quick to call us soft or whatever," Stallings said. "I would venture to say if you asked teams we've played, we're not soft."
There are still plenty of games to play in the SEC, but the evidence is mounting that the Dores are remedying the issues that plagued them early in the season, even if it hasn't been borne out by a national ranking.
"That's OK with us," said Stallings.
They will be ranked soon and, more importantly, seeded decently if recent results continue.