Jarnell Stokes breaking midseason mold
January, 23, 2012
01/23/12
7:09
PM ET
Tennessee freshman forward
Jarnell Stokes
won't be a trendsetter.
Stokes joined the Vols earlier this month, midway through his senior year of high school, since he was able to graduate a semester early. But first-year Tennessee coach Cuonzo Martin doesn't see many players being ready academically to step into college under those circumstances.
And maybe that's OK, because Stokes is making it hard for anyone to match what he has done so far.
"I think it can happen again, but I'm not sure, because the reason it happened was that he was such a good student," Martin said. "He never went to summer school. He did play AAU ball. But he's a legit student who took care of his business. A lot of guys need second semester. You have to be a really good student for this to be able to happen."
Stokes got to Knoxville because he wasn't eligible to play in high school after his appeal to play immediately at Southwind High in Memphis was denied by the state high school association.
[+] Enlarge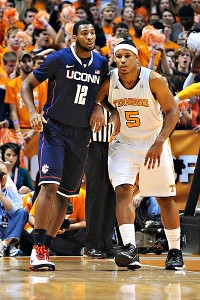 Randy Sartin/US PresswireJarnell Stokes more than held his own against UConn's big men.
But he had to be eligible to graduate early and have all his core curriculum ready for approval through the NCAA Eligibility Center. He was. And then the SEC approved his case, as well.
Martin said he would caution against this being some sort of raiding trend where college coaches poach high school seniors off their prep teams. Even if the player is ready, the big difference with football and basketball is that the season is already in progress. Sometimes a football recruit will graduate from high school a semester early and then head to college for the spring semester so he can participate in spring practices. But that's after the high school season.
If a college basketball coach took star players off their high school rosters midseason, he would run the risk of angering high school coaches and messing with future recruiting.
"[Stokes] had transferred high schools and he wasn't playing [at Southwind]," Martin said. "It would be different if he were cleared to play. We discussed this [early in the fall], and to his credit he took a class [three credits] to get it done."
But Martin didn't want to rush Stokes onto the floor, even though he is 6-foot-8 and 250 pounds and physically ready to play with any big man. He hadn't practiced. His game conditioning was an unknown. He didn't know how his coach wanted him to defend. And he certainly didn't know the offense.
So Martin kept Stokes out of the first two games he could have played (against Florida, a win at home, and at Mississippi State, a loss on the road).
Martin made his debut against Kentucky. He came off the bench and scored nine points, grabbed four rebounds and missed only one of five shots in 17 minutes. He held his own against the length of Kentucky's bigs.
Tennessee lost, though. And then the Vols were defeated at Georgia four days later. Stokes was similarly effective against the Dawgs. He scored 11 points and grabbed eight boards in 26 minutes.
Martin saw enough to start Stokes against Connecticut on Saturday. The Huskies had Andre Drummond and Alex Oriakhi. It didn't matter. Stokes scored 16 points, grabbed 12 boards, made 4 of 9 free throws and 6 of 10 shots, and blocked two shots. He committed only two fouls and didn't turn the ball over.
Tennessee won 60-57.
Up next for Stokes: The Vols travel to rival Vanderbilt for an SEC game Tuesday night, and he'll have to match senior forward Festus Ezeli.
Martin said the players embraced Stokes as soon as he arrived. There was no animosity about his suddenly taking playing time.
Martin is still working with Stokes on boxing out fundamentals, switching screens and where to be on the weak side defensively.
Stokes (12 ppg) is already second on the team in scoring average, behind Trae Golden's 13.6, and first in rebounding average (8 rpg), ahead of Jeronne Maymon.
The Vols (9-10, 1-3 SEC) aren't an NCAA tournament team unless they win the SEC tournament, even with the singular wins over Florida and UConn at home. The record is too much to overcome, barring some sort of one- or two-loss run the rest of the conference schedule.
But the good news for the Vols is that Stokes has to return for the 2012-13 season. The NBA draft rule is 19 years of age and one year out of high school.
"Barring an injury, I know it's after next year anyway," said Martin, who was right back in the recruiting hotbed of Memphis on Saturday night after the victory over the Huskies, mining for similar talent. "It doesn't bother me at all. We're putting him in a position to be successful. I don't want to hold a guy back like that."