Lefty Driesell: 'It's not fair to my players'
January, 25, 2012
01/25/12
8:01
PM ET
Former Maryland coach Lefty Driesell expressed concern over the school's decision to name the Comcast Center court after Gary Williams -- a process that will take place during a ceremony before the Terrapins' game against Duke on Wednesday night.
The Baltimore Sun reported Wednesday that Driesell sent an email to Maryland president William Kirwan that conveyed his displeasure with the decision.
[+] Enlarge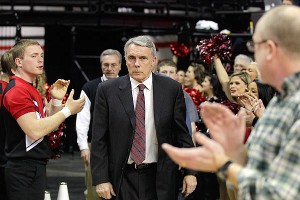 Rob Carr/Getty ImagesNot everyone is happy with Maryland's decision to name the Comcast Center court after former coach Gary Williams.
Driesell told the Sun that "it's not fair to my players that they would put Gary Williams' name on the court. It's a disservice to players such as Tom McMillen, John Lucas, Len Elmore, Brad Davis, Greg Manning, Adrian Branch and Steve Sheppard."
Driesell has his opinion. And there may not be one right answer. But the facts in this situation back Williams more than Driesell or anyone else.
Williams won 461 games in the ACC. Driesell won 348.
Williams went to two Final Fours and won a national title in 2002. Driesell did not.
And most importantly, Williams took over a program that was in a state of disrepair after the shocking, drug-related death of Len Bias, Driesell's departure, three turbulent seasons of Bob Wade and NCAA sanctions that could have crippled the program.
Williams took over UM in 1989. He went to seven Sweet 16s, two Elite Eights and two Final Fours and won a national title. He left the ACC as its third-winningest coach behind Dean Smith and Mike Krzyzewski.
Syracuse named its court after Jim Boeheim. Duke did the same for Krzyzewski. Arizona named its court after Lute Olson, Valparaiso did so after Homer Drew. Of course, on the women's side, Tennessee honored Pat Summitt with her name on the court.
All of them are the iconic face of their respective programs. Maryland has a rich history. Driesell certainly rattled off some of those names. The late Bias may be one of the most iconic because of how he played -- and to some extent how he died.
But in the modern era, Williams did more to turn around a program than almost anyone. He competed in the same league with the two most consistent national programs during his two-plus decades as head coach.
"It's very humbling. There were other coaches and great players who came through here," Williams said. "We were in a conference with two of the best five programs in the last 50 years in Duke and Carolina. That's who we were measured against. And in my first four or five years we couldn't compete against them. We weren't good enough. I knew if we could get good against those two, we could play against anyone in the country."
Williams literally left his sweat at Cole Field House and then at the stately Comcast Center, built amid the athletic fields on campus. His sideline demeanor was chaotic. He screamed at anyone in his wake, but he commanded and received incredible loyalty.
He thrived on getting undervalued players who achieved collective greatness by competing for ACC titles. Sure, he had some high-profile players out of high school (Joe Smith) or junior college (Steve Francis), but he also had his fair share of players who overachieved (Juan Dixon, Steve Blake and Greivis Vasquez).
Williams took heat for not getting in-state studs Carmelo Anthony, Rudy Gay and Kevin Durant. The criticism of Williams not playing the used car salesman recruiting game was fair. But he thrived in coaching up his players to beat the all-star sets from the blue blood teams. "I loved practice," Williams said. "It was the purest basketball. There were no phones, no Internet. You were just getting the players prepared for a game.
"This means a great deal to me," Williams said of the floor naming. "I spent the best years of my coaching life span at my alma mater. It wasn't just about the wins and losses. It was about taking this program to the level where we got the Comcast Center built and winning the national title."
Williams went to Maryland from Ohio State at the most difficult time in the school's athletic history. "We were three years removed from Len Bias dying and we had to overcome the drug stigma that was on the program that was used by other coaches against us," Williams said. "It was used against us in recruiting. The academic reputation was hurt and we had to convince the faculty that we would run a clean program the school would be proud of."
Williams mentioned Baylor as a comparable situation to what Maryland had to endure. Bears coach Scott Drew had to take over a program which was decimated by a scandal that involved a murder by a teammate and NCAA rules violations that were covered up. Drew has done a remarkable job of making the Bears a nationally prominent program in less than 10 seasons. He reached an Elite Eight two seasons ago. And he could reach another one this spring.
Maryland's image in the late '80s may have been worse and certainly Williams was in a tougher situation. "It was almost impossible," Williams said. "We couldn't play on television or go to the postseason that first year. And we had two of the top teams in the country in our league. And Wake Forest was really good, too."
Mark Turgeon, Williams' successor, will get his first taste of the Maryland-Duke rivalry Wednesday night. The crowd will be amped up to celebrate Williams, and the passion to beat Duke will be on full display again. "The main reason I took this job is because of Gary and Lefty and the great job they did," Turgeon said. "I think it's perfect that it's happening against our rival."
Williams has supported Turgeon from the moment he accepted the job. It was Williams' decision to retire and see if there were other avenues in life to channel his passion.
"Gary is at peace with himself," Turgeon said. "He loved Maryland. He has been off the charts. This couldn't have gone any better the first seven months."
"I went into coaching in 1968," said Williams, 66. "No one went into coaching to make money. I loved the game. This was an extension of playing to stay in the game."
And now his name will be on a court where he left so much of his sweat as a player and even more so as a coach.