Success hasn't changed Tom Izzo
January, 26, 2012
01/26/12
10:40
AM ET
Scandals don't discriminate. They can catch anybody in the sport, regardless of age, ethnicity or level of play.
No one is immune.
But for the sake of the coaching profession, and maybe for faith that there are real and genuine coaches in the sport, Tom Izzo needs to stay scandal-free.
I've covered the sport since I was in college in the late '80s and there has never been someone who has achieved so much success that defines true character than Izzo. He is deserving of the praise that was flooding Twitter on Thursday.
Izzo got his 400th career victory at Michigan State on Wednesday with a win over Minnesota.
Izzo hasn't changed one bit since he was an assistant under Jud Heathcote.
This is who he is:
• A grinder.
• Loyal.
• Passionate.
• Compassionate.
• Dedicated.
• Winner.
• Real.
[+] Enlarge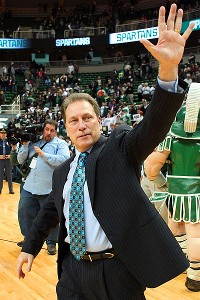 Mike Carter/US PresswireMichigan State coach Tom Izzo got his 400th victory Wednesday night.
Izzo is an icon at Michigan State, but there are no walls between him and the masses. He is one of the people, always has been, always will be at Michigan State.
And he's not afraid to call out his own. He took offense, as he should, to one of his Izzone fans calling for Purdue's Robbie Hummel to suffer a third ACL tear. He is protective of his team but will not tolerate any poor behavior, regardless of it wearing green and white.
He doesn't hide from giving the sport challenging games by playing anybody, anytime.
When the Champions Classic field with Kansas, Duke, Kentucky and Michigan State was put together, which school do you think didn't hesitate or need to hear the matchups or the sites? Michigan State.
Just think for a moment that the Spartans are easily in this group when it comes to putting together an elite event. The traction after the 1979 national title didn't exist. The Spartans weren't a dominant program through the '80s or early to mid '90s. Izzo changed that beginning in 1999. And while Ohio State has the resources and usually the more recognizable recruits, the Spartans are the team of record in this new century in the Big Ten.
And there is no indication that it will end. Does anyone really believe that an Izzo-coached team is out of contention for a bid, or a March run? The Spartans aren't always the favorites, and Izzo's teams have had plenty of flaws, but he always gets his players up for any challenge.
Striking a balance as a father and a husband is a constant chore for any coach. We can't pretend to know how he is at home, but from what I have seen in short snippets he does his best to create the balance.
Izzo is intense but not to the point that it leads to a lonely life where the job is all that he cares about. There are plenty of failed husbands and absentee fathers in the coaching ranks. Izzo isn't one of them.
He is also an incredibly loyal friend to his former assistant coaches, to the rest of the athletic department and to his boss, athletic director Mark Hollis.
Seeing Izzo on the deck of the USS Carl Vinson in San Diego in November, you could tell how he genuinely was in awe of the moment and of the sailors on deck. He wasn't going to make this about him, or his program. He was honored to be asked. It didn't matter who talked to him while walking on the deck. Izzo stopped for photos, shook hands and talked to anyone who approached.
Izzo knew that going to Cleveland to coach the LeBron-less Cavs wasn't for him. He would have had a pay increase, but the life he would have led would have been flawed. Rarely has there been a coach in this era who is a throwback to what a college coach should be on a campus. He is entrenched at the school, a true representative of the university and willing to give back to a school that gave him an opportunity.
Izzo's milestone victory led to Internet plaudits Thursday. But they could come any day.
You can have battles with Izzo over stories and questions. He wouldn't be real without the fire and testiness at times. But that's Izzo being Izzo, someone who hasn't let success define or change him. And that's what all coaches should strive to achieve: be yourself, regardless of success.