Panthers have chances for quality wins
January, 31, 2012
01/31/12
11:16
PM ET
Pitt coach Jamie Dixon didn't dismiss the Panthers' NCAA tournament chances even after his team lost eight straight games.
And neither did the selection committee. They never do when it comes to ruling a team dead on arrival for the selection process.
Of course, it helps if the team dealt with injuries, like the Panthers did with Tray Woodall, and plays in a conference like the Big East, where opportunities for quality wins exist every week. "The one thing we don't do is project," said Jeff Hathaway, the chair of the NCAA tournament selection committee and a current Big East conference consultant. "We don't predict or project. Pitt won the last three [games]. They've got good opponents.
[+] Enlarge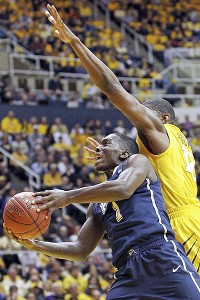 AP Photo/David SmithPitt struggled without Tray Woodall, which didn't go unnoticed by the NCAA selection committee.
"We know this team had injuries. Nobody has deleted this team or put any team from being considered [for the NCAAs] at this point."
The Panthers started the losing skid with a home loss to Wagner on Dec. 23 and then dropped seven consecutive Big East games. The streak ended with a home win over Providence, and Pitt also beat Georgetown at home before shocking West Virginia on Monday night in Morgantown.
"Having Tray out there changes everything since everyone plays their position," Dixon said. "I was hoping he would be back even earlier."
Woodall, who had a groin injury, missed 11 of 12 games earlier this season. He returned for the Jan. 21 game at Louisville but was held scoreless, with three turnovers and two assists. But in the past three games, all wins, he's averaging 15 points and 7.3 assists.
Dixon said the Panthers never panicked during the rough stretch. There have been other illnesses and injuries that have befallen this club and have not been widely reported. Finally, Dixon said, the Panthers have been practicing with a full complement of players (save the Khem Birch transfer to UNLV).
Dixon said the Panthers never discussed the NCAA tournament or what lies ahead. They can't take any game for granted at this stage. A home game versus Villanova is next up on Sunday, and then Pitt visits surging South Florida and Seton Hall.
"I didn't see a change in attitude," Dixon said. "We have our rotation down. We're more comfortable. I feel good that we're getting better."
The Panthers have the opportunities in the Big East to get quality wins. A number of teams in other conferences do not.
And that's why Hathaway said the BracketBuster event is critical for the teams involved.
"There's no question that there are chances for road victories," said Hathaway of matchups like Long Beach State at Creighton, Saint Mary's at Murray State and Nevada at Iona on Feb. 18.
"It gives those teams another crack at a quality opponent. It's something important for their résumés. It's another game that will catch the committee's eye."
Hathaway said a Murray State win over Saint Mary's will give the Racers another top-50 win. Murray State currently owns two top-50 victories over Southern Miss (11) and Memphis (28). Murray also beat Dayton, which is just outside at 59. Saint Mary's is at 25.
"They get another game against a quality opponent that you say will be in the tournament," Hathaway said. "Anything that gives us more information is a plus. It comes at a crucial and intriguing time. It gives these schools another crack at the bat to play top-50 teams. It stands off the sheet more."
Hathaway said he was impressed that Middle Tennessee State chose to play Vanderbilt (and for the Commodores to do so, as well) in January. The Sun Belt and the Blue Raiders weren't participating in BracketBusters this season.
"Those schools are doing what the committee asked to do," Hathaway said. "They're going out and playing people."