Injuries have taken their toll on Trojans
February, 2, 2012
02/02/12
2:11
PM ET
USC is having one of its worst conference performances in one of the weakest Pac-12 seasons ever.
The Trojans have won one game in the league -- and that came in their last outing on Jan. 28 against the only other team (Utah) that is having almost as dreadful a season as USC.
The Trojans' next win may not come until the last game of the regular season at home against Washington State, the same team they face Thursday night in Pullman, Wash. Then again, it may not come again until the fall of 2012.
[+] Enlarge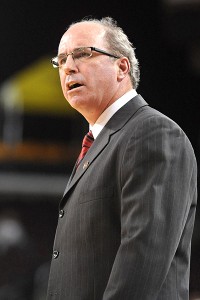 irby Lee/US PresswireThe losses have added up for Kevin O'Neill and USC this season.
How did it get this bad? Well, the answer is simple, and coach Kevin O'Neill is rather calm about it: The talent just isn't there.
The Trojans were in the NCAA tournament last season, playing in the First Four against VCU. Now, they'll likely be out of the conference tournament before others even arrive.
The Trojans went to Brazil in August. Four of the five starters from that trip aren't healthy now.
Jio Fontan tore his ACL. Curtis Washington tore his labrum, while Evan Smith had a similar injury. Aaron Fuller is out with a shoulder injury. Dewayne Dedmon fractured his hand in the preseason and then tore his MCL last week and is now done for the season.
Fuller played in 18 games and averaged 10.6 points a game. Dedmon was the primary post player and was averaging 7.6 points and 5.5 rebounds. Smith managed to play in only four games. Fontan never played this season.
That leaves one double-figure scorer for the road trip to Washington this weekend -- guard Maurice Jones (14.5 points per game and 3.4 assists per game).
Athletic director Pat Haden, who didn't hire O'Neill, told the L.A. Times' Bill Plaschke that "this is not what we want USC basketball to be, but we think KO is doing all the right things to get this program turned around. Kevin has inherited a bad hand, and we're going to give him time.''
Haden's public support is apparently what O'Neill said he's getting out of the spotlight, too. "[The administration] has been great,'' O'Neill said. "Couldn't have been better. They've been awesome. The first year we didn't have a ton of players. The second year we got Jio eligible late and got into the tournament. If we had Jio we'd be right there. To lose four of the top five starters is difficult.''
O'Neill was a surprise choice to lead the Trojans out of the O.J. Mayo-Tim Floyd era. He apparently has some time to rebuild, but it will be interesting to see how long he'll last. If there was ever a time to jump up in this conference, it is now.
Arizona, Cal and Washington are the three programs that have the most stability. Oregon State, Oregon and Stanford are clearly on the rise. But there are chances for others to jump up quickly. "You can survive injuries if you have four recruiting classes in place,'' O'Neill said. "We thought in Brazil we were going to have a good team and then everything began to unravel. The whole season unraveled in multiple season-ending injuries.''
O'Neill said he simply doesn't have the answers because there are none. He doesn't have the talent to play at a high level for the final five weeks of the season. "They've worked really hard, and we've lost a lot of close games or one-possession games,'' O'Neill said. "There's been no answers. We've got to move forward.''
O'Neill said he felt like he was kicked in the groin in his first season on the job when the Trojans were told during the midseason that they couldn't compete in the postseason. "The whole first year was under the shadow of that,'' O'Neill said. "I've coached in a lot of uphill rebuilding situations. There are a lot of challenges. But the combination of two blank recruiting classes and four season-ending surgeries is too much to overcome in any situation.
"We're down to Mo Jones, the only starter left from that Brazil trip,'' O'Neill said. "We're starting three guys who didn't even play in the last two games in Brazil.''
O'Neill said he can add his perspective on the Pac-12/NCAA bid race, and thinks Washington and Cal are legit. "Those are the two best teams,'' O'Neill said. "Oregon State is a team that might be able to win the conference tournament if they defend. They have a great player in Jared Cunningham and to me he's a pro. We lost a lot of pros in this league.''
The Trojans are 6-16 overall and 1-8 in the Pac-12. The last win prior to the lone Pac-12 victory was over TCU on Dec. 19. They were 19-15 last season, including 10-8 in the Pac-10, and lost to VCU in the First Four. In his first season, in which the team had a postseason ban, O'Neill was 16-14 overall, 8-10 in the league.
"I'm doing OK,'' O'Neill said. "But it's been one tough year.''