Dodson, Eustachy and second chances
February, 3, 2012
02/03/12
3:13
PM ET
Darnell Dodson was given a second chance by Larry Eustachy, a coach who had to get one of his own from Southern Miss after problems with alcohol got him pushed out at Iowa State.
Dodson nearly threw the opportunity away.
He had recently arrived at Southern Miss after transferring from Kentucky when he was arrested and pleaded guilty to grand larceny charges, according to the Hattiesburg American. He was dismissed from the team in April and was reinstated Dec. 16 after sitting out the fall semester.
"I made a bad mistake. I shouldn't have been out late that night," Dodson said. "Coach was sympathetic to my situation."
"He was drunk," Eustachy said. "It triggers all sorts of actions, and he did something stupid."
Eustachy got Dodson in touch with a mutual friend -- John Lucas, who has counseled several high-profile athletes with substance abuse problems. Dodson traveled to Houston to meet and work with Lucas over the summer while he was serving his suspension.
"I understand addiction," Eustachy said. "I was given a second chance. I know how to stay sober for a length of time. It was a natural fit for us. He's a good kid who made a poor decision. He has good times ahead of him."
Eustachy said Dodson could have gone to Europe to play professionally after he was dismissed from the team but opted instead to finish the spring semester. He wasn't able to go to school in the summer or fall and wasn't eligible to get aid during that time.
"But he had a great summer with John Lucas," Eustachy said. "We talked over the phone a lot. He had bottomed out. And once the charges were behind him, he had to go in front of a committee and be treated like other students. He wasn't allowed to be here."
[+] Enlarge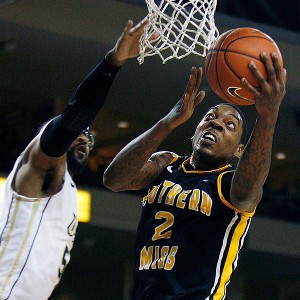 Stephen M. Dowell/Orlando Sentinel/Getty ImagesDarnell Dodson is averaging 13.3 points and 5.6 rebounds a game for Southern Miss since being reinstated Dec. 16.
Dodson said Eustachy was incredibly supportive throughout the ordeal.
"He kept telling me to stay positive," he said. "I had to go talk to the dean of the school, the student committee and basically tell my side of the story and admit that I was wrong and that I made a mistake."
After meeting with the dean of students and a student council committee, the school accepted Dodson back for the spring semester. It's his final semester of eligibility as a college basketball player.
Dodson has been one of the main reasons the Golden Eagles are in first place in Conference USA and in contention for an NCAA tournament berth. A return to the postseason would mean Eustachy's comeback has come full circle after an embarrassing photo at a college party shamed him out of Iowa State.
His rebuilding efforts at Southern Miss have had mixed results, and it's not until this season that the Golden Eagles (20-3, 7-1 C-USA) have been in such a strong position to reach the tourney.
Dodson, who returned to practice Dec. 16, played his first game Dec. 19 at Arizona State, scoring 17 points in 15 minutes. The Golden Eagles have lost one game since he arrived -- at Memphis -- a loss they avenged Wednesday night behind Dodson's 23 points.
"He's a good shooter, a good player, and he was good enough to play at Kentucky," said Memphis coach Josh Pastner. "He makes a difference."
"I was so anxious to be out there and get back to playing, but I wasn't sure I'd be able to," said Dodson. "I'm still getting in a groove and trying to improve my production. I'm just trying to work hard."
Eustachy said Dodson deserves credit for getting to this point on his own. Dodson maintained a 3.0 GPA during the spring while knowing he was going to be suspended at the end of the semester, the coach said.
"He's good, really good, and he might be as talented a player I've had at this position since coaching Jamaal Tinsley at Iowa State," Eustachy said. "He has the potential to be in the NBA.
"Dodson got help. He understands how this works and how things change quickly. And I understand him better than anybody."
Now a coach and a player, both given second chances, are in position to win a league title and earn a place in the NCAA tournament.