Let's give credit where it's due
February, 6, 2012
02/06/12
9:18
AM ET
Jim Larranaga's Miami Hurricanes upset Duke in Cameron Indoor Stadium on Sunday. But Larranaga was coaching most of Frank Haith's players.
So I'm confused. Was that Haith's players who won the game or was it Larranaga's coaching? Or was it a combination of both?
[+] Enlarge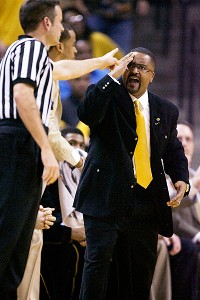 Ed Zurga/Getty ImagesFrank Haith deserves credit for leading Missouri to the top of the Big 12.
The latter is the correct answer.
Haith coached Missouri to a win over Kansas on Saturday night at Mizzou Arena. He was coaching players Mike Anderson recruited. So, was it the players who won the game, or did Haith actually coach the victory? Or a combination of both?
The latter is the correct answer.
Is there any reason Murray State coach Steve Prohm isn't getting criticized for coaching players Billy Kennedy put in place, with Prohm's help as an assistant, during the Racers' undefeated season?
Steve Fisher still had to coach Michigan for six games to win the 1989 national title after replacing Bill Frieder. Didn't he?
Missouri is 21-2 overall, tied for first place in the Big 12 with Kansas and Baylor at 8-2. The Tigers are in position to possibly earn a No. 1 seed.
They are doing all of this without one of their key frontcourt players in Laurence Bowers, who is out for the season with a torn ACL.
Yet, one of the weakest criticisms of a coach is that he's winning with another coach's players.
Well, the fact is the coach still has to actually coach his team. Who cares who brought in the players? Should Bruce Weber be ripped for getting Illinois within a few minutes of a national title in 2005 against North Carolina because the core of the team was recruited by Bill Self?
No. He had to still coach the team. Jim Harrick did the same thing with Al Skinner's main crew when he took Rhode Island to the Elite Eight.
This happens all the time. How does anyone know if Anderson would be 21-2 at this juncture? You don't. Would Matt Painter have been 23-0 had he taken the Tigers' job instead of staying at Purdue? We don't know.
There was legit criticism of hiring Haith based on his lack of consistent NCAA appearances at Miami. That's fair. But not giving him his due for coaching this team to the top of the Big 12 is a disservice to anyone who has to do something similar.
"Buying in, that's the key," said Haith on Sunday afternoon. "They have to buy into whatever you're selling."
Haith said the Tigers "bought" into taking charges and executing differently.
But to make this transition smooth, Haith couldn't have any defections or distractions. And since practice started in October there have been zero.
"You have to have leadership and Kim English has been a great leader," Haith said. "He wants to be an NBA guard and yet he's playing the 4. Michael Dixon is OK coming off the bench."
The Tigers didn't have any real adjustment period. They didn't have a choice with so many upperclassmen. But there was no complete overhaul of the system. They clicked with Haith from the beginning, and it is apparent by the results.
How Haith builds the program and recruits to a high, SEC level is a discussion for another day. Judging him on the state of the program in two seasons is more than appropriate.
But for now, the results speak volumes. He's not coaching someone else's players. He's coaching Mizzou. They are all Missouri players. And you can't deny he's doing a good job.
Just like Larranaga at Miami with Sunday's win at Duke. No one is rushing to give Haith credit for setting up Larranaga with the talent to pull off that upset. And they shouldn't. That's his team to coach now just like Mizzou is Haith's.