Key wins have Canes, Irish thinking big
February, 7, 2012
02/07/12
7:38
PM ET
The selection committee adheres to its body of work mantra for a reason. Getting an NCAA bid isn't about one game; it's earned over the course of the regular season and conference tournament.
But one game can change a season -- and certainly the perception of a team.
[+] Enlarge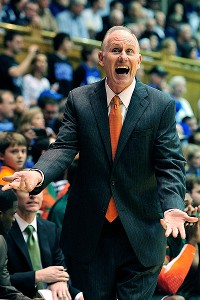 Grant Halverson/Getty Images Miami coach Jim Larranaga says his team's win over Duke has the Hurricanes back in the NCAA conversation.
It did for Notre Dame when the Irish beat top-ranked and previously undefeated Syracuse on Jan. 21. It has for Miami, too, after the Hurricanes knocked off Duke at Cameron Indoor Stadium on Super Bowl Sunday.
The two teams, which appeared to have no shot on New Year's Day because of injuries (Notre Dame's Tim Abromaitis played in just two games and is out for the season, and Miami's Reggie Johnson returned to the lineup Dec. 17 after missing four nonconference losses with a knee injury), are now suddenly involved in the NCAA conversation.
Who says college basketball's regular season is meaningless? It means something because it gives teams that looked dead on arrival a chance to earn bids in March.
"There are certain games that draw national attention; that's one of them," Miami coach Jim Larranaga said of the Duke win. "You knock off a top-5 team (Duke was No. 5 at the time), especially when you're not ranked, it helps catapult you forward into the conversation."
Larranaga takes a more pragmatic view of earning a bid. He was well-schooled in this at George Mason when the Patriots had to win a late-season BracketBusters game at Wichita State in 2005-06 to convince the selection committee of their worthiness.
"You don't get judged on a test halfway through the questions," Larranaga said. "When you're in the mid-majors it's hard to move up [in the power rankings]. You might be at 60, but it's hard to get up to 50. In our league [ACC], you can go from 30 from 60. But you can also go down to 80 quickly, too."
The Hurricanes' season could have easily spun in an opposite direction the past week. Miami needed double overtime to beat Maryland at home before the overtime victory at Duke. The Hurricanes had to play the overtime sessions versus Maryland without Johnson (fouled out), and they didn't have center Kenny Kadji (sat out with injury). Backup big man Raphael Akpejiori had fouled out too, leaving the Canes undermanned versus the Terps.
Miami (14-7, 5-3 ACC) still has plenty of work to do, with two games against Florida State and one against North Carolina at home. Five of its final eight are at home, beginning with Virginia Tech on Thursday night.
Meanwhile, the Irish (15-8, 7-3 Big East) followed up the Syracuse win with road wins at Seton Hall and Connecticut and a home win over Marquette.
They beat Pitt in late December and won at Louisville in double overtime, but there was still reason to doubt this team after consecutive losses to UConn and at Rutgers, which came before the Syracuse win.
Notre Dame coach Mike Brey, who said he's never had more fun coaching a team, told his squad in the locker room at Gonzaga after a 20-point loss on Nov. 30 that the team isn't very good but "let's see if we can make progress by Christmas. Abro isn't coming back. These are the guys playing the roles. This is our team."
Brey said the win at Seton Hall was one of the most impressive of the season, since it came four days after the Orange victory.
"We just had the biggest win in the history of our program so we might have had a free pass but when we win that showed signs of being special," Brey said.
That's why Miami's game against Virginia Tech on Thursday will be critical to see if the Canes are in it for the long haul.
Brey has settled on a solid rotation, and the tandems of Jack Cooley and Scott Martin inside and Jerian Grant and Eric Atkins on the perimeter have worked seamlessly. Finding Pat Connaughton as the fifth starter has settled everything else, with Alex Dragicevich coming off the bench.
The Irish finish with two games against West Virginia (starting in Morgantown on Wednesday) and one at Georgetown. Overall, they have four home games and four road games left on the schedule.
"In our league it's been time and time again," Brey said of earning a bid through the conference. "We were so off the map in November and December and rightfully so. But the perception changes [with the Syracuse win], inside the locker room. The kids really digested that they've got a shot, and it builds confidence. It's all about riding the momentum of a win like that. You can ride that to get in position. We've done that.
"We've ridden this to get a bid," Brey said. "It's never too late due to the power of our league."
Larranaga and Miami now have a shot to do the exact same thing.