UConn's 2013 future uncertain
February, 10, 2012
02/10/12
4:22
PM ET
UConn's near future got cloudier with the NCAA's decision on Friday to deny a waiver that would have allowed the Huskies to play in the 2013 NCAA tournament.
The university will appeal the decision to the Academic Performance Subcommittee on Appeals.
But there is still a series of unknowns: When will Jim Calhoun return from a back condition that may or may not require surgery? Will the Huskies have a number of key players on the roster next season or will they jump to the NBA draft? And if the appeal is denied, then how does that hamper recruiting or the current roster going forward, as any incoming players and current players would know they couldn't play in the 2013 NCAA tournament? What will the Big East do now that Connecticut isn't eligible for the NCAA tournament? How will the Big East possibly handle a conference tournament without West Virginia (off to the Big 12) and UConn in 2013?
Freshman Andre Drummond hasn't been a dominant player. But he still would be a lottery pick in the NBA draft if he were to come out this season. Sophomore wing Jeremy Lamb hasn't been as stellar as last season, but his shooting touch makes him a lock for the first round.
[+] Enlarge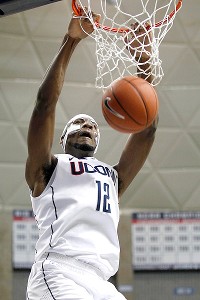 David Butler II/US PresswireWould players like Andre Drummond stick around if UConn can't play in the 2013 NCAA tournament?
Lose Drummond and Lamb off next season's team and that squad probably wouldn't make the NCAA tournament anyway. Do both players stay if they know for certain they can't be in the NCAAs? The Huskies have one player signed -- shooting guard Omar Calhoun from Brooklyn's Christ the King High School. Does Omar Calhoun try to get out of his letter of intent if he can't play in the NCAA tournament as a freshman?
This is a bit different than a standard postseason ban for NCAA violations. This is new territory for the NCAA and a member school. Postseason bans are rarely overturned. This is the first time a school is challenging this new legislation to avoid sitting out a postseason. The subcommittee could take its time to decide on an appeal or it could make a quick decision. No one is certain.
Jim Calhoun told ESPN.com earlier in the week that he intends to come back from spinal stenosis and doesn't want to retire because it. But the pain is causing him to take a break, and suddenly there is uncertainty in the program.
UConn president Susan Herbst said the decision on when to retire is up to Calhoun.
"He's been struggling for a while on and off this fall," Herbst said of Calhoun's back pain. "He can take a lot of pain. But he's very committed to these kids. They're great kids on this team. He's going to power through this and listen to his medical advice. I know he wants to come back."
If and when Calhoun decides to retire, multiple sources within the program said Calhoun wants assistant Kevin Ollie to replace him. Ollie is extremely well-liked in the community, and has the NBA ties and respect among high school players and UConn alumni.
Herbst was noncommittal about a successor or Calhoun's timeline.
"He's got to think about it and assess how he feels, how much energy he has for this and what else he wants to do," Herbst said. "He's such an integral part of this program. We work incredibly well together. He's easy to communicate with. We agree on some stuff and some we don't. We're really close and he does so much for this campus."
Calhoun has missed two games with this back injury -- a win over Seton Hall and a loss at Louisville -- and won't coach the Huskies at Syracuse on Saturday. The Huskies are on the bubble at 15-8, 5-6 in the Big East. He sat the first three Big East games this season for NCAA punishment due to failing to have an atmosphere of compliance during the Nate Miles recruitment four years ago.
"When he wants to move on, he can," Herbst said. "I'd sure like him back right now and finish the season up. He can think about what he wants to do to comeback for two more years. He's got a great coaching staff and this is one of the prime jobs and one of the best coaching jobs in the country.
"We'll hire a new AD in the next few weeks, and I'll heavily rely on that person," Herbst said.
Herbst said early Friday that she's not against a postseason ban. But she said there should be time to adjust to the ban. She said that the incoming players shouldn't be the ones who suffer any consequences. They should know when they matriculate that this is a possibility the following year. The penalty should be on them if they fail to meet the standards, not for them to pay for the misdeeds of those in the past.
Herbst said offering up self-imposed sanctions is the way the NCAA works. According to the NCAA, schools ask for relief all the time and offer penalties and actions in lieu of ineligibility. She said offering up to give up postseason revenue in 2013 was significant since it would help fund other programs at the school. Now there may not be any revenue at all from the 2013 postseason.
She said dropping the Huskies' regular-season schedule from 30 to 27 is also significant, since those would be games that would probably be at home.
But now the school has to wait and see if the appeal is granted. If not then the Huskies will have a number of decisions that will affect the immediate future.
Calhoun is focusing on eliminating the dreadful pain of spinal stenosis. Until that is resolved he won't decide on his future. Drummond, Lamb and possibly others will have to decide if there is a future for them in 2013 without the NCAA tournament as a possibility.
The next move will be made by the NCAA. And then a series of decisions will have to be finalized by key UConn personnel. Until that happens, uncertainty remains.