WVU, TCU welcomed additions to Big 12
February, 14, 2012
02/14/12
11:38
PM ET
The Big 12 essentially traded Missouri for West Virginia and Texas A&M for TCU for the 2012-13 season, and no one associated with Big 12 basketball seems to be fretting one bit.
Missouri should be able to find its way toward the top five in the SEC, while Texas A&M will have to slog through a muddled middle of the conference.
The absence of a Missouri-Kansas and Texas-Texas A&M rivalry will hurt the Big 12. No one will debate that fact since those four games are always well-attended and hotly contested, and usually mean something in the standings.
And while Mizzou and A&M plan to continue the rivalry, Kansas and Texas have said no.
So, ultimately nobody in the Big 12 appears to be whining over the departures. The 10-team Big 12 can go forward without a hitch in its new round-robin schedule and its equitable conference tournament.
[+] Enlarge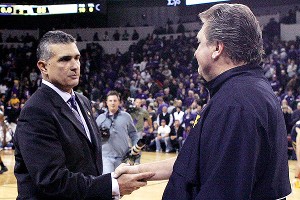 Scott Sewell/US PresswireFrank Martin is happy to welcome old boss Bob Huggins and WVU into the Big 12.
West Virginia's location in Morgantown is just another college campus that isn't easily accessible by a major airport, so that's nothing new for the Big 12. Try getting to other league schools in Columbia, Ames, Lubbock, Stillwater or Manhattan. TCU, in the Dallas/Fort Worth area, is actually easier to get to by air or car than Texas A&M is in College Station.
TCU has plenty to do to be highly competitive in the Big 12. But West Virginia will step in immediately and provide a highly competitive team that will be a tough out in Morgantown and on the road.
The Mountaineers have a top transfer sitting out this season, former La Salle big man Aaric Murray, and ex-Dayton guard Juwan Staten isn't too shabby, either.
No one seems to care about the Mountaineers' roster as long as Bob Huggins is the coach. He was universally applauded by his new Big 12 colleagues Tuesday.
"He's one of the most respected coaches in the country," Iowa State's Fred Hoiberg said. "They instantly will make our league tougher. We're getting an outstanding program, one with great tradition. West Virginia has been an NCAA tournament team in six of the last seven years."
Kansas coach Bill Self said that West Virginia adds tremendous value, and with TCU the Big 12 schools can recruit in the Metroplex area even more.
"It all adds stability to an already great league," said Self.
Kansas State's Frank Martin said the addition of West Virginia ensures that the Big 12 will be even stronger going forward.
"We're adding a Final Four team, and a Hall of Fame coach," Martin said.
Martin's praise is understandable. He's one of Huggins' closest friends, having worked for him at Cincinnati and heading to Kansas State with him for one season before Huggins went to his alma mater at West Virginia. Martin then replaced him at Kansas State.
"I have tremendous respect for that league," Huggins said Tuesday. "We're going from one great league to another."
Huggins said the travel won't be an issue for West Virginia.
"We've got a lot further to go than everybody else, but we'll just charter in and out," Huggins said. "I tell you what impressed me [in the Big 12] is the student turnout is terrific. When the students are in there, there is such enthusiasm."
Huggins is right. The Big East's college campus arenas don't come close to the Big 12's arenas. The Big 12 blows the Big East away, save a few places like Louisville and Pitt.
Huggins said the Mountaineers will be in the mix immediately in the Big 12 with the transfer additions, even with the departure of senior Kevin Jones.
West Virginia is still scheduled to play Kansas State in a return game, but Huggins said he'll let Martin out of the game unless he wants to come to the state twice in the same season.
West Virginia athletic director Oliver Luck said on a conference call Tuesday that the Backyard Brawl in football between Pitt and West Virginia won't be played in 2012. If that's the case, then don't expect it to be played in men's basketball as the Mountaineers will have an 18-game Big 12 schedule and will need to adjust their nonconference slate. Pitt will still play an 18-game Big East schedule in 2012-13. The Big East was noncommittal about the changes to the Big East schedule with a 15-team league for one regular season and conference tournament. Pitt and Syracuse could still depart for the ACC a year earlier than projected, but not for 2012-13.
The ACC got better with those additions. Those moves weren't done for survival, though. The Big 12 had to replace Mizzou for 2012-13 or face a nine-team league that would have been down a notch. West Virginia allows the Big 12 to avoid a major hiccup. The league should still have one of the most competitive conferences with multiple bids in 2013, too.