Bubble teams ready to put best foot forward
February, 27, 2012
02/27/12
9:09
AM ET
Quick hitters for a Monday:
• South Florida coach Stan Heath coached the Bulls to their 11th Big East win, leading them over Cincinnati on Sunday. The Bulls have won five of six games, holding opponents to fewer than 52 points each time. Their loss was to Syracuse, a game in which the Orange scored just 56.
"We grind it out," Heath said Sunday. "We're not great offensively but we guard."
[+] Enlarge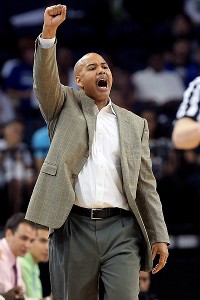 Kim Klement/US PresswireWith commitments for Chris Perry and John Egbunu, USF coach Stan Heath has his frontcourt of the future.
So, do the Bulls deserve an NCAA berth? Their overall résumé says no. The selection committee judges each team individually, regardless of conference affiliation, and the Bulls simply don't have any meat with the best nonconference win coming against Cleveland State. And only one of the 11 Big East wins was against a team in the top six (Cincinnati).
The Bulls have two games left, at Louisville on Wednesday and then home versus West Virginia on Saturday.
Beating Louisville would suffice for a top six Big East win. West Virginia would not.
"I think this team is worthy," Heath said of a bid. "I know we have to continue to win. But 11 wins in this conference? Should we be penalized for beating Pitt [twice] when they had a full deck? Or sweeping Villanova?"
Heath's point is that in a normal year picking up four wins against those two traditional powers would have meant a bid. But Pitt and Villanova will play on the first day of the Big East tournament. South Florida will not. The Bulls won't get a double bye but will likely have a single bye.
"We haven't lost to a team that isn't ranked in the Top 25 since Dec. 28 and the only other teams that can say that are Kentucky, North Carolina and Syracuse," Heath said. "We should get credit for the teams you're supposed to beat."
Notre Dame was awful in the nonconference. South Florida wasn't much better. The Irish have one more win in the Big East than South Florida. But the Irish beat elite Big East teams Syracuse, Marquette, Louisville and South Florida.
"It shouldn't be us or them," Heath said.
And it's not. The Bulls will be judged independently and that's why the 11 Big East wins isn't enough yet due to the unbalanced schedule. The Bulls continue to give themselves a chance. But they're not in yet.
• Drexel won the Colonial Athletic Association for the first time since joining the conference and will be the top seed in the CAA tournament. I've gone on record that I believe the selection committee will reward the Dragons for winning the CAA regular season outright, regardless of the nonconference RPI or strength of schedule. Drexel coach Bruiser Flint agrees. Flint said winning 17 games in a row and 23 out of 24 should count for something. The Dragons have lost one game in 2012 -- at Georgia State on Jan. 2. Flint makes one more strong argument: "We're good." Hard to debate.
• VCU was in the Final Four a year ago and to get back in the Dance, the Rams may need some help. Or will they? VCU finished second to Drexel and could be headed for a 1-2 matchup in the CAA tournament in VCU's home in Richmond. VCU coach Shaka Smart doesn't want to promote the Rams' case, but it's extremely similar to that of Drexel. VCU has won 14 out of 15 and has lost just three times in 2012. VCU took a while to figure itself out after losing most of the core from last season's team. One thing Smart said is that he wishes he could have replayed some of the nonconference games. Smart said this season's team had a better regular season than a year ago. And he quoted Butler's Brad Stevens that the pressure is on teams like VCU and Butler during the regular season but once they get in the NCAAs it's all off. All true.
• Harvard is potentially going to have to earn the NCAA bid again the hard way -- through a playoff game. The loss to Penn on Saturday means that the Crimson will have to sweep Columbia and Cornell on the road and then wait to watch Penn go to Princeton on March 6. That's assuming Penn sweeps Brown and Yale at home. If the home teams prevail and Penn beats Princeton, Penn will play Harvard in a playoff for the bid. If Princeton beats Penn and the Crimson win out, Harvard wins by not playing.
• Harvard coach Tommy Amaker said the Ivy is crazy like all the other conferences. And he won't dare look ahead past Columbia.
• Penn's Zack Rosen has been "super human," according to the Quakers' staff. Penn's staff firmly believes it has the defense to win these three games to force a playoff but this is still a tall task.
• Purdue coach Matt Painter said that putting more shooters on the floor offensively and playing better position defense has been the difference for the Boilermakers. Purdue clinched a bid -- if it was ever in doubt -- by winning at Michigan over the weekend.
• Wichita State coach Gregg Marshall isn't taking anything for granted with the Missouri Valley Conference title. The bracket has potholes for the Shockers. Indiana State could be the first opponent if it gets past Southern Illinois. Northern Iowa, which faces Illinois State, could be next, and then a possible final game against rival Creighton. "It is no easy road," Marshall said. "Indiana State won it last year. UNI was 11 in the RPI coming out of the nonconference. There are going to be a lot of tough teams."
• Butler has quite a road to get back to the NCAAs as the Horizon League automatic qualifier. The Bulldogs have to beat Wright State and then possible nemesis Milwaukee before playing at champ Valparaiso in a possible semifinal. "It's a tough draw and we look forward to the challenge," Butler's Brad Stevens said. Does this team have the ability to win three games? "We will find out."
• Georgia has won at Mississippi State and upset Florida at home. The Bulldogs could be a spoiler in the SEC tournament. How has Mark Fox done this so far? "Without [Trey] Thompkins and [Travis] Leslie we've been a jump shooting team," Fox said. "When it goes in, we can compete with most people."