Buffaloes exceed expectations in Year 1
February, 28, 2012
02/28/12
7:10
PM ET
Colorado was one of the teams left out of the NCAA tournament a season ago.
Heading into the final week of the 2010-11 regular season, the Buffaloes were 18-11 and 7-7 in the league. They split the last two games and then won two in the Big 12 tournament, including beating then-No. 23 Kansas State.
A seven-point loss to No. 2 Kansas wasn't enough to get the Buffaloes into the NCAAs. But there was plenty of talk that Colorado had the look of an NCAA team.
This season, there is none of that chatter. No buzz. Nada.
Yet the Buffaloes, who lost their two best players off last season's team in Alec Burks and Cory Higgins, have better overall and conference records and appear to be in the same situation this season.
Well, sort of.
[+] Enlarge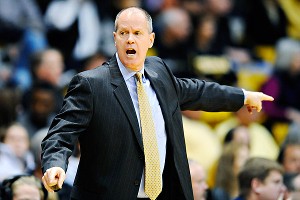 Ron Chenoy/US PresswireColorado coach Tad Boyle is pleased with his team's first season in the Pac-12.
Colorado is 19-9 overall and 11-5 -- but in the Pac-12, not the Big 12.
"Our seniors have stepped it up, and we have a great blend with a few freshman guards," Colorado coach Tad Boyle said. "We've got one guy who is third in the country in rebounding in Andre Roberson. We're not great at anything. But we are the best field goal defensive team in the league, and we can rebound. We're good at a lot of things."
The Buffaloes had an odd home weekend, getting blown out by Stanford by 24 points but then beating second-place Cal by 13. Colorado beat first-place Washington earlier in the season. The win over Cal was the Buffs' first against a top-50 RPI team. Colorado has three more in the top 100 (Washington, Oregon and Arizona -- all at home). The best road win was at No. 163 Air Force.
The Buffaloes finish with games at Oregon and Oregon State this weekend. Win those and they will be a top-4 seed and receive a bye in the Pac-12 tournament.
Boyle would also likely win coach of the year in the Pac-12. And yet there will be no buzz about the Buffs in the NCAA discussion. "It's weird, but this has been an unusual year," Boyle said. "There's so much mediocrity out there. I think for those last six or seven [spots] you could make a case for 12 or 14 [teams]."
Boyle said if the Buffaloes were to sweep this road trip, he could envision making a case to get an at-large berth out of the much-maligned Pac-12. If not, he says he will stay silent.
Cal and Washington will likely get into the field by default. Arizona has a shot. Oregon and Colorado are on the fringe, as well, if either gets on a roll.
"What's amazing is that if we get to 20 wins, it will be the first time Colorado has had back-to-back 20-win seasons in 111 years of college basketball here," Boyle said.
The move to the Pac-12 may not create more chatter for a bid, but it has translated well in recruiting. Boyle said the Buffs wouldn't have gotten Xavier Johnson out of Mater Dei High (Santa Ana, Calif.) if they didn't make the conference switch. Getting Monument, Colo., big man Josh Scott was likely going to happen with or without the move; regardless, Boyle is a year ahead in the rebuilding process.
"We're posed for success," Boyle said. "Poised to be good again."
Colorado is ahead of UCLA in its first year in the Pac-12. Fellow newcomer Utah is at the bottom of the league with Arizona State and USC.
A first-round Pac-12 tournament bye is attainable for the Buffaloes. A bid to the NCAA tournament is a long shot, but not implausible.
"If you had told me that last year, when I knew were going to the Pac-12, I would have taken it right then," Boyle said. "We have far exceeded our own expectations as well as the coaches' and the media, too."