Can Ben Howland survive at UCLA?
February, 29, 2012
02/29/12
8:41
PM ET
Back-to-back teleconference calls Wednesday painted different narratives about the state of UCLA's men's basketball program.
UCLA athletic director Dan Guerrero won't commit to Ben Howland being the head coach for the 2012-13 season, but he was quick to defend the overall direction of the program and its past success and character while also pointing out evaluation mistakes in the past three years.
Meanwhile, Howland said he is confident that he will be the head coach going forward and can't wait to coach one of the top recruiting classes in the country next season, after finishing out this season with two home games and a wide-open Pac-12 tournament at the Staples Center in Los Angeles.
So, what will be the repercussions of Sports Illustrated's investigative story?
ESPN.com recruiting reporter Dave Telep spoke with the families of committed players Kyle Anderson and Jordan Adams and neither is waffling at this point.
It's that 2012 class, which could also add No. 1 player Shabazz Muhammad out of Las Vegas' Bishop Gorman High, that gives Howland hope -- as does the return to a refurbished Pauley Pavilion after a nomadic season around the Los Angeles area.
"I'm very confident in my abilities to lead this program in the future and feel very, very good about our current recruiting class and kids that we're involved with right now," Howland said. "They're coming down to the final weeks of their recruiting process before they make the final decision."
He and Guerrero are tied together since the latter hired him nine years ago. The firing of Rick Neuheisel and the hiring of Jim Mora in the football program could also potentially stave off a Howland change. Few programs, especially in cash-strapped states, can afford the millions it takes to change both high-major coaches in the same season.
Guerrero and Howland admitted that there were mistakes in evaluation and recruiting.
There certainly were. The team aspect of the group that went to three straight Final Fours from 2006 to '08 simply hasn't existed over the past few years, as so vividly described in George Dohrmann's SI article. Once-heralded recruits are now scattered all about. Four of the top players in the West this season are all former UCLA players -- Drew Gordon (New Mexico), Mike Moser and Chace Stanback (UNLV), and Matt Carlino (BYU).
The embarrassing losses in the 76 Classic in Anaheim two seasons ago and the overall substandard play rendered the Bruins irrelevant during the program's third losing season since the 1940s. Last season, the Bruins re-emerged to finish second in the Pac-10, beat Michigan State and then lost in the final few possessions to Florida in the NCAA tournament. But then the ugly losses occurred again to start this season against Middle Tennessee State and Loyola Marymount -- two quality teams but games the Bruins shouldn't lose at home.
The Pac-12 is having yet another slumping season, but the Bruins have been mediocre in league play.
[+] Enlarge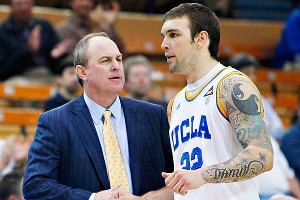 AP Photo/Danny MoloshokA Sports Illustrated story accuses Ben Howland of giving Reeves Nelson "star treatment" despite a series of volatile situations.
And the suspension, reinstatement and then dismissal of Reeves Nelson earlier this season was clearly mismanaged. As highlighted by SI, the Nelson experience was essentially a disaster.
On Wednesday, Guerrero and Howland said they knew of some of the allegations in the article but refuted others, saying that no assault-like behavior during practice occurred from Nelson, only hard fouls.
Howland has always been a bit of a control freak, trying to micromanage his career and program at Northern Arizona, Pitt and most recently UCLA. Yet, for whatever reason, Howland lost control the past three seasons at various points, especially in the handling of enigmatic and volatile former forward Nelson.
Dohrmann shined a detailed light on Nelson's explosive behavior with allegations of purposeful cheap shots and degradation of staff and managers. The SI story also alleges that there was drug and alcohol abuse by players. The story depicts an overall lack of respect for Howland, and a program gone wild.
Guerrero expressed anger Wednesday on a news conference call, but was quick to defend the overall program to ensure that it wasn't painted with one brush. Guerrero went on to say that he had been with Howland for nine years and that there had been great character in the program.
But he admitted that in the past few years, since the last Final Four in 2008, the program had broken away from that. Mistakes were made in evaluation. But he was quick to say that he liked the path the program was on, despite a few isolated incidents and bad decisions.
"They haven't performed at the level we desire," Guerrero said.
Howland had character in the program during the three Final Four runs. No one had negative things to say about Alfred Aboya and Luc Richard Mbah a Moute. Darren Collison consistently was revered as an ultimate team player. In his one season at UCLA, Kevin Love was beloved for his work ethic.
But the recruiting misses, the departures of players not ready for the NBA, and the handling of Nelson all contributed to Howland being put on notice.
A Final Four appearance doesn't guarantee job security. Paul Hewitt of Georgia Tech discovered that last year and Bruce Weber of Illinois may find that out as well after the season.
Howland had three in a row. But he's at UCLA, which alongside Kentucky, Kansas, Indiana and North Carolina, is one of the most scrutinized programs in the country.
Howland said UCLA is and has been his dream job. He has always been in awe of John Wooden and makes sure he says that he is simply watching over the late Wooden's program.
But he won't for much longer if the program doesn't change the character within and ultimately win games that it should and compete for championships again. The cavalry is coming in the class of 2012. But the margin for error is now gone. The Bruins have to win at a high level next season and have to do it without incident and with the utmost class.
If not, it's unlikely Howland will be around to see a class of 2013.