Tough choices for POY and COY
March, 5, 2012
03/05/12
2:20
PM ET
Quick hitters to start Championship Week:
• I keep going back and forth on National Player of the Year and won't be surprised if Thomas Robinson and Anthony Davis each win their share of the five major awards. Both are deserving and neither should be dissed by either fan base.
I haven't decided yet who will get my Wooden Award vote, but I still have time since it's not due yet. Robinson's leadership can't be undersold, and the numbers are obviously there. And Kansas wouldn't be a national title contender without him. He has Tyshawn Taylor, just like Davis has Michael Kidd-Gilchrist as his complementary player. Davis has the most impact of anyone in the country, and he continues to evolve into a complete player.
As you can see, I'm flip-flopping back and forth like a political candidate. However, I might be leaning toward Davis heading into the SEC tournament.
The most fair and equitable results are if the voting for the Wooden, Oscar Robertson, Rupp, AP and Naismith awards go to both in some order.
• There is no right answer for National Coach of the Year, either.
[+] Enlarge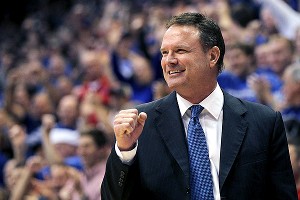 Jamie Squire/Getty ImagesKansas' Bill Self is on the short list for coach of the year.
Kentucky's John Calipari went undefeated in the SEC and was a 3-pointer away from being undefeated in the regular season with a team led by freshmen.
Kansas' Bill Self won his eighth-straight Big 12 regular-season title and is in position for a No. 1 seed with a team that doesn't have the depth or overall talent of the other No. 1 contenders.
Syracuse's Jim Boeheim got through the Big East schedule with just one loss and was able to navigate through the season despite some early distractions.
Missouri's Frank Haith, which took over a squad that lost its best inside player and still finished second in the Big 12, likely will get a No. 2 seed.
Murray State's Steve Prohm took over the Racers' program from good friend Billy Kennedy and lost one game. Murray finished the regular season in the nation's top 10.
Notre Dame's Mike Brey and Marquette's Buzz Williams are contenders for different reasons. The Irish were awful early and lost their best player, but they finished with a double-bye in the Big East tourney and claimed the only win over Syracuse this season. Williams grabbed the No. 2 seed in the Big East, coached two of the contenders for player of the year in the conference and consistently had a team that played well on the road.
Michigan State's Tom Izzo started the season 0-2 against North Carolina and Duke. Izzo ended the season tied with Ohio State and Michigan for the Big Ten regular-season title.
Indiana's Tom Crean made the Hoosiers relevant once again with a stellar home season and owned the only victory of the regular season against Kentucky.
• Few conferences outside of the Power Six can pull off what the Missouri Valley does every season with a rocking neutral-site venue for the conference tournament in St. Louis. Empty seats at neutral sites simply don't create a good atmosphere. Lower-level tournaments would do well to reward the highest seed with a home-court site (see: Horizon League or the NEC instead of the Atlantic Sun or MAAC).
• The cruelty of the conference tournaments outside the Power Six is that it leaves some of the best teams behind. Iona likely would have had the best chance to win a game and earn a decent seed out of the MAAC. It's a shame that the country won't see point guard Scott Machado dazzle in the NCAAs. That's two seasons in a row Tim Cluess' crew haven't been able to advance when deemed the likely favorite in their conference.
Middle Tennessee was the Sun Belt's best throughout the regular season. But losing in the conference tournament means the Blue Raiders won't get a chance to prove they should have been taken more seriously with an NCAA win.
• The Portland and Albuquerque sites in the NCAA tournament won't have top seeds. That may make those two venues the most wide-open of any of the eight.
• The need for regional sites early makes sense. It's not easy for a fan base to make three trips in a three-week period to follow a title contender. But it gets old when nearly every time there's a regional in the state of North Carolina, Duke and UNC are in that pod and dominating the entire site. Opposing teams have every reason to squawk about the unfair advantage. Greensboro, like Charlotte, will likely be the Duke and UNC invitational again.
• Illinois is one of the top jobs in the country. Bruce Weber won't be surprised that he'll be out at season's end. If that occurs, VCU's Shaka Smart will likely have a major decision to make. He should be the first choice, and he'll have to decide if he wants to get into a high-pressured situation rather than stay comfortable and be left alone at VCU.
• Weber should have gone to Oklahoma a year ago. Rhode Island's Jim Baron had a chance to get another gig, too and he chose to stay. Both were a mistake. The one coach who recently knew that it made sense to get out before he was pushed out the door was Herb Sendek. When he decided to leave NC State for Arizona State, it bought him more time and money in his career. The same could be said for Oliver Purnell at DePaul. He wasn't being pushed out at Clemson, but the lack of NCAA success created some grumbling with the Tigers.
• The officiating has come under fire quite a bit during the regular season. And that's why it's so refreshing during the NCAA tournament to have one voice, John Adams' to speak and critique. The conference officiating directors tend to be too protective of their crews and don't often publicly constructively critique.
• Enjoy this Big East tournament. There is only one more left next season before new teams join the league and shuffle through MSG.