Jimmy Patsos turns Greyhounds around
March, 6, 2012
03/06/12
4:53
PM ET
Quick hitters on Tuesday:
• No coach was happier to see Jimmy Patsos reach the NCAA tournament than his former mentor Gary Williams. Patsos worked tirelessly under Williams. I still remember sitting behind the Maryland bench during the 2002 national title game, seeing Patsos sweating through his suit.
He took over a very bad program at Loyola (Md.) and turned it into a winner in the MAAC.
"He had to change the culture of the program," Williams said Tuesday, one day after Loyola's title-game triumph over Fairfield in Springfield, Mass.
"Nobody was going to the games when he got there," Williams said. "He's marketed that place. Baltimore is a tough college basketball town. I'm just so happy for him."
[+] Enlarge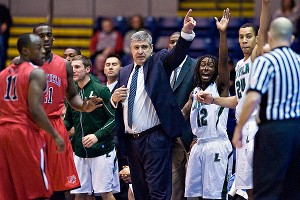 AP Photo/Jessica HillJimmy Patsos has changed the culture of the Loyola (Md.) program.
Patsos was consistently pushing Loyola and the MAAC throughout the season. He was bitter that Loyola didn't get a TV game during BracketBusters. He thought Iona should get an at-large after the loss to Fairfield in the MAAC tournament.
Patsos took a job that few wanted and stayed true to it as he attempted to make it relevant.
"It's very hard for any assistant to get a big-time job unless you work for Mike Krzyzewski or something like that," Williams said. "He knew that Loyola job was going to be tough. He's just grinding it out and doing a good job."
• At least one member of the selection committee said that he will be extremely thorough in his analysis of teams, especially those regular-season champions from leagues outside the power six.
That can be good news for Drexel, which won the CAA, Oral Roberts and, to some extent, Iona. Road records, hot streaks and a subjective quotient of whether or not a team is worthy of being one of the top 37 at-large teams will all be examined.
• The WCC has found its niche at the Orleans Arena. The atmosphere Monday night between Saint Mary's and Gonzaga was terrific. The WCC had used campus sites for years, but there is a high risk with that if the host isn't in the final.
• Davidson isn't close to the 2008 Elite Eight Wildcats, but a return trip to the NCAA tournament is yet another example of coach Bob McKillop creating a winning program, not just one great team. McKillop could have left for high-major schools a number of times. But he chose to stay true to Davidson, where he was enjoying himself and building a winner. The Davidson-Western Carolina game was yet another example of why Championship Week for all conferences is such a joy to watch.
• The CBE Classic announced its four hosts for 2012. Kansas and Saint Louis are two of them (Texas A&M and Washington State are the others). All you had to see was Kansas' name to ensure this will be a sellout. Adding Saint Louis to the Kansas City field strengthens it even more. Good get for the tournament.
• The College Basketball Hall of Fame announced its 2012 class. Georgetown's Patrick Ewing will be in. Why wasn't he in with the first one again?
• The Maui Invitational had an all-star field in 2011 and was fortunate to have a Kansas-Duke final. The 2013 field isn't as strong. Syracuse, Gonzaga, Baylor and Cal are the headline teams, but the latter two will likely lose key players either to the NBA draft or the exhaustion of eligibility. Arkansas and Minnesota should be much improved, but it's too early to say if either will be major factors.
• St. John's coach Steve Lavin, who is still recovering from fall prostate cancer surgery but is now cancer free, said he fully expects his staff to stay intact. That includes interim coach Mike Dunlap and his longtime mentor Gene Keady. Lavin said he would have expected Moe Harkless to test the NBA draft process if he were able to this spring, but the new draft rule prevents that from happening. Players will have to make one decision and stick with it a week after the Final Four.
• The 2K Sports Classic, which will be played at Madison Square Garden again next season to tip off the season, will have Villanova, Purdue, Alabama and Oregon State as the four hosts. Oregon State and Nova return the most players, but Purdue and Alabama shouldn't drop too much.