Inevitable and messy divorce made final
March, 9, 2012
03/09/12
12:23
PM ET
Bruce Weber might have been out at Illinois no matter how the Illini's season ended.
Mike Thomas is clearly looking to get his own coach, as is often the case when a new athletic director takes over at a school.
There was no shortage of mistakes made at Illinois this season and everyone is at fault. Thomas didn't help the situation by declining to back Weber during a radio interview, essentially sealing Weber's fate in the middle of the Big Ten season.
[+] Enlarge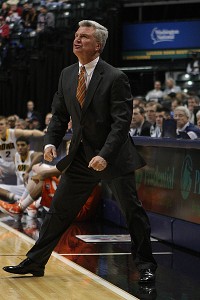 Cal Sport Media via AP ImagesIllinois fired Bruce Weber shortly after the Illini's exit from the Big Ten tournament.
The Illini were in the midst of a three-game losing streak when that dreaded no-confidence vote was rendered; they would go on to lose their next three after it. Weber's reaction at the time was honest but he could not mask his frustration, providing what turned out to be prophetic insight into his coaching fate.
The dysfunction isn't consigned to this Illinois team. Indeed, it dates to previous seasons. The recruitment of Jereme Richmond, heralded at the time, ended up being a complete bust after one year. Demetri McCamey and Weber had their issues at times.
But none of this is to say Weber did not recruit well, at least initially.
Criticism of Weber for missing out on Chicago recruits such as Derrick Rose or Anthony Davis is garbage. Illinois, no matter who was coaching, wasn't going to beat John Calipari and his recruiting connections for Rose (Memphis) or Davis (Kentucky). Eric Gordon was set to go to Illinois before Kelvin Sampson pried him away and persuaded the Indianapolis player to stay in his home state.
Brandon Paul and Meyers Leonard were coveted players and remain great gets for the Illini.
Weber should have gone to Oklahoma last year when he had the chance. Herb Sendek had the right idea when he left NC State right before he was about to be tossed and went to Arizona State.
Weber will be high on the list to take the Southern Illinois head coaching vacancy, where he once coached, and replace his former assistant, Chris Lowery. It's one option, at least. Weber didn't forget how to be a head coach; he just needs a fresh start.
Thomas will go after VCU's Shaka Smart, who grew up in the Midwest, to replace Weber. Smart won't say anything while coaching the Rams in the NCAA tournament. He signed a new 10-year deal last spring after VCU's Final Four run. He could pull a Brad Stevens (Butler) or Mark Few (Gonzaga) and stay put where he's comfortable. But Illinois is one of the best jobs in the country because of the conference, the proximity to Chicago-area talent and the fan base (though the facilities could use a serious upgrade).
Smart would infuse energy into the program and would certainly be a hit in Chicago and around the Midwest. But let's not go overboard on the idea that whoever is the coach at Illinois is suddenly going to change the recruiting culture. Programs such as Kentucky, North Carolina and Duke are always likely to be the top choices among elite players. That is life.
If, for some reason, Smart weren't the choice, then expect plenty of others to clamor for this gig. Washington's Lorenzo Romar, who coached at Saint Louis, has maxed out at his alma mater and could be looking for a new challenge. Oregon State's Craig Robinson is a Chicago native and former Northwestern assistant. His starting point guard, Ahmad Starks, is from Chicago.
Duke associate head coach Chris Collins, who played at Glenbrook North High in Illinois, is also on a possible short list, although he would likely make more sense for Northwestern if that job comes open.
Maybe Weber had a chance to salvage his job had Illinois made the NCAA tournament. Thomas didn't help him. The staff and players never rallied. The team didn't quit, but the dysfunction, especially down the stretch, was evident.
Reaching the Final Four, as Weber did in 2005, isn't like a Supreme Court appointment. It can buy you time, but not a lifetime appointment. Georgia Tech fired Paul Hewitt. Illinois fired Weber. UCLA may do the same to Ben Howland in the near future.
When it happens, there is plenty of blame to go around, not just for coaches, but for officials in the athletic department, the staff and players.
The job is still a good one and the program will continue to survive and thrive. The divorce will ultimately be good for both parties. But like most, it got messy on its way to a final parting.