An early line on storylines at the Dance
March, 12, 2012
03/12/12
6:06
AM ET
Here are some overall impressions from the weekend:
• Kentucky got a difficult draw with Connecticut, Iowa State, Wichita State, UNLV, Baylor and Duke all more than capable of pulling an upset. But Kentucky is the most talented team, so I don't see it happening. This team relishes the challenge.
• So much of the talk was about Kentucky's bracket being difficult, but I viewed Syracuse's as more challenging with two hot conference champs from Sunday in the bracket in Vanderbilt (SEC) and Florida State (ACC), as well as a possible No. 1 in No. 2 Ohio State.
• The NCAA selection committee was assured by North Carolina that John Henson would play this week. That's great news for the Tar Heels and clearly helped the Tar Heels in the evaluation of the Midwest No. 1 over Kansas.
[+] Enlarge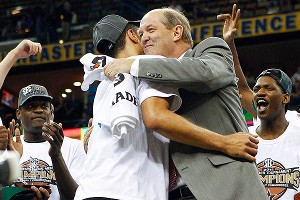 Crystal LoGiudice/US PresswireKevin Stallings celebrates with his players after Vandy beat Kentucky.
• Kevin Stallings' raw emotion in the win over Kentucky on Sunday was genuine. The Commodores have been desperate to finally beat Kentucky in men's basketball when the games mattered. This does wonders for Stallings and the program. It is as significant a win in a conference tournament as …
• Florida State's win over North Carolina. The Seminoles have been itching to be treated on equal footing with UNC and Duke in the ACC. But they had to win an ACC title to be given serious credibility. They did. The addition of Syracuse and Pitt means it's only going to get tougher in the ACC. Florida State had to establish itself and it did.
• I find it odd that Tulsa would fire Doug Wojcik a few hours before selections were announced in the NCAA tournament. Tulsa is simply not the same job it was when Bill Self coached the Golden Hurricane to the Elite Eight. Tulsa has lost a lot of its national relevance in CUSA and soon-to-be named merger conference with the MWC. Wojcik was likely going to be out. Still, Monday seemed more natural than burying this story on a Sunday afternoon two hours before the bracket. Wojcik is one of the genuinely great guys coaching. He served in the Navy and played with David Robinson. He will land well, somewhere. I'll be interested to see if Tulsa tries to get Scott Sutton to come from rival Oral Roberts.
• Drexel coach Bruiser Flint finally won a Colonial Athletic Association title. But the loss to VCU in the title game kept the Dragons out of the Dance. Flint has done a phenomenal job with this group. If he wants one, he deserves another shot at a higher-level job (although you can argue that the CAA's best is better than UMass right now).
• There simply are no consistent markers for putting teams in the field. And that's fine if it's subjective. The answers for why Colorado State, Virginia and BYU are in the field probably aren't all the same.
• New Mexico won the MWC regular-season title (share) and the tournament and yet I don't think the Lobos got a good draw. If Larry Anderson is healthy then playing Long Beach State in a 5-12 matchup in Portland will be one of the toughest ones in the second round.
• I still can't get used to saying second-round instead of first round.
• Memphis coach Josh Pastner has done a tremendous job getting the Tigers on track and into the field. The talent favors the Tigers against Saint Louis. But this will be his staff's greatest challenge. No coach is as good with a week's prep as Rick Majerus heading into the NCAA tournament.
• I was hoping to see a run by St. Bonaventure and Andrew Nicholson. But Florida State could be this year's Connecticut, riding a hot conference tournament win toward a Final Four berth.
• It's strange to see the Big East with nine teams in the field, and two of them aren't named Pitt and Villanova.
• Jimmy Patsos of Loyola (Md.) will be the must-watch advance day news conference. Patsos is one of the great characters in the game.
• Great to see Murray State was rewarded for a tremendous regular season. The Racers got a No. 6 seed and get to play in Louisville.
• Lost amid all the selections Sunday was the admission of Southern Miss into the field. Coach Larry Eustachy said in the preseason that this was his best team. It was also a great chance for full redemption after he was embarrassed that he lost his job at Iowa State over his admitted alcoholism. Southern Miss did draw a tough first game in Kansas State, though.
• Harvard is one of the most intriguing storylines in the field. The problem is the Crimson drew surging Vanderbilt, fresh off a win over Kentucky. The SAT game will be played in altitude, in Albuquerque, on Thursday.
• Creighton was a sexy pick to get to the Final Four and be this season's VCU or Butler. But I don't see the Bluejays knocking off Alabama and North Carolina, if they even get past the Tide.
• Ohio plays wild at times and could cause a ton of fits against Michigan.
[+] Enlarge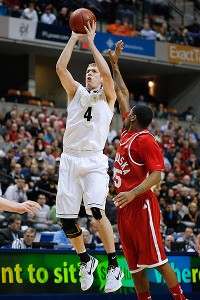 Brian Spurlock/US PresswireRobbie Hummel has battled back from a serious injury.
• No player should be celebrated more than
Robbie Hummel
being in the NCAA tournament. Hummel had his senior season shelved last season when he tore his ACL for the second straight time. He helped lead the Boilermakers back to the Dance. Purdue got a tough draw in Saint Mary's in the first round.
• Georgetown is the type of team that could either get beat by Belmont in the first round or get to the Elite Eight based on the lower part of the Midwest bracket.
• Miami can spin the snub in any direction but the uncertainty regarding Durand Scott's eligibility had to be a factor.
• Mark Gottfried got the NC State job with plenty of returning talent. He got this team to buy into his scheme midway through the season and somehow this squad recovered enough after losing a 19-point lead at Duke. Getting into the Dance in his first season is a huge credibility boost in the Triangle.
• The Pac-12 has been beat up the past two seasons. But not having its regular-season champ, Washington, in the field is as strong a statement as the committee could deliver that the league is mediocre right now.
• If Ryan Kelly isn't playing for Duke due to a foot injury then it's hard to see Duke get past the Sweet 16, even if the Blue Devils get to Atlanta.
• For all the pounding we put on South Florida's schedule and lack of quality Big East wins, Stan Heath deserves a ton of credit for getting this team to the NCAA tournament. The Bulls made themselves relevant and in the ever-changing Big East that's a huge step forward.
• I like a lot of these double-digit seeds. I'm just trying to decide which ones to go with before Tuesday with some of my favorites being: 13 New Mexico State (No. 4 Indiana); No. 12 Long Beach State (No. 5 New Mexico); No. 13 Montana (No. 4 Wisconsin); No. 14 St. Bonaventure (No. 3 Florida State); No. 11 NC State (No. 6 San Diego State); No. 14 Belmont (No. 3 Georgetown).
• UCLA didn't make the NIT. Athletic director Dan Guerrero will meet with Ben Howland at some point to discuss the future. Odd to see the Bruins not in any major postseason tournament again.