Larry Scott has faith in Pac-12 basketball
March, 16, 2012
03/16/12
1:09
PM ET
ALBUQUERQUE, N.M. -- The Pac-12 got ripped for its poor nonconference performances.
The league got ridiculed for its regular-season champ (Washington) not even being among the final teams cut by the NCAA tourney selection committee.
With a First Four blowout loss to South Florida on Wednesday, Cal was out before the "real" tournament even began.
There's but one team that's been left to carry the Pac-12's banner into the weekend.
None other than conference newcomer Colorado, a school brought into the fold by commissioner Larry Scott, who sat courtside at The Pit to watch his alma mater Harvard play Vanderbilt along with the Buffaloes' upset of UNLV.
[+] Enlarge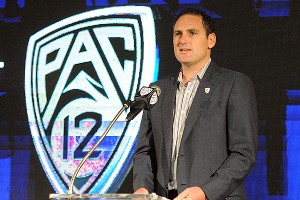 Chris Williams/Icon SMILarry Scott was thought of as a nontraditional hire two years ago, but he's helped transform the Pac-12 as its commissioner.
"They were a 6-seed coming into our tournament and got denied last year," Scott said of the Buffs. "It's a really nice story. It's great to see the excitement and energy."
It's not great to see just one Pac-12 team still competing, though.
"I'm not concerned long-term," said Scott of the state of the Pac-12. "If we have five seasons like this one I'll feel differently. But I honestly feel like this is a blip. I keep hearing that we have strong recruits. I know we have great coaches.
"Next season is a game-changer in terms of exposure. I'm not really concerned about it."
But he admits the league's brand names in basketball, teams like UCLA and Arizona, must be good.
"Everyone wants to see depth and teams coming up, but year in and year out we need strong brands," Scott said.
He said the league got through a USC football ban with Oregon and Stanford rising up. But Pac-12 football has rarely slumped quite like men's hoops has over the past two seasons.
Scott said he didn't like the message the committee sent by not selecting Washington to the NCAA tournament despite winning the regular-season title. But he can't argue with the facts. He said Washington coach Lorenzo Romar would concur that the Huskies had ample opportunities to convince the committee of their worthiness.
"I recognize that it was a down season," Scott said. "But it was unusual. Normally, the conference champ from a conference like ours would make it."
The beauty of Scott is that he's never idle. For years, the Pac-12 underwent glacial change under Tom Hansen. Scott is constantly looking to shake things up.
He nearly crashed the middle of the country's college landscape by attempting to get four Big 12 schools, including Texas and Oklahoma. But that didn't happen and he settled on Colorado and Utah, two schools that had wanted for years to be considered for Pac-12 membership.
"We were fortunate that we pulled it off by keeping our natural rivals and creating another one with Colorado and Utah," Scott said.
Scott added that he sees some room for fine-tuning in the alignment, notably with the merging Mountain West and Conference USA. Ultimately he said there will be more consolidation in the long term. But the Pac-12 is done for the foreseeable future -- at least in terms of adding new teams.
As Scott was talking Thursday night, the CU fans were louder than UNLV's contingent and created a frenzied feel in the Pit. He said he wants that in the Pac-12 tournament. Instead, he got crickets at L.A.'s Staples Center.
That's why he took the bold step of testing out a new venue for the next three years in the cozier MGM Grand in Las Vegas.
"If we do it in Vegas we wanted to do it in an iconic venue where the fan bases would react well," Scott said. "We've got a good chance to sell it out. We couldn't fill Staples. The MGM is on the Strip and the MGM brand is known for big-time events. I like that.
"I'm a believer in trying to get this raucous atmosphere there because that translates well on TV. So much of what we're trying to do is change the national perception and to do that you have to have the enthusiasm of a fan base like the kind of crowd we have here."
That crowd he was referring to was made up of Colorado fans.
Who knew the Buffaloes would be the barometer for the Pac-12's future?