What I've figured out after three rounds
March, 19, 2012
03/19/12
6:53
PM ET
Three rounds into the field of 68, and this is what I have figured out:
[+] Enlarge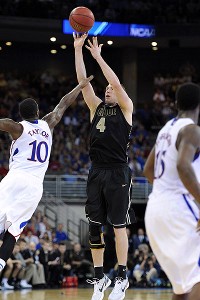 Peter G. Aiken/US PresswireRobbie Hummel almost shot Purdue into the Sweet 16.
• Purdue's Robbie Hummel will go down as one of the most beloved players in team history. He nearly shot the Boilermakers past Kansas and into an improbable Sweet 16.
• Never pick against Ohio again in its first game. The Bobcats have some karma after beating Georgetown two seasons ago and edging out Michigan and South Florida this past weekend en route to the Sweet 16.
• The confidence that Sean Kilpatrick earned during the postbrawl suspensions did wonders for Cincinnati. This team has grown more than most do during a season. The Bearcats earned a Sweet 16 trip by being more physical in victories over Texas and Florida State.
• Never doubt Wisconsin. The Badgers find a way to make plays late, they come up with hustle plays, especially loose rebounds, and they consistently have big-shot takers and -- more important -- makers.
• Syracuse was always an underrated running team this season, especially on the break. The absence of Fab Melo still can hurt the Orange against the likes of Ohio State or Cincinnati (and maybe even Wisconsin), but Melo's loss is not crippling.
• If you watched the Lehigh-Bucknell Patriot League final, you were not shocked by how well the Mountain Hawks played this past weekend. (They are still the Engineers to many of us, though.)
• Brian Conklin's postgame news conference after Saint Louis lost to Michigan State was the type of genuine emotion that comes at the end of a grueling season. Rick Majerus is a demanding coach, but he's also incredibly loyal and has resuscitated the Billikens program. You can tell how loyal his players are to him not just by their words but also by how well they follow his game plan.
• I still don't understand why St. Bonaventure took two midrange jumpers when it needed a 3-pointer in the final seconds against Florida State on Friday. However, that shouldn't discount what a marvelous career and season Andrew Nicholson has had for the Bonnies. It's a shame that they couldn't advance so more people could have seen his talents on the big stage.
• I love the new scheduling format for the NCAA tournament. You can watch more games, at more times, and you don't feel like you're missing out on any game. And I say that even after being at an NCAA site. You still can catch other site's games while covering games and see more matchups into the late evening.
• The First Four didn't produce a Final Four entrant this season, but the games didn't disappoint. Iona, BYU, South Florida and Cal shouldn't complain, since they at least had a chance to advance.
• The first half of the Murray State-Marquette contest might have been the most entertaining of any of the first-weekend games. Both teams were exhibiting terrific effort at a high-paced clip.
[+] Enlarge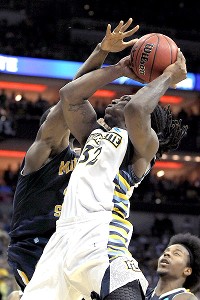 Jonathan Daniel/Getty ImagesIn two NCAA tournament games, Marquette's Jae Crowder has a combined 42 points and 29 rebounds.
• The more games he plays, the more Jae Crowder shows he was the clear choice for Big East Player of the Year.
• Michigan State was supposed to take a hit without Branden Dawson. But when you have a star like Draymond Green, the loss of a forward in the rotation isn't as devastating.
• Baylor simply can't win on sheer athleticism and offensive rebounding. The Bears need shooting, and if Brady Heslip is making 3s, they will compete well with Kentucky in a terrific Elite Eight matchup. Yes, I am predicting Indiana and Xavier to lose.
• Xavier's appearance in the Sweet 16 erases a tumultuous season. Credit coach Chris Mack for navigating the Musketeers through rough waters to this point.
• Tom Crean's credibility in the state of Indiana will last for years thanks to this Sweet 16 appearance.
• Does VCU ever play a dull postseason game?
• According to our stats crew, this is only the second time since 1975 (1985 was the other) that the Sweet 16 includes no teams from the Mountain and/or Pacific time zone.
• Florida had the most advantageous bracket. The Gators drew a depleted Virginia squad, then caught Norfolk State after its euphoria over stunning Missouri.
• The NCAA tournament can be incredibly cruel. Missouri will have its Big 12 tournament title, but this squad will be remembered more for losing to Norfolk State. It's not fair, but it is the lasting image of the NCAAs that people remember.
• Did anyone really believe that this edition of UConn would get its act together and win multiple games in the NCAA tournament?
• Iowa State's Royce White has to end this season as an All-American in some form.
• Kentucky coach John Calipari is looking to tweak things this week, notably the 3-point perimeter defense. The Wildcats can't be complacent. They are now the overwhelming favorite.
• UNLV's first-half effort was a mystery on Thursday. If the Runnin' Rebels had turned up the intensity in the first 20 minutes the way they did in the second, perhaps they -- and not Colorado -- would have advanced.
• Remember Askia Booker's name. He'll be a stud for Colorado next season.
• Memphis had the talent to go far in the Dance, but as coach Josh Pastner said on Sunday, the matchup with Saint Louis couldn't have been worse.
• We can quibble about officiating, and it hasn't been the best in this tournament, but Notre Dame can't use that as an excuse. The Irish didn't execute in their loss to Xavier.
• New Mexico's Drew Gordon gets the toughness award. He came back and had a stellar game against Louisville despite an awkward fall and blow to his knee.
• South Florida coach Stan Heath gets plenty of praise for getting his Bulls to play defensively as well as any other team in the field. But they simply couldn't score enough to advance.
• Gonzaga had the personnel to be a Sweet 16 or Elite Eight team. But, like Memphis, its matchup against Ohio State wasn't good.
• Seeing Don Swegan at Harvard's first NCAA tournament game since 1946 was a great moment. The 86-year-old former Crimson hoopster was in his glory after being recognized for his past accomplishments. It meant so much to him to be seen and to get to Albuquerque and witness the historic Harvard appearance in the NCAAs. Good stuff.
• Despite early exits, Georgetown and San Diego State far exceeded their expectations.
• Sidney Lowe recruited exceptionally well at NC State, and Mark Gottfried knew it when he took the head-coaching job. This was a classic case of a new voice (Gottfried) helping a situation. Don't underestimate the coaching of Bobby Lutz on the bench, either. He has checked his ego at the door to help NC State advance.
• Duke is gone, but that's OK, as long as other bluebloods survived. They have -- so far. Kansas and North Carolina could be on course for an Elite Eight matchup in St. Louis. That would be must-see TV.
• Kansas continues to flirt with disheartening losses, but the Jayhawks' resolve is something that they can't practice. This team has dealt well in crisis situations this season.
• The most disappointing exits will remain from Missouri and Michigan, two teams that should be playing this weekend. Duke would have had a tough time getting past Xavier in the round of 32.