What Shaka Smart is going through
March, 21, 2012
03/21/12
11:08
AM ET
Editor's Note: Shaka Smart announced Wednesday afternoon that he will not take the Illinois job and will remain at VCU.
Shaka Smart may like living in Richmond.
He might really enjoy being the head coach at VCU.
He actually may want to stay put.
Or not.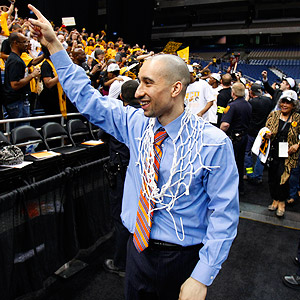 Bob Donnan/US PresswireWill Illinois be able to convince Shaka Smart to leave VCU?
Two coaches who know exactly what he's going through as he mulls over a possible offer from Illinois are Gonzaga's Mark Few and Butler's Brad Stevens.
Both coaches could have had their pick of jobs recently. But they have stayed for the very reasons that might keep Smart at VCU.
They each got significant pay raises, which provided longevity and security. Both love living and working at their respective spots in Spokane (Gonzaga) and Indianapolis (Butler).
"The most important thing and the advice I always give to somebody is that you have to make a decision that is for you and your family,'' said Stevens. "And that may not be the same for everybody.
"There is usually a long list, and happiness is on there,'' Stevens said. "People that you work with every day and where you live have to factor into everything. I would also say, don't take the advice of someone that's not impacted by the decision.''
Stevens genuinely loves his situation at Butler, and he loves working for athletic director Barry Collier. It would take a Herculean job to extricate Stevens from the program. He is now well-compensated financially, too.
Few has had countless chances to leave Gonzaga. But he is native to the area and has no desire to start over somewhere else. Smart is from the Midwest but has been a bit nomadic as an assistant, and he has recruiting ties to the Southeast, too.
Smart hasn't hid his affinity for VCU, especially after the Rams reached the Final Four, and he was compensated well for that run. The Rams, who've had a revolving door among quality head coaches (such as Smart's predecessor, Anthony Grant) gave Smart an eight-year deal after the Final Four.
Illinois certainly offers a high-profile job in a fertile recruiting ground. There's also a comfort in knowing that quality NCAA-bid type games are plentiful in the Big Ten.
If Smart turns down Illinois, he's making a Stevens/Few-like commitment to VCU. In the NCAA tournament this past weekend, the Rams knocked off Wichita State in the second round and lost to Indiana in the third round in Portland, Ore.
"The biggest mistake is that everybody tries to project their own feelings and own thoughts and own values into what you think a guy should do,'' said Few. "It comes down to what that individual person wants in life.
"The only people that matter is the coach and the family and what they want and value and where they're at in life,'' said Few. "Do you want to pack up and move young kids, kids in junior high, high school? That's where it becomes an individual choice and situation.''
Few said that advancing to the NCAA tournament, which VCU has done in consecutive seasons under Smart, is paramount to the definition of a good job.
"If you're winning and advancing to the NCAA tournament and your teams are good enough to go far in the tournament, then what else do you need?'' Few said.
Few could have gone to Oregon. Indiana made a run at him, too. There were others. Gonzaga hasn't won a national title, but the Zags have been in the NCAA tournament every season he has coached, which is more than those jobs can claim.
"I just watched Butler compete for two titles in a row,'' Few said. "That's a pretty strong statement [to stay put].''