Despite losses, Jeff Bzdelik is optimistic
March, 26, 2012
03/26/12
12:06
PM ET
Wake Forest coach Jeff Bzdelik isn't fretting about his program's most recent departures one bit.
Three more players departed the program this past week. Wake Forest's current problems sound a lot like Indiana's, which this past weekend played stellar in a Sweet 16 loss to Kentucky.
It took Hoosiers coach Tom Crean four seasons to resurrect a once-proud program. Can Bzdelik do the same? First off, there were no NCAA violations at Wake like there were at Indiana. Athletic director Ron Wellman decided to fire Dino Gaudio, so within a year the Demon Deacons had to essentially start over.
[+] Enlarge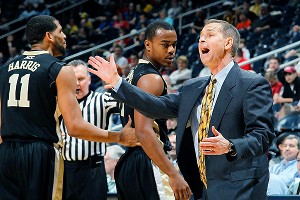 Kevin C. Cox/Getty ImagesDespite some recent player departures, Jeff Bzdelik feels good about where his program is headed.
This was one of the elite programs in the ACC under the late Skip Prosser, and that was the case initially with Gaudio at the helm. Chris Paul led the Demon Deacons to a No. 1 ranking. Tim Duncan, then coached by Dave Odom, and Rodney Rogers always made sure the Demon Deacons were a national name.
But can a program recover from its fall if players keep leaving?
The latest three to bolt bring the attrition number to a total of seven in two seasons in Winston-Salem.
"I feel good about it,'' Bzdelik said over the phone this past weekend about the program's future. "I never want players to leave, but they did for their own personal reasons. A couple of them were concerned about their playing time in the future, and one for sure wants to be closer to home. We have a great recruiting class coming in.''
Bzdelik is the eternal optimist. He does have a good recruiting class coming in, according to ESPN.com, with six players signed who were all rated highly at their respective positions.
But you cannot ignore the laundry list of defections for various reasons (courtesy of Wake Forest):
• Tony Woods was given his release in October 2010 after a suspension from the team surrounding a domestic violence arrest the previous month. Woods transferred to Oregon, where he played this season.
• Ari Stewart was suspended toward the end of 2010-11 season and transferred to USC after the season.
• Melvin Tabb was arrested late last summer on charges of breaking and entering and fraud. He withdrew from the university and played at a junior college in Texas.
• J.T. Terrell withdrew from the university in September, citing need to seek help for substance abuse problem after a DUI. He enrolled at junior college this year and signed with USC for next year.
• Tony Chennault transferred (announced Tuesday), citing personal reasons to be closer to his mother.
• Carson Desrosiers transferred (announced Friday).
Anthony Fields transferred (announced Friday).
Chennault was the team's third-leading scorer, averaging 9.0 points per game. Desrosiers averaged 4.8 ppg, and Fields averaged 1.0.
The Demon Deacons will return their top two scorers in C.J. Harris and Travis McKie.
Wake Forest won four ACC games this season and was 13-18 overall. Bzdelik cites that the Demon Deacons won only one game in the ACC and eight overall last season.
"We've got 10 players on scholarship, and we'll have more players on next year's roster,'' Bzdelik said. "Ron is supportive. We've made great strides from Year 1 to Year 2. We're heading north. We've got a great recruiting class. We expect to make another jump from Year 2 to Year 3.''
The ACC is evolving, and with the additions of Syracuse and Pitt in 2013, Wake Forest had better get its act together fast.
NC State was within a whisker of the Elite Eight. Duke and North Carolina are obviously the conference's elite programs. Florida State is as stable as it has ever been. Maryland is on the rise under Mark Turgeon, and so is Virginia with Tony Bennett. Consistency is the norm at Virginia Tech under Seth Greenberg and at Clemson with Brad Brownell.
Syracuse and Pitt will immediately catapult to the top tier and challenge for top-four finishes each season.
That leaves Wake Forest hoping to move ahead of Georgia Tech and Boston College to become competitive.
"We only had eight scholarships the first year, next year 10 and then we had a top-20 recruiting class,'' Bzdelik said. "We've got all-ACC players on our roster. We're gaining experience.''
Bzdelik said he has multiple articles on Indiana on his desk that he shows to his team.
"It took four years,'' Bzdelik said. "We could have a winning season. I'm confident we will. We still have only one senior next year. We need to defend better and shoot the ball better, and we ran out of gas in some games. But our staff is working hard, and we're moving forward and staying positive.''